With French ski lifts able to operate again and Les 2 Alpes due to be the first ski resort in France to offer lift-accessed skiing and snowboarding in 2020 when it re-opens at the end of this month, it seemed a good time to catch up with Simon Edwards, boss of the European Ski school, who has been teaching on the resort's glacier, Europe's largest summer ski area, for more than three decades.
ITS> When did you start the European Ski School?
JE> At the beginning, we were only a summer skiing company running under the name of SKI 3000. We specialized in bringing Italian guests over the border for summer skiing courses and summer activities.
From 1993 we saw an opportunity for running a more British orientated ski school in Les 2 Alpes, so we opened all year round to the general public under our new name European Ski & Snowboard School. I feel privileged to have been able to teach skiing both in summer and winter seasons for over 30 years. And now I am extremely proud to pass on the management of the family ski school to my sons Lawrence and Simon Edwards who have skied throughout their lives both summer and winter in Deux Alpes.
ITS> You grew up in England, so how did your passion for skiing start?
JE> As a child, I was extremely lucky to ski with my parents. For our first ski trip, Dad drove our family of 5 in a mini minor all the way to Austria.
From that experience and then from school ski trips financed partially by myself with paper rounds, Saturday jobs, picking potatoes, plucking Turkeys at Christmas, etc, my passion for skiing had begun. When your passion is so strong for something you find ways to achieve your ambitions and later after having worked in ski shops, on the ski lifts, safety patrol and having done extensive training I became fully qualified to teach skiing in Europe.
This process was not easy as I was not born on skis however it helped me understand the learning process that skiers go through which I believe has enhanced my teaching skills enormously. My passion led me to opening a ski school and us delivering lessons whilst also providing younger ski instructors the opportunity to train for qualifications to then teach under the umbrella and within the philosophy of the European ski school.
ITS> What do you like in Les 2 Alpes in the summer?
JE> We all love the summer ski season, the perfectly groomed gradual gradients of the glacier, the warm weather, the views, then changing into shorts and tee shirts to enjoy a salad lunch by the pool and afterwards enjoying the numerous summer activities available in the resort and the surrounding area.
ITS> Could you tell us about summer skiing in Les 2 Alpes?
JE> Compared to the winter, skiing conditions in the summer are generally much warmer and the wide open area and gradual gradients of the glacier provide a great playing field for all levels of skiers wanting to focus on technique and improving skills.
The nature of the snow and machine grooming in the summer provide great hard pack snow for racers early in the morning and late morning, the softening conditions are ideal for beginners and intermediates.
Being able to ski or snowboard on the groomed slopes or using the world famous snowpark between 3,200m and 3,600m is quite incredible during the summer months.
ITS> Who are your clients?
JE> Our clients in the summer come from a wide range of countries worldwide and include all levels of skiers or snowboarders. We have clients coming for specialised in house race training camps, Freestyle or snowboard or MTB Bike camps. We also provide traditional ski or snowboard lessons for families and individuals on a daily or weekly basis. Our clients come because they want to combine a ski holiday and a summer holiday into one.
ITS> Where are your favourite spots on the glacier?
JE> My favourite spot on the glacier is at 3,600m – teaching at the very top ski lift, (Dôme de la Lauze), is spectacular. I also love the steeper red run that cuts straight down the glacier from 3,600m (Les Cines/Signal 2) to the bottom of the Signal blue at 2,900m.
The Belvédère des Ecrins, just above the Snowpark, lets you take heart-stopping steps into the abyss above the Vallon de la Selle. Standing above a 1,000m drop gives you a unique view of the mountains. The Grotte de Glace ice cave is not to be missed either. The ice sculptures are wonderful but what I really like is the chance to see the inside of the glacier and touch the thousands-of-years-old ice.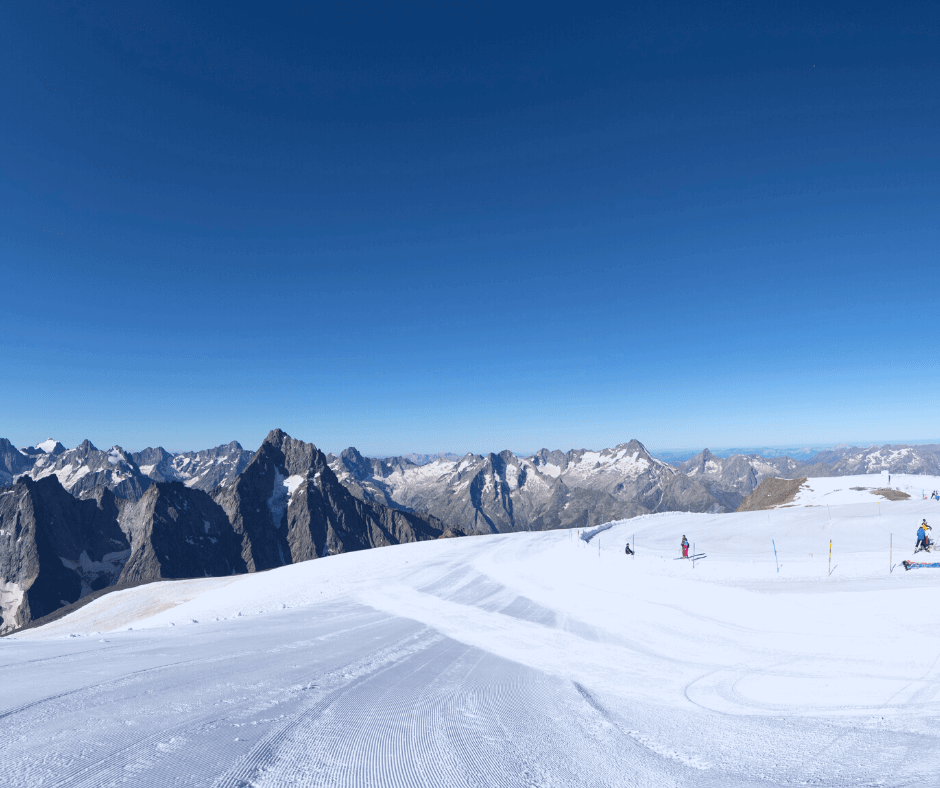 (Image credit: Monica Dalmasso)
ITS> Do you need special equipment to ski in the summer?
JE> No, normal ski equipment is all that you need. Make sure you take enough warm clothes for the snow, even though you might be basking in a heatwave at lower altitudes.
To make the most of the terrain and to make sure you stay safe we would recommend taking an instructor, especially if you are unfamiliar with skiing on the glacier.
Any activity over 3,000m can be more tiring than at resort level so you might feel slightly more out of breath as you ski or board.