Let's be honest, cheese and snowsports are synonymous with each other. We always take the first chance to tuck into a fondue, raclette or tartiflette as soon as we arrive in resort.
So why should we pretend that powder is the priority any longer? Here's the cheese lover's guide to the ski slopes:
Gruyère (Gstaad, Switzerland)
There's no need to say that cheese is big in Switzerland, and Gstaad is close to Gruyères where the world-famous Gruyère cheese comes from. The Gstaader Bergkäse (Gstaad Dairy) produces its own mountain cheese, ripened for four to six months, with a spicy Alpine herbal aroma. Available as one-, two- or three-year-old versions, it becomes stronger with age. The dairy also makes its own soft herbal cheese and a mountain Taleggio.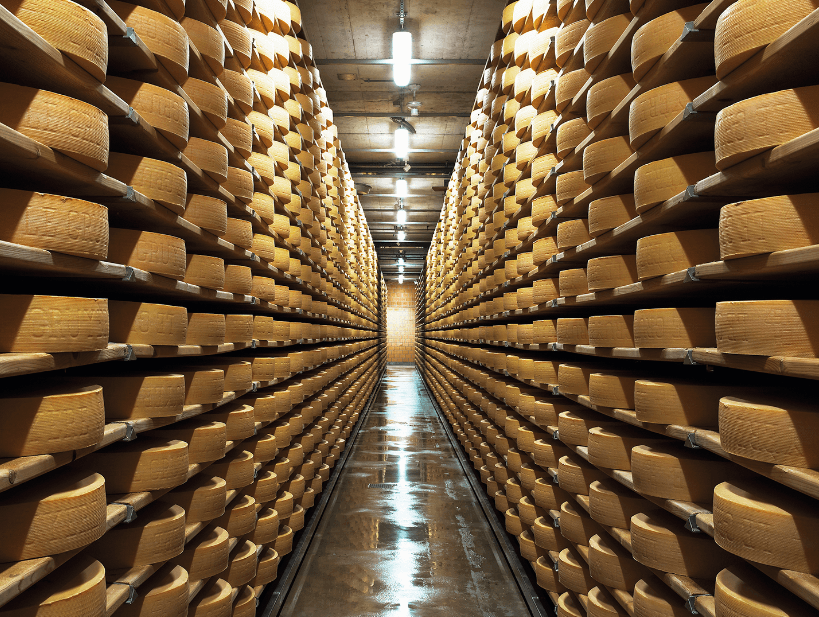 Bryn Cheese (Trysil, Norway)
Norway is not perhaps the first place you would think of when you think of cheese … and yet there's plenty here too. The increasingly popular destination of Trysil is close to the old Bryn Mountain Farm which produces goats' cheese that is described as tasting "more like super sweet fudge than actual cheese". The unique taste comes from caramelising the milk sugars, and you can even make it into a sugary fondue! It's available in Trysil Co-op if you don't make it to the farm itself.
The Cheese Route (Trentino, Italy)
There's so much great cheese as well as snow in Italy's Trentino region that they've created a special tourist route through it: the Dolomites Cheese Route. En-route taste renowned cheeses like the Caprino di Cavalese, excellent in combination with local honey made in these valleys, or the celebrated Puzzone di Moena and the tasty Cher de Fascia. The route passes San Martino di Castrozza and enters the Valle di Primiero, which gives its name to its most famous fresh and ripe cheese.
Beaufort (Arêches-Beaufort, France)
A key ingredient in "Fondue Savoyarde", ,in toasted cheese dishes and tarts and good to just scoff on its own, Beaufortain is one of the harder cheeses produced in the French Alps. Ski Weekender feature the very lovely, very authentic and very cheese-heavy village of Arêches-Beaufort where there is a cheese cooperative in the centre of the village that's well worth a visit.
Gouda from Japan (Niseko)
Cheese may not be the first thing that comes to mind when we think of Japan's abundant, light, fluffy powder, but the northern island of Hokkaido is also home to nearly all of the country's dairy farms.
"The Niseko Cheese Factory is owned by Takashi Kondo who learned the trade at a dairy school in France. Numerous cheeses have won the Japan Cheese Awards and as well as classics like blue, camembert, mozzarella and gouda, they also incorporate tropical fruits and wine. Niseko Fromage is also well worth a visit, where Seki Akira makes many different varieties including his weird but wonderful crispy cheese," enthuses Naomi Harrison of sno.co.uk.
Vegan cheese (Banff, Canada)
Veganism and cheese don't usually co-exist happily, but the Glowfood Creamery in Banff has got around the problem by creating what it describes as an "artisan vegan cheese" for the eco-conscious / dairy-free cheese lover. The cheese isn't made from cow's or goat's milk but from organic tree nuts. The "cheese" is then infused with flavours from spices, herbs and salts.
Poutine (Tremblant, Quebec, Canada)
Skiers in Quebec, Canada, have long since realised they can enjoy the best of both the old and new worlds when it comes to cuisine. Cheese lovers can indulge in Québécois Poutine (fries, cheese curd and gravy) as well as Savoyard fare as the locals stay true to their French roots. For the latter, La Savoie serves fondue and raclette with the cheese and machines imported from France.
Reblochon (Le Grand Bornand, France)
Reblochon, the key ingredient in that incredible dish that is Tartiflette, is big in Le Grand Bornand. In fact, the village boasts no less than 55 cheese farms in operation, more than 2,400 hectares of grazing land once the snow melts and as many cows as people (over 2,000 of each). Every Thursday afternoon a special tour takes you to visit a typical farm to find out how Reblochon Fermier cheese is made from milking the cows through to tasting the cheese.
Raclette (Val D'Anniviers, Switzerland)
Which is better, fondue or raclette? It's a tough call and the sensible answer is to enjoy both (plus a couple of tartiflettes) during your week in the mountains. Let's face it, you'll soon burn off the excess cheesy goodness in your system, probably. The picturesque Val D'Anniviers in the Valais canton is the closest ski area to Turtmann where the best raclette cheese comes from.
The fromagerie here brings together milk producers from the Val d'Anniviers to produce mountain cheeses including their signature Raclette PDO cheese. Exclusively made with milk harvested between 900 and 1,900m altitude, the cheese is created in copper tanks and then on spruce boards in the time-honoured way.