Congratulations! If you're reading this, that hopefully means you've got the ski season job. If not, keep your head up, I'm you'll get there soon!
So if you have been lucky enough to receive the all important phone call, now's the time the fun really begins and you can start to get excited for what's set to be the best winter. However, we know the weeks and months leading up to your departure date can also prove quite stressful, so we're going to take you through the key things to think about before you leave so that you can swap anxiety for excitement and get prepared for your winter!
Before we get on to the all important packing discussion, there are a few other things you can do in the weeks leading up to your departure to do a ski season to make your time abroad that little bit smoother. Firstly, your trusted companion, the ever-present mobile phone. Of course you're going to want to bring this with you to contact your new family back home, make plans with your new friends and of course, take lots of pictures. However, you want the best deal that will let you do all these things for the best price. A lot of companies offer add-on plans where you can opt in to use your data abroad for a few extra pounds but it's important to do your research into the various options. I opted for a 3 Mobile plan as it included 'stay at home roaming', however had I done better research I would have found that they have a fair use policy for this plan. This means that if you are using your data exclusively abroad for a period of 3 months or longer, they have the right to suspend the 'stay at home' roaming service, so you have to pay the full amount for the rest of your time away.
Your other option, and the one I would recommend, is to purchase a local SIM card when you arrive. By all means keep your UK SIM with you just in case, but in Austria, for example, around €10 is all you need for a SIM card including data from a provider such as T-Mobile. This means you can WhatsApp and FaceTime your friends and family back home, stream music while you're on the mountain and Instagram to your heart's content! This also helps if you are employed in a representative role as you will often need to ring local numbers (restaurants, taxis, shops etc.) which can cost a bomb if done from a UK SIM. If you're going to be living in another country for 6 months, you might as well act like a local and get the SIM to match!
Secondly, while you will probably be sharing rooms with other seasonnaires whilst on a ski season, even if you are lucky enough to have your own pad, there will likely be people in and around your accommodation at times (did someone say pre-drinks?). Of course, everyone wants to be trusting and see the best in others, but the reality is that you do have to be wary around new people. For this reason, I definitely would not recommend keeping large amounts of cash in your accommodation unless it is EXCEPTIONALLY well hidden – although even this is not fool proof as someone may innocently chuck out that empty bottle of shampoo you were using to hide your euros!
So what's the best option? You could keep all your hard-earned money safe in the bank, but you also don't want to end up spending extortionate amounts on cash withdrawal fees. The answer is fairly simple. Before you go, open an account at a bank that doesn't charge you for overseas withdrawals or payments and hang on to this debit card for dear life. Moneysavingexpert.com has a really helpful breakdown of various banks' overseas fees here, but personally I cannot stress enough how much I would recommend Metro Bank to anyone thinking of doing a season. Due to the fact that you can use your Metro Bank card in Europe free of charge, I opened an account there a month or so before my departure. This was the account all my wages were paid into through the season. They make it so easy to open an account; you simply walk in with some identification and proof of address and within minutes you have your new card in your hand as they print it there and then for you. Their opening hours are noticeably longer than other banks, meaning less queues, and the online/mobile banking is really easy to use to track where you're spending the most money (ahem apres ski). Furthermore, they've got a really great work ethic and make every customer feel extremely valued, something I'd personally never had before, especially not at a bank! Trust me, you might think I'm exaggerating but at risk of sounding like a promotional ad I did not stop raving about Metro Bank to everyone I met on season for at least a month.
Another important thing that you need to make sure you are on top of is your journey. Make sure you know exactly what the details are for your departure; what time is the flight, which airport, how long will it take you to get there at that time on that day? You might think this is all obvious, but the journey to the airport before my season was one of the more stressful experiences of my life. I thought I was flying from Gatwick (40 minutes away from my home). I was in fact flying from Heathrow (an hour and a half away) but I had just completely confused this in my mind. It made for an extremely tense drive to the airport, accompanied by calls to the check-in desk to make sure it would still be open and frantic research into when the next flights would be. I was terrified of having to ring my new boss and explain that I'd fallen at the first hurdle and gone and missed the plane! Luckily, the traffic gods were on my side and I did get there with a few minutes to spare but I'd like to add here that I wasn't the only one – I was accompanied in my frantic checking in by another seasonnaire who had to return home after getting to the airport because she had forgotten her ski jacket. Don't be like us, I beg you! Cliché as it is, failing to plan really is planning to fail. And one last thing, please try not to plan an extravagant leaving drinks the night before you depart. You really don't want to be tired and hungover when meeting your new colleagues for the first time!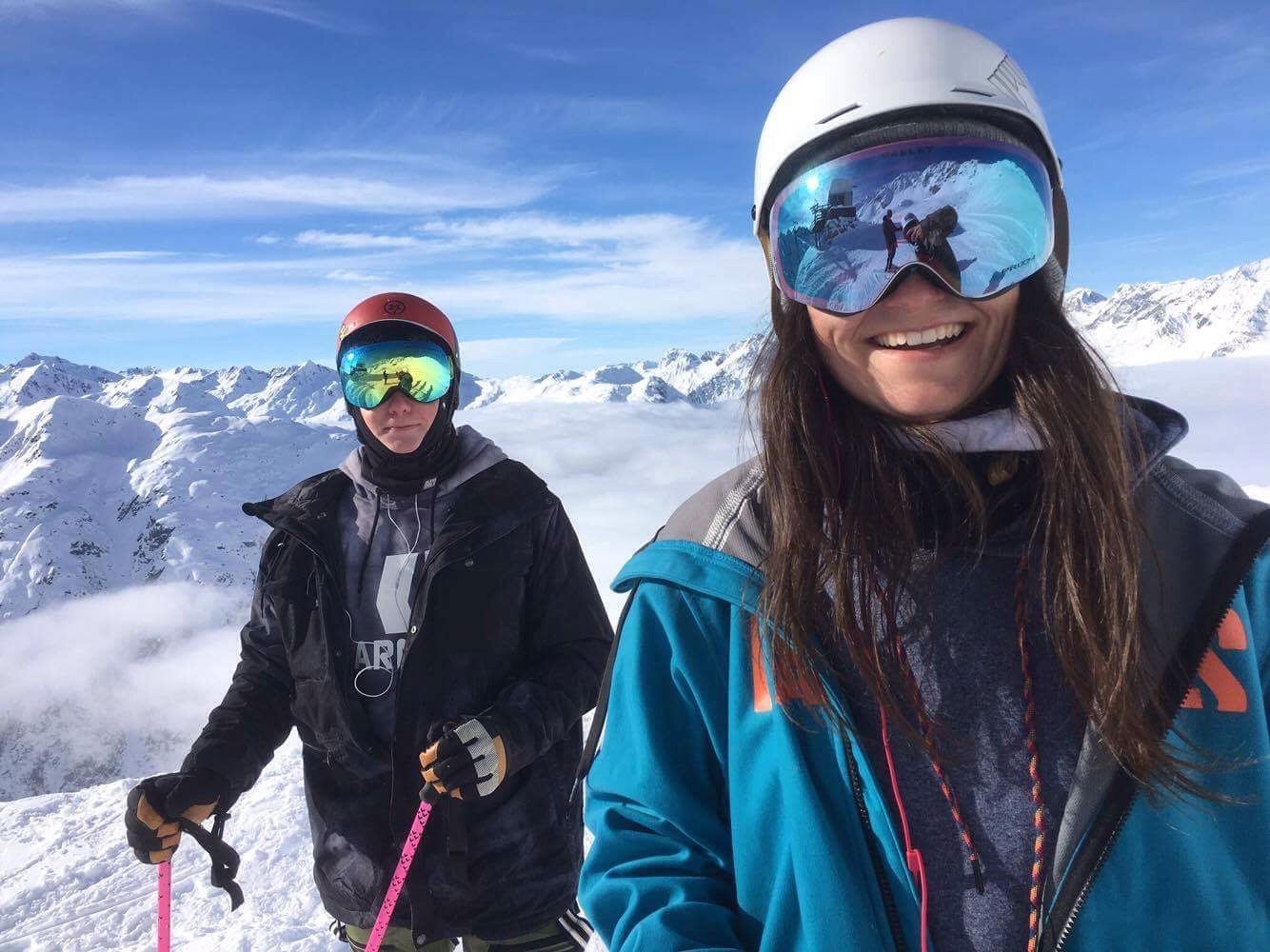 Now while we're on the topic of the airport, people often forget that you actually have to do quite a lot of walking at the airport with your luggage. You're going to be away for six months, so yes you're going to need quite a lot of stuff, but you're also going to have to carry it all. Don't overload yourself. In the weeks leading up to your departure, packing can become your life and it can be hard to know what you will need. I've put together a basic guide to help you figure out where to begin and hopefully make the process slightly easier!
You've essentially got two parts to your packing – the skiing items and the non-skiing items so I'll break this guide down into two parts:
SKI
Skis, board and/or boots
First of all, it's important to say that by no means will anyone expect you to have your own skis and boots. Many of you may never have even skied before! However, if you have previously considered purchasing your own skis or boots, there is no better time to do it. Ski boots aren't exactly the most comfortable boots as it is, but these are boots you are going to be wearing on and off for about six months. You want to make sure they fit and fit well. Think of it as if someone said you could only wear one pair of normal day shoes for the next six months; you would immediately go out and buy the comfiest pair you could find. Many ski shops now do custom fitting for ski boots, which I really would recommend if you're purchasing a new pair. It might cost a bit more, but you really can't put a price on the importance of comfort.
If you've already got your own gear, it's helpful to get it serviced before you go to make sure it's in tip-top condition. Also, a little tip – if you do have your own gear, you can get ski/snowboard bags that can fit A LOT in them. I'm talking so big that you can probably fit all your clothes in as well. This Dakine ski bag fits two pairs of skis and it has wheels – much easier to carry!
Thermals and ski clothing
I cannot stress enough how much I love my thermals. They are absolute lifesavers on the season's coldest days. If you're looking to pick up the basics for the season at the cheapest price, you should definitely head to your nearest Decathlon. These shops are HUGE and offer a lot of ski gear in the winter months for amazing prices. Their thermals are super effective and can be picked up for £3.99 here. Alternatively, TK Maxx is great for a bargain, as well as online stores such as Absolute Snow or Blue Tomato, especially in the sales season.
Gloves and neck protection
Again, to state the bleeding obvious, there will be days where it will be VERY cold. In these situations, a decent pair of gloves can be a godsend. Personally I always go for mittens as I feel they keep my hands much warmer, but I know a lot of people who hate them, so it's really down to personal preference. However, what most people agree on is the importance of a buff, snood, scarf, any neck protection. It really does make the world of difference. Neck warmers are priced from just 99p at Decathlon, so why not stock up! Alternatively, you can purchase official Buff neck warmers from £15.76.
Ski lock
So so so handy! If you're bringing your own skis or board, you should never be without your ski lock. It's a sad fact that skis and boards (particularly the new and beautiful ones that you may have just purchased for your season) do occasionally get stolen outside apres bars. Now you could just take your chances, but it can put a bit of a downer on a fantastic apres evening if you are constantly worrying about your precious new babies, or god-forbid, mourning their loss. Combination ski locks can be picked up for between £10 and £20 on Amazon and work just like bike locks, meaning you can party on with peace of mind that your latest financial investment is safe. If you do find yourself without a ski lock at any point, split your skis with a friend and place them in very different places. It may not be fool-proof, but it's better than nothing!
Helmet
If there is one thing you take away from this article it's this: PLEASE WEAR A HELMET. I could go into so much more detail on this, and will do in another post, but I honestly can't stress enough how important it is to wear a helmet. Fortunately, most people do nowadays, so you'll look a bit silly if you're the only one without one. Even the smallest bump on your head can prove fatal, so protect that lovely noggin of yours and bring a helmet. Alternatively, if you don't have the space in your luggage, many stores in resorts offer a season worker discount, so you really have no excuse!
Backpack
So useful for carrying water, beer, food, extra layers, beer, the list goes on… Just really handy to have with you so definitely one to think about bringing.
NON-SKI
A good pair of snow boots
To save me repeating myself, see my section on ski boots. This is basically the same scenario. Comfort over price (where possible!) – your feet will thank you.
A going-out jacket
If you're going to a more party resort, or simply think you might go out drinking a few nights a week, it can be a very good idea to invest in a second ski jacket. You might not want to take your favourite, high quality jacket out for the night in case it gets misplaced or stolen, so a spare is always handy. It doesn't have to be fancy; it could be an old jacket of yours or a family member, or you could pick up a bargain. As I've mentioned, TK Maxx are great for this sort of thing.
Socks
These go missing quicker than you would ever expect, especially black socks (most roles require these). Every other person I spoke to in the laundry room last year was searching for these little mites so make sure you bring a solid supply!
A solid supply of warm jumpers, hats, gloves etc.
Goes without saying really…
Camera/Go-pro
These will likely be some of the best times of your life and you will want to remember these memories so take as many photos as possible. Everyone will thank you later. Plus, you've got to get all those Instagrams to make your friends back home jealous!
Laptop, chargers, adaptors
Adaptors are another thing that just seem to disappear, so try and bring more than one if possible just in case! I'd recommend bringing a laptop as well. As a rep, my job involved a lot of work on the computer. They did provide one, but I found it a lot easier to do on my own laptop. It's up to you whether you feel you need to bring a laptop/tablet or not, but a downloaded movie or two can be a god-send in the early days when you have no WiFi and want to spend a few hours relaxing.
Medicine
You might think this weird, but bringing a stash of paracetamol, ibuprofen, Lemsip and Berocca was one of my better life decisions. They don't sell this stuff in supermarkets in Austria and to buy it in the pharmacy was ridiculously expensive, so it's a good idea to look up the rules in your area. Odds are, you will get ill at some point during your season and the last thing you'll want is a snowy trek to the pharmacy to for out €10 on some paracetamol!
Though it might not seem it, this is just a brief guide; there will be a lot more you might need. The company you're working for will give you a more detailed guide of what to bring for work purposes (usually smart black trousers, indoor shoes) so keep an eye out for any emails they send you. Remember, you don't have much space so you need to prioritise. For example, large toiletry items are not usually necessary as you can buy them when you get there. You can also get various items sent out to you from home, so don't panic too much about your packing. The most important thing is to get excited. You are so close to the mountains! Get ready to have the best time and be sure to catch our next article on how to make the most of your season.
Enregistrer