With ever more signs of climate change taking hold in ski regions around the world, will February eventually become the month when skiers and boarders can still have confidence they'll find all the slopes open at their chosen ski area?
Certainly, while many higher altitude resorts have remained snowsure from early December, even as global temperatures slowly rise, some lower-lying resorts have struggled to open all of their terrain into January in some recent years, but so far, by February, everything has been open, almost everywhere.
(Okemo in Vermont pictured top in great shape in February 2023)
Another February factor can particularly influence steeper terrain. Depending on early season snowfall, steeper slopes, which typically need more snow cover to build up before they can open then less challenging runs, may not be able to open until later in the season, so your chances of finding this type of terrain open in February on is higher than in December and January in most cases.
Finally, three years out of every four, February is also the month when either a Winter Olympics or multiple World Championships (alpine, cross country, freestyle, paralympic etc) are staged somewhere in the northern hemisphere.
But there are many other different things to consider, country by country if you head off to ski in the second month of the year.
Austria
Austria's biggest ski areas like the Arlberg, Skiwelt and Saalbach-Hinterglemm should all be fully open in February, along with most of the country's other centres. It's really the second half of the season starting for some of the country's lower-lying centres to end their seasons before the end of March. But for some higher centres, it's just getting started with slopes open well into spring. Fugen is pictured above.
France
We can expect almost every ski area in France to be almost (or fully) completely open by the start of February. That's partly because the weather should allow it but partly because February is the peak season for French ski resorts with usually four successive weeks of school holidays to cater for, resorts filled with French families. That's besides families arriving from the UK as well as countries like Belgium, the Netherlands and Denmark, all wanting their school half-term holidays here. The result is often crowds and higher costs, so (while we'd never say don't ski in France any time of the season) …if you have a choice there are cheaper, quieter countries to head to in Feb.
Italy
As with the rest of Europe, Italian ski areas should be fully open through February. The days are getting longer, there should be more sunshine hours between the snowfalls, the perfect time to sit on a terrace, take in the view and sip on an espresso.
Switzerland
Swiss ski areas are in full flow during February. All of the country's ski areas should be fully open this month and your best bet to find big areas like the 4 Valleys 100% open is usually from around February on with enough snow hopefully building up on steeper slopes for them to be able to open.
Pyrenees
As with the rest of Europe, most ski areas in the Pyrenees should have reached full operation by the start of February, even if it's been a poor snow start to the season. At this southerly latitude, you can expect more sunshine in February than further north in the Alps, but it should still be cold enough for the snow to keep falling and stay in good shape.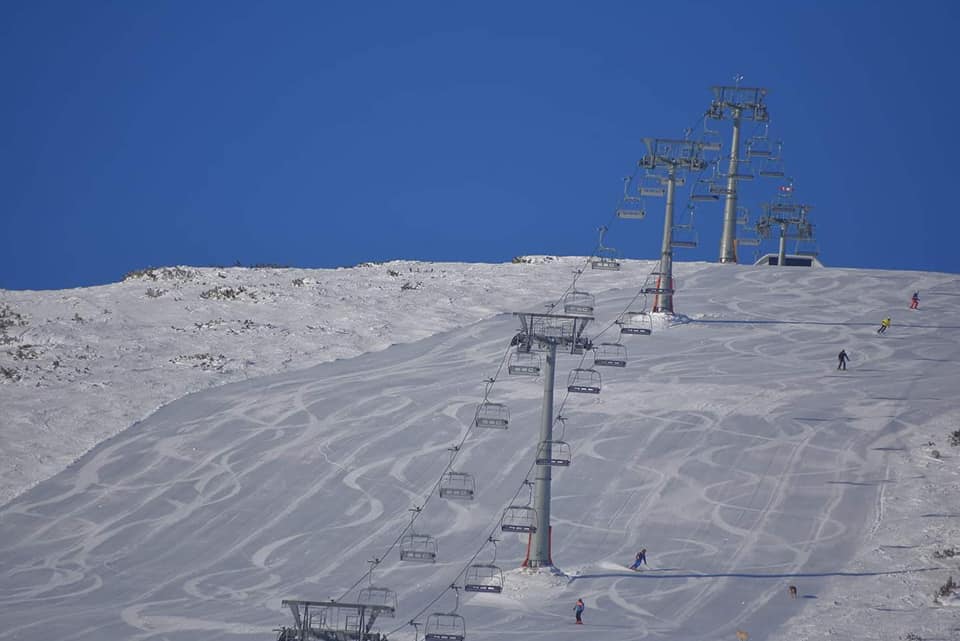 Eastern Europe
Again, February is a month when we expect all ski slopes and all resorts in Eastern Europe to be open, with enough time for the snow to build up and before the thaw starts to set in, usually in March. So February is a great month, usually, to ski or board Bosnia, Bulgaria, Croatia, Czech Republic, Poland, Romania, Slovenia, Serbia, The Slovak Republic and the rest! Bansko is pictured above.
Scandinavia
The ski slopes of Norway, Sweden and Finland are increasingly popular with, well, Scandinavians, as the year progresses. December and January are very cold and very dark (the sun dips behind the horizon completely for weeks in some areas) but while it will still probably be double digits below freezing much of the time, it is warmer and getting rapidly lighter each day by February. Everything should be open and the powder for which some centres in Western Norway are famed should be getting deeper. Europe's self-style spring skiing capital, Riksgransen in the Swedish Arctic Circle, usually begins its season on the final weekend of February.
Scotland
Scottish ski centres have for decades been stressing that it takes a while for snow cover to build on their runs, but if winter is going to happen at all (and sadly, some years, it hardly does), by February the snowpack, particularly on higher slopes but hopefully top-to-bottom, should be in reasonable shape. But you always need to check the latest reports and the forecast.
Canada
As with Scandinavia, Canada can be bitterly cold in January, but things should start to warm up a little in February, just as snow depths are building enough for resorts to open more of their challenging terrain, which might not have had enough snow to open earlier in the year. It can be almost February before big ski areas like Whistler Blackcomb announce everything is open, it was the last week of January in 2023 before they declared they were up to 100% operations. Silver Star above.
USA
As with the rest of the skiing world, at least that of the northern hemisphere everywhere should be open across the US by and through February before the season begins to wind down there in March. Recent years have seen weather extremes (rain, storms) in December and January that have eased to a more normal winter in February, so while there are absolutely no guarantees that one year will be the same as the previous one, whatever the averages are, on average February can be the best month to ski the US. For good skiers, some of the gnarliest terrain, which can't open until it has a good snow covering on it, is more likely to open in February than earlier in the season.