There's some close relationship between April Fools' Day and skiing. It could be that the day falls, of course, at the very end of the season so most people are already in spring party mood so it's just a good time fit. There have also been lots of new opportunities in recent years thanks to the internet and thanks to the creation of what would once have appeared unbelievable skiing structures – such as indoor snow centres – to come up with wild suggestions and make them appear plausible.
But often it's the simple ones that play with an element of truth that are the most successful.
Below are some of the best I'm aware of from the past 50 years. Some even appeared on days other than April Fools' Day (so isn't the fool on them?) but seem to fit the subject matter, and one seems like it might be an April Fool but actually isn't, to illustrate my point above.
Incidentally a few of these I did not find out about first hand over the years but researched online – so there's a possibility (probably a strong possibility) that the April Fools described are in fact April Fool online postings and never took place (I don't mean the April fools that are created online, but the apparently 'real' one reported online), and that I have been 'April Fooled' …if you follow? In which case, I apologise now.
Double Yellow Lines On The Slopes for Boarders
"We all know that snowboarders love a sit down – often to the annoyance of everyone else on the piste," was the high risk comment from the UK's largest ski tour operator, Crystal, as they launched their 2015 April Fool.
"To combat this, some ski resorts have today announced they'll be enforcing "no-sitting zones", marked by double yellow lines, to punish any powder hounds caught loitering on the slopes," the press release from Crystal Ski Holidays continued, with the picture above, adding that some service-driven US resorts had creating "sitting slopes" in response to the issue.
Highly inflammatory quotes from fictional pro and anti-boarding organisations followed as Crystal sought to seek comment on their blog pages.
A Ski Slope on a Power Station (Not An April Fool)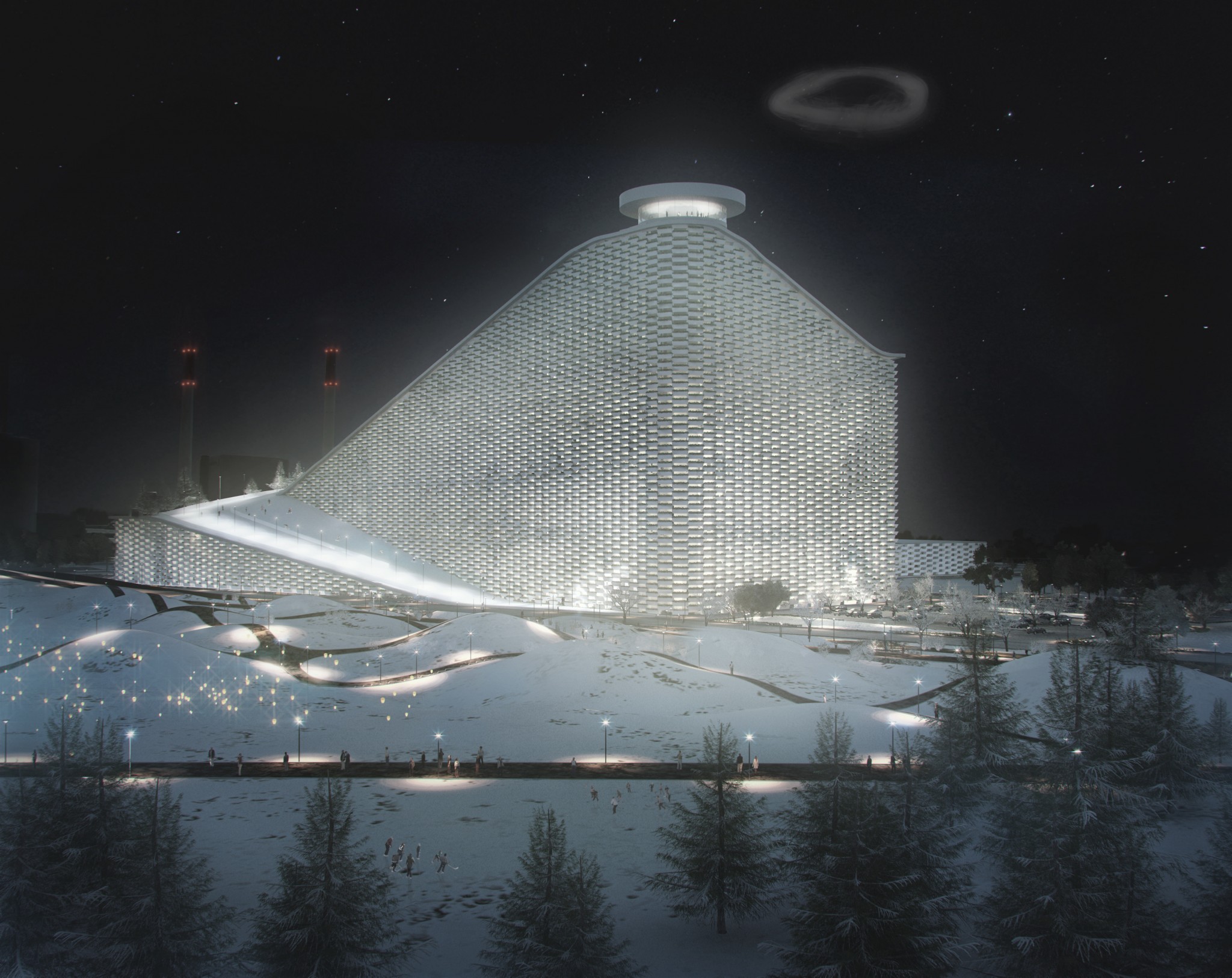 One problem that you may have when trying to work out what is and what isn't an April Fool is that with the advent of new technology over the past few decades, some of the more outlandish sounding ski projects can actually be true – so differentiating between reality and fiction can be tricky. Indeed at least one fraudster has played on this to get municipalities to invest in pre-planning large flagship capital projects like indoor snow slopes which he said would generate millions of revenues and thousands of jobs before disappearing with these 'start up' funds.
A lot of these 'serious-projects-that-sound-like-they-might-be-April-Fools' disappear when the funding hoped for doesn't materialise but some do make it and one, a dry ski slope on top of a power station near Copenhagen in fairly-flat Denmark, announced a few years ago has now been built and is due to open this year.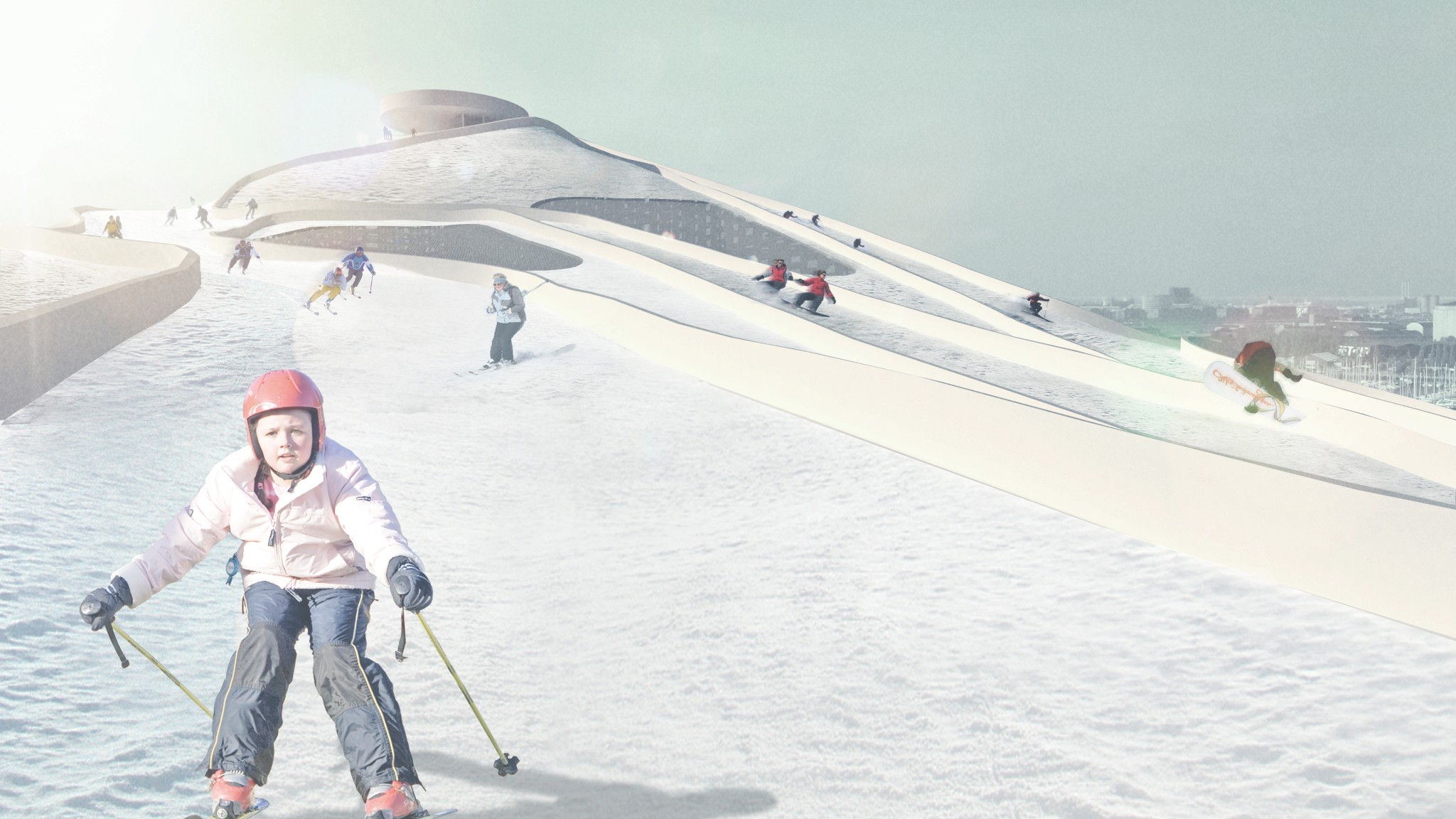 Unreal Snowdomes and Unreal Facilities in Real Snowdomes
As mentioned above, snowdomes are a big source of April Foolery. Lots of locations have announced over the years that they're planning to build elaborate indoor snow centres, one of the most recent being announced near Aviemore in Scotland.
However REAL indoor snow centres play their own April Fools too. In 2014 the Tamworth Snowdome told local media that it was planning to open an indoor bobsleigh run.
"This really is an exciting opportunity to bring visitors to the town. We also hope that in some way we can increase the Olympic hopes of Team GB for PyeongChang 2018, it is essential that British Bob-sleigh has the best possible training facilities," they told an unconvinced local media.
In 2017 Manchester's Chill Factore announced they were opening an indoor snowboarding school for dogs.
Mountain Cleaning
On 1st April 2009 a video from the Swiss ski resort of Engelberg showed just how far the tourist board went to attract tourists by employing mountain cleaners to keep the country's Alpine peaks in pristine condition all year round. They took their work so seriously they would even abseil down cliff faces to clean off bird pooh.
It was such a successful April fool that it appeared on French and Italian television and more than 100 million people viewed it. As a result more than 30,000 people completed a spoof application process to join the mountain cleaning team.
The success of the fool was therefore something of a dilemma for Engelberg. What to do with all those wannabe mountain cleaners?
"We decided to offer four weekend courses after which participants can call themselves qualified mountain cleaners," Modeste Jossen, Engelberg cable car services director told media, "Participants are awarded a special 'mountain-cleaner badge'.
The Faked Volcano Erupting
Arguably the greatest 'snow capped mountain' (if not a ski area per se) April Fool recorded was the faked eruption of Mount Edgecumbe in Alaska in 1972.
First sighted by western eyes in the 1770s and named by Captain James Cook no less, scientists later discovered that Mount Edgecumbe was an extinct volcano that last erupted around 2220BC, give or tyake a century.
But on April 1st, 1974 it seemed the first eruption for more than two millennia was underway as local hero Oliver Bickar had secretly flown up more than 100 old tyres in to the crater then got up early to set them alight. He claimed to have planned the stunt for four years.
Once investigators reached the volcano's rim they found 'April Fool!' spayed in 50 foot high letters.
A Ski Slope on A Cruise Ship
Iglu are a travel agency that specialises in winter sports holidays and cruise packages and some years ago they decided to bring the two sides of their operation together one April Fools' Day and offer holidays on a Caribbean cruise ship with a snowy ski slope on the back of the deck.
When first announced, the idea wasn't quite as mad as it sounds (arguably) as cruise ships were trying to out do each other with activity attractions (Climbing walls, surf waves etc) and indoor snow centres were all the rage. One of the large cruise liners did actually confess they had look in to the logistics of as floating ski slope.
Iglu's April Fool was a big hit and they offered the trips again in 2014.
A Ski Resort In The Canary Islands
To be honest I'm not sure if this one appeared on Aprils Fool's Day – it was first posted at least a decade ago but it's still there.
The joke surrounds the creation of a fictional ski area in Spain's Canary Islands, down near Africa in the Atlantic ocean. It was put together by the Spanish ski resort guide Nevasport.
Like all good April Fools there's an element of truth in it, Mount Teide, where the ski resort is described as being, is very high and does actually get temporary snow cover quite often in winter. People have posted videos and it's snow cover is actually reported on snow-forecast.
But what it doesn't actually have, sadly, are the "20 km of groomed slopes served by four ski lifts and a big gondola" described in the site.
Gold on The Ski Slopes
Crans Montana pulled an unusual twist on the April Fool by running their spoof story in August.
This was summer 2012 and the Swiss resort later excused its decision to run a fake story to the world's media as a new popular trend on the web. It certainly got them a lot of publicity.
The story was of a spectacular gold discovery of a gold nugget about 7 centimetres (2,76 inches) wide, weighing in at 128.5 grams (or 4.5 ounces) by summer hikers on the slopes.
"This could be the biggest gold nugget ever found in the Alps," Xavier Bianco, then Director of Sales, Marketing and Communication at the resort gleefully announced, adding, "Nevertheless, the exact location where the nugget was found will not be revealed for environmental and safety reasons. This should protect Crans-Montana and surrounding areas against excessive crowds of gold-seekers."
Enregistrer