For a small town in the Swiss Alps, Crans-Montana holds many treasures hidden to the passer-by. As a merger of two formerly independent villages (until 2017, Crans and Montana), it has twice the facilities of a normal resort. What one thus sees is a case of conjoined twins: clones of supermarkets, banks, rental shops, and even bakeries.
With countless restaurants (and an international range of cuisine), activities, and sightseeing opportunities, it can be hard to decide an itinerary for what may only be a half-term trip. Luckily for myself, I am here for the season, meaning I have the luxury to choose and choose again. This has allowed me to write the following list, with the ten best attractions I know Crans-Montana has to offer.
Nevertheless, I would not plan your visit too thoroughly. As a frequent traveller, I find the best delights come with the element of surprise and the pride of self-autonomy. Take these recommendations lightly—knowing I have my own personal tastes and budget—and make your own list for the friends you invite here after your stay. Just bear in mind that, as with Swiss French customs, many places are closed between 12pm and 2pm.
Skiing
This may seem obvious given the town's status as a ski resort. However, there are still many who come here refusing to take advantage of the fact—myself included, for a while. With over nine hours of winter sun, 140km of pistes, the world's most beautiful scenery surrounding you, and the prospects of other ski locations offered by the Magic Pass[1], the opportunity to ski Crans-Montana is foolish not to take.
While the slopes may not be as beginner-friendly as the bluewashed Arosa for instance, ski lessons are easily arranged and the mountain caters for everyone. There's no reason why you shouldn't learn, and one succeeds simply in dragging themselves from bed and into the cold.
Besides, nothing beats the taste of espresso when it's drank in sunshine after a morning's work; sitting on an Alpine terrace and admiring the world from an eagle's point of view (I recommend La Vache Noire for such). Even if you don't want to ski, with a lift pass you can ascend all the way to Plaine Morte—the breath-taking glacier at 3000m—or sit on the 'foothill' of Arnouva and enjoy a pizza in the snow.
While other snow-sports activities are available, for me skiing is next to flight and Crans-Montana is an ideal runway.
The Lantern Trail
Back in basecamp, the Lantern Trail (or Chemin des Lanternes) is a new addition to the resort. It is part of the Étoile Bella Lui Festival—artisanal stalls, fairground rides, and weekend activities running in the festive period—yet outlasts it as a permanent fixture until the end of March.
As the name suggests, the Lantern Trail is a pathway of lights from the centre of Crans to the La Plage Restaurant, on the southern shore of Lake Moubra. For such a simple idea, the result is remarkably pretty and a fantastic way to relax after an eventful day. Personally speaking, I know a night-time walk (and the Trail's magic only works at night) allows me to breathe, reflect, and entails good sleep when I finally meet my bed.
The Lantern Trail also holds a fairy-tale aspect for the children, in the story of a shepherd and a lost sheep. If the 3km proves too tiresome then there's a 'mountain chalet' midway, where a party can seat themselves to raclette, Valais wine, and charcuterie (pre-booking required).
My only advice is to wear a good pair of snow-boots. Although the trail is flat it's also snow-covered, and my decision to wear trainers was not the best.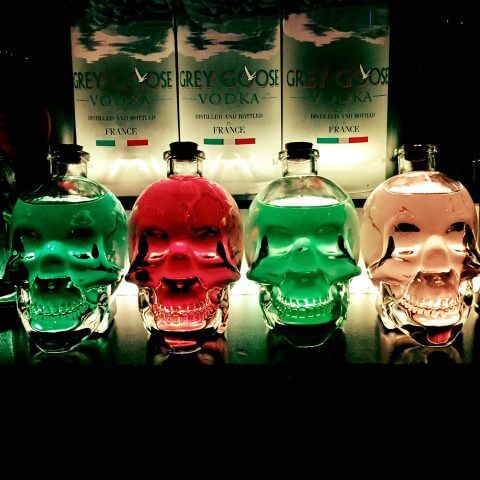 Monk'is Bar
Continuing the theme of nocturnal activity, Monk'is Bar is for the night owl and party-starter—definitely not the children. It's extremely popular amongst young saisonaires for its DJ sets, casual atmosphere, and extended opening times (until 2am and occasionally 4am).
This last point means the bar doesn't become lively until midnight, at which point the dancefloor resembles an airport terminal. If you're looking for a drink before then and don't mind a bit of 'modern music', then their cocktails and couches are a good mix. The two beers on tap (from my hazy recollection) are Calanda and Erdinger—Guinness, I'm afraid, is only available pre-tinned and at 9CHF a can.
The aforementioned saisonaires party hardest on a Tuesday night (Soirées du Mardi), when some form of live music or happy hour is usually present. Consequently, it's the people who make Monk'is: the staff are very friendly (and patient too); the clientele always jovial and from every walk of life. Their drinks selection is extremely wide, and the stories the morning after are legendary. Days may pass at work, but they're spent recounting nights at Monk'is.
Just don't be intimidated by the smokers around the underground entrance or the somewhat outdated website; use the Facebook instead. If you're looking for somewhere a bit more relaxed or traditional you can also try Postillon, just around the corner.
Burger Lounge
Your post (or pre) drink meal is just down the street from Monk'is: the trendy, punch-packing Burger Lounge. Open from 12pm-2pm and 6pm-12am everyday bar Tuesday, Burger Lounge is also a reputable name amongst Crans locals. As a vegan, it's one of the few restaurants here (and in Switzerland at large) that truly caters for my diet.
One shouldn't see dinner here as a departure from Alpine cuisine. The bread is baked fresh in the village, the beef is 100% local, and there's even a rosti burger as marriage of old and new. Prices are mid-range (by Swiss standards), and the ambiance is of a relaxed, hipster joint—it's as much 'burger' as 'lounge', after all.
Marmotte Beer (the unofficial drink of Crans-Montana) is the restaurant's accompaniment of choice and available by the bottle. I have to say as much as I loved a cheese fondue, the Canadians are right in saying burgers, fries, and beer are the best way to finish a ski day. Nothing rewards sore thighs better than soft, salty carbs, a big savoury bite, and cold refreshment pouring down your throat.
I would say Burger Lounge is a place best enjoyed in the company of friends—although children's options are also available—be it for an après-ski lunch or as the evening's ne plus ultra.
Cinécran
As another night (or day) time event, Crans' cinema is a sweet reminder of life before chain cineplexes. Sometimes disaster may strike and a much-anticipated film comes out while you are on holiday—fortunately, Cinécran is there for yourself as well as your family.
As stated, the cinema is a remnant of time's gone by—when limited showings, comfy chairs, and pick-your-own seat were the norm. From the outset it's a cosy and quaint environment, dressed in red velvet and soft light. Alcohol, ice cream, and popcorn are all available from the lobby, and the upholstered floors are anything but sticky.
Fortunately for the Anglophone tourist, the majority of Cinécran's films are played in their original English, with subtitles for French or German viewers. The weekly programme is available on the cinema's website (with two showings a day), and ranges from Oscar-winners to Hollywood side-projects. You can also book children's birthday parties or private showings through the same website, for a much more personalised experience.
On the several occasions I've been there, I've always felt like I should be watching an old Western. I'm sure that says something for the place's nostalgia.
Jacky Bonvin's Livres et Cigares
Finishing our tour of Crans village is one of its high street peculiarities. Although I don't smoke, I imagine high-quality reading combines well with high-quality cigars—especially for the smoking parlour, armchair literati. From my frequent visits to Bonvin's, I can see their tobacco catalogue is extensive, and greatly more refined than your average drugstore.
What interests me more as a reader and writer is Bonvin's impressive display of books. These feature both French and English editions, and range from classics to the most recent additions. If you've never been in a (Swiss) French bookshop, the stylishness and simplicity of the culture's tomes may surprise you: novel covers are largely blank, to avoid unfair judgement of the books' contents. Therefore like the streets outside, the shelves appear white too.
Interestingly, I've found many works in my own language unfamiliar to bookshops back home. The store prides itself on 'beautiful books'—meaning an extremely aesthetic experience—and caters for all tastes upon its four walls and central display, children included.
For learners of French such as myself, reading a novel in the language is one of the best ways to improve. Not only will it expand your vocabulary, it will develop a deeper understanding of the culture and text, and a challenge to work towards. Books tell much more than their words too; bringing one home is, in my opinion, a greater souvenir than any fridge magnet. Besides, it gives something to entertain you on the train or plane back.
Étang Grenon
On your way to the resort's east side, one cannot help stopping at Étang Grenon ("Grenon Pond"). As a wall of water between the resort's two moieties, the small lake represents the spiritual heart of Crans-Montana. The large illuminated sign on its southern shore, bearing the town's name, serves as a bold statement of identity.
On a less noble point, this is Crans-Montana's designated 'selfie-spot', and the masses of Instagram photos prove it. If you're looking for an Alpine vignette with mountains, pine trees, and a frozen lake, then Étang Grenon will surely fit your social media. Plus with 'CRANS-MONTANA' spelt out behind you, there's no need for a location filter.
Besides this, the pond's shores bear their own bountiful fruit. There are benches to sit and admire the view; a large terrace offered by New Pub (a bowling alley and more traditional bar); and arguably the best supermarket in the town, Migros, at least by price and range.
Living the frugal student lifestyle, I welcome the combination of largescale shopping discounts and a nice lakeside walk.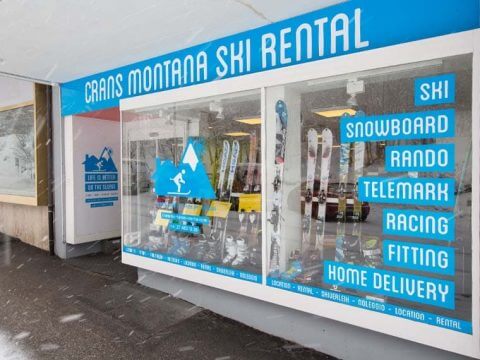 Angel's Sport
Being a luxury resort, Crans-Montana is home to many luxury boutiques—ski rentals included. Intersport—the Swiss giant in snow-sports retail—has a resort-wide presence, alongside other high-end establishments like Alex Sports and Avalanche.
However, there is a vibrant sub-culture of smaller sports shops in both Crans and Montana: Pacific, One Way Sports, and my personal favourite Angel's Sport. This is where I rented my equipment at the fair price of 400CHF for the season (this includes any repairs, swaps, or services I will need over its course). Better yet, that money supports the town's local business—keeping corporate rivals at bay.
This winter I decided to experiment, looking for skis with front-rockers and a length greater than my own height. Although this was unfamiliar territory and I didn't know what to ask for, the amicable and efficient team worked with me to find the perfect fit. As all the staff are dedicated skiers, their professional know-how meets a passion for the slopes when they assist you. This means your equipment is not only good-quality but comes with first-hand knowledge.
What's more, even though the powder drift I hoped for is yet to arrive, I have the option to exchange my off-piste shredders for on-piste carvers at no extra cost.
Taillens
Although the French hold global renown for their bread and pastries, the Swiss French are almost at their side. In fact, the latter has the cheese and chocolate with which to adorn the former's work, making the competition a stalemate. So for artisanal baking, chocolate-making, and even coffee, look no further than Taillens.
Such is the popularity of this family-run business that there are three in Crans-Montana alone; the original (and best) is that of Montana Village however. Away from the main shopping district of Crans this branch tends to be quieter, with a focus on baked goods[2]: cakes, tarts, bread, and sandwiches, all in Valaisian taste and style.
With a large glass storefront, the shop is hard to miss as you walk along Montana's main street; its interior is golden and display case immense, dazzling the passer-by with colour and mouth-watering sights. If you're in a hurry, Taillens Montana has its own 'bread-vending-machine' outside, with freshly-baked rustic bread at 2CHF a loaf. Yet one of their sweet pastries or crisp baguettes on a sunny day in the mountains is an indulgence worth the five minutes and few extra pennies.
Even if you can't visit, if you're dining at most restaurants in the resort expect to be eating Taillens' bread—it really is that popular.
Bellavista Istanbul
This one is something of a hidden gem, and off-time arrivals to the Montana Funicular make up many of its visitors. If you're departing that way at the end of your trip, Bellavista Istanbul is an excellent way to finish.
While it doesn't have the 'deluxe-factor' of its more central neighbours, the small Turkish diner has its own charm within. Dishes are simple travel-fuel: falafel, pizza, kebab, all served with pomme frites. The place is quiet and comfortable, and after blowing your holiday budget on five-star hotels and designer fashion you'll likely need a lower-range menu.
The two most attractive features of Bellavista however are its coffee—strong, flavourful, and using a real espresso machine[3]–and, as credit to its name, the beautiful view. The owners were immensely fortunate when choosing their location to have back-windows looking onto the Rhône Valley, in all its unspeakable glory. Unlike other panorama views this one has no high-rises or ridges to mar it—only the sloping mountain beneath.
After returning home from Crans-Montana, that beautiful view will be the one you remember.
For further information on amenities, events, and shops in Crans-Montana click here.
[1] Magic Pass: Be sure to buy pre-season, as this 'golden ticket' will then be subject to heavy discounts
[2] The Crans branch has a much larger chocolate section and adjoining tea-room, if that's what you're looking for
[3] Surprisingly hard to find in the Swiss Alps, where Nespresso has claimed victory.