We have teamed up with Summit Worldwide who are giving away £600 worth of kit to one lucky InTheSnow reader!
We are excited to share the news that UK Snowsport eyewear brand 'Summit' are launching their 2018 Polarised and Magnetic lens change ski goggle 
'
Talisman' through well-known crowd-funding website Kickstarter, offering you up to 40% OFF RRP… but what is Kickstarter crowdfunding?
Crowdfunding is a fundraising method for entrepreneurs and small businesses, which helps bring a product to market. By backing Summit on Kickstarter you are essentially 'pre-ordering' the new Summit magnetic 'Talisman' goggle at a heavily discounted rate!
Why?
To help bring an awesome new product to market!
It's rewarding to support the growth of ambitious small businesses!
You receive the product at a heavily discounted price!
What's The Catch?
No catch! If Summit hit their £15k target, they will go into production and you'll receive your beautiful new magnetic goggles in around 6 weeks! If Summit don't hit their target, Talisman doesn't go into production and no money is taken.
Who Are Summit?
Summit have been developing snow sports eyewear and specifically ski goggles since 2011 with their focus being on providing high quality products at an affordable price to their most valued team member – YOU!
Over the last 7+ years in their quest to create the perfect pair of snow goggles, production costs have nearly quadrupled. More technical designs, hugely improved functionality and dramatically upgraded components means higher production costs. That is exactly why they have turned to crowdfunding… with your help, their latest project can become a reality!
Talisman possesses Summits magneteyes technology making it one of the fastest lens change systems in the world. With an eight point quick release magnetic lens change system, you can switch over to your low-light lens instantly!
Enter below to be in with a chance of winning Summit product with a total value of £600
1 x 2018 Magnetic Talisman Goggle, Complete with 5 Lenses and Hard Zipped Travel Case (Large Fit)
1 x 2018 Magnetic Talisman Goggle, Complete with 5 Lenses and Hard Zipped Travel Case (Small Fit)
2 x Summit Hoodies
2 x Summit Tees
———- ENTER COMPETITION ———-
Review their Kickstarter crowdfunding campaign page and get involved >> http://kck.st/2hHmYyt
(Winner announced on Monday 30th October)
Talisman Goggle Product Spec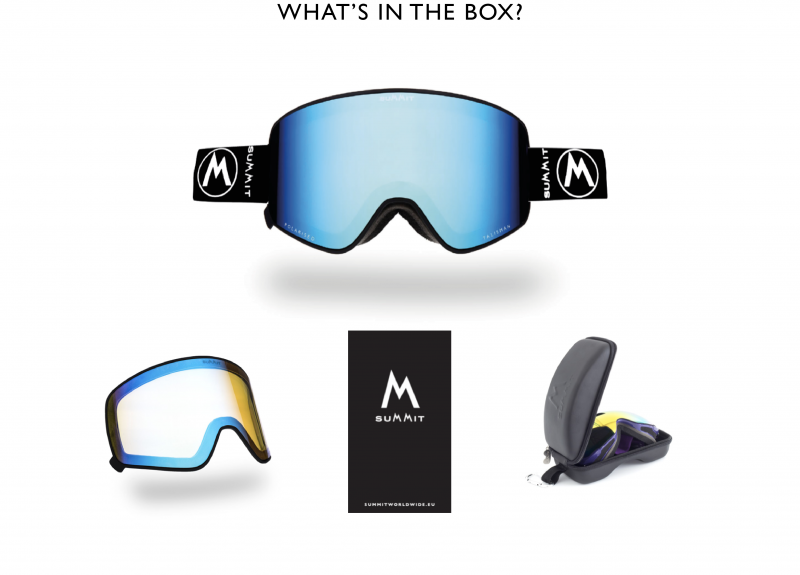 FRAME AND STRAP
8 Point Magnetic Lens Change System
2018 Silicon Logos Prevent Fade or Wear
Triple Layer Fleece Lined Foam for Comfort
Minimalist Frameless Design
Ultra Light, Low Profile Frame
Silicon Lined Head Strap
Superior Panoramic View
Helmet Compatible
Double Adjustable Head Strap
LENSES
8 Point Magnetic Lens Change System
2018 Bronze Lens Upgrade
2018 Polarised Filter Eliminates Glare
Cylindrical Lens Provides Crystal Clear Vision
Lens Trigger To Ensure Rapid Lens Transitions
Full UV400
Anti-Fog Treated
Double Lenses
Talisman Goggle Product Spec – RRP £130
Enregistrer
Enregistrer
Enregistrer
Enregistrer
Enregistrer
Enregistrer
Enregistrer