Where is good to ski right now? 
After a mostly snowy first six weeks of 2019 in one region or another the weather has calmed down across the Alps (and indeed the Dolomites and Pyrenees) with predominantly sunny days and great conditions for skiing and boarding.  Obergurgl in Austria is pictrured top this week.
All that snow through January to mid-February has left deep cover at most resorts, with almost all the centres you can book a package holiday to reporting at least a 2 metre base depth and some as much as a six metre base depth.
The snow in the Alps is fresh too, there was another big dump last weekend and into the start of this week which gave 30-60cm more snow to most resorts in Austria, France and Switzerland.
Meribel is pictured last weekend below:
With all the sunshine this week it has also been getting warmer and it will be feeling 'springlike' in many resorts this weekend and into the main half-term week next week. Temperatures may well go well above freezing at village level and even up on the slopes.
There's no real sign of change on the horizon at present either with just the odd centimetre of snow forecast here and there by the snow forecasting agencies, but mostly just more sunshine.
The avalanche danger rose up to level 3, considerable, for off-piste skiers and boarders with that heavy snow but has since eased in some areas.
There hasn't been any significant fresh snow in the Dolomites or Pyrenees for nearly two weeks now but conditions remain good after all the snow that fell in later January and early Feb, with deep bases again and all runs open.  A light dusting of snow is expected in the Pyrenees at the start of next week which should freshen things up nicely.  Spain's Baquerira Beret is pictured above this week.
Conditions are looking pretty good in Eastern Europe too, where the snow has continued falling and temperatures stayed lower through the past week.  Bases are also looking very healthy and again pretty much all runs are open.
Further north things are looking a little less promising. In Scandinavia, there has been fresh snow but there's also been a wild mix of weather with temperatures going from below -20 at the start of the week to above freezing with rain, and periods of fog and gale force winds have also impacted skiers.
In Scotland, the warm British weather has had a bad impact and the number of runs open which peaked at over 60 midweek is now down below 10 across the five areas and with warm weather expected to continue into next week it's not looking promising at present.
Across the Atlantic there has been no let up in the heavy snowfall in Western North America with more massive accumulations in California and along the Pacific Coast, which has continued over to provide pretty huge snowfalls (60cm instead of 120cm further west) in states like Utah and Wyoming.  Mammoth Mountain has now had more than 11 metres of snowfall and is sitting on a 5m+ base so has already announced that it's staying open to at least July 4th this year.  Cars at the summit at Snoqualmie in Washington State are pictured above.
There's been fresh snow north of the border in BC too and over in the east some big snowfalls in New England and Quebec (includiong at Mont Tremblant below).
**** REPORT BELOW DATED 8 FEBRUARY 2019
Where is good to ski right now? 
Ski areas around the world seem to be taking a breath this week after huge snowfalls up to last weekend and, in North America, the first half of this week.
Resorts in the Alps posted snowfalls of typically 50cm to as much as 2 metres by the end of last weekend and similar numbers were reported in the Dolomites (Alta Badia pictured below) and Pyrenees over the same period with the most snow – up to 3 metres (10 feet) reported in California between Saturday and Tuesday.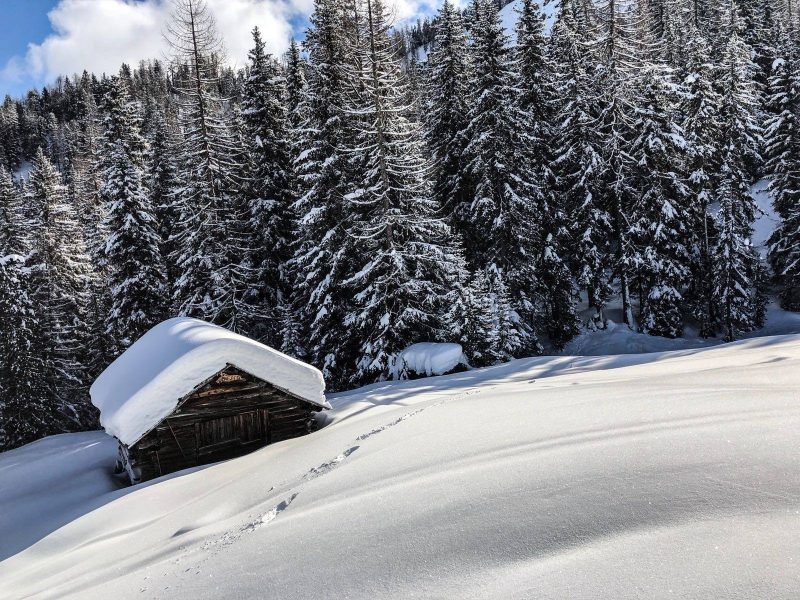 So in mainland Europe, after those huge snowfalls, this week has seen people simply enjoying all the snow.  There have been blue skies in the French Alps, for example, leading to endless social media posts of "fabulous conditions."
That said, in the past 24 hours things have been turning snowy again in the Alps with a fresh band of snow clouds crossing the area over the weekend with the heaviest snowfall expected on Sunday/Monday.
Snow depths are very healthy indeed with most of the continent's leading ski areas having at least 2 metres of snow on upper slopes, some as much as 3 or 4 metres and a few, including St Anton, Engelberg and Andermatt, above 5 metres.  That should take a while to melt in the spring.
It has been a great week in the French Alps with lots of sunshine and skiers in the mountains there over the past few days reporting ideal conditions.  The snow clouds have moved back in at many resorts now though.
Elsewhere in Europe, there were huge snowfalls at the end of last week in the Dolomites. This was particularly welcome as the Italian mountains had not had much snow at all this season until then, although they did have most of their terrain open thanks to near 100% snowmaking coverage. Now the snow is lying deep across the region.  Cortina and Val Gardena posted some of the biggest accumulations.
Further east still there's been a lot of snowfall in Bulgaria over the past few weeks and conditions are good here with a deep base developing.
On the other side of Europe, the Pyrenees saw their second week of heavy snowfall leading to resorts in the French Pyrenees now posting deeper snow base depth stats than resorts in the French Alps – although both mountain ranges have healthy numbers.  Like the Dolomites, the snowfall has been very welcome after a fairly dry first few months of the season before it arrived.
Looking north conditions are again fairly good across much of Scandinavia.  It's been cold and clear so far at Are for the Alpine Skiing World Championships in Sweden with will see Axel Lund Svindal and Lindsey Vonn's final professional races in the next few days. There has been some fresh snow though with Norwegian coastal ski area Voss reporting 30cm of fresh powder this week.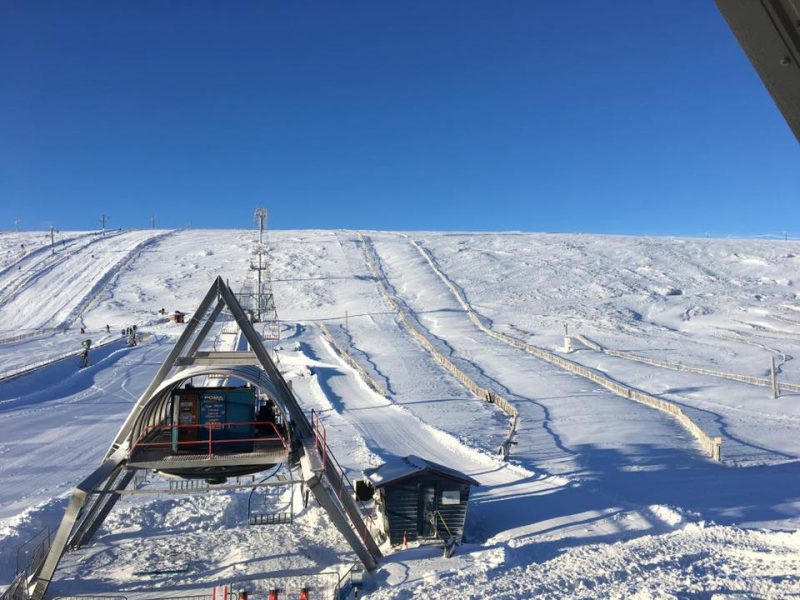 In Scotland, it has been a constantly improving picture through February with bases building and all five areas opening terrain beyond the previously only-beginner terrain available.  The Lecht is pictured above this week.  Temperatures are rising and it's a windy weekend ahead which could see some damage to the thin snow cover but hopefully not.
In North America, there have been huge snowfalls on the West side of the continent as mentioned above.  The biggest falls were in California (Kirkwood pictured above) but 1-2 metre accumulations were reported across the western side of the US and it has hardly stopped snowing in Utah where the Freestyle World Championships are underway.  Some resorts there have had two metres of snow this week.
Elsewhere there has been a bit of a lull since the snowfall was heaviest on Sunday/Monday but a fresh front hitting the West Coast this weekend is expected to bring at least another 50cm by the start of next week.
ends
**** REPORT BELOW DATED 1 FEBRUARY 2019
Where is good to ski right now? 
Well for the Start of February the good news is that the snow conditions are looking great almost everywhere.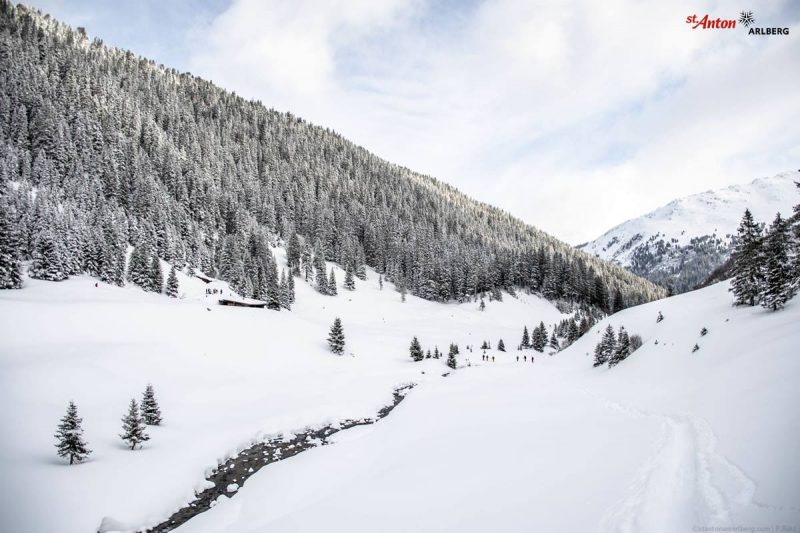 The extremely heavy snow in the Eastern Alps (Austria and Eastern Switzerland) that caused disruption in the first half of January has now eased leaving most areas fully open.
The snow is lying deep across the region now, in fact, the world's deepest snow base is 20 feet (six metres) deep at the resort of Andermatt in Switzerland, Engelberg isn't too far behind and St Anton (above) recently pushed through the 5-metre mark for its upper snow depth earlier this week.
At the same time The Western Alps (France, Western Switzerland and Western Italy), which had been doing fine but really needed more fresh snow, have had just that over the past 10 days with most resorts receiving several feet (60cm+) of fresh snow but some as much as 1.5 metres of snow.
The snow is still falling and expected to continue to be quite heavy through the weekend at many areas, so that could cause travel issues.
The snow has also pushed the off piste avalanche danger up to level 5, one below the highest level, 5, meaning it is very dangerous to ski or board off piste at present.
The Pyrenees needed fresh snow more than the Alps and in some areas, until about 10 days ago, ski areas were only partially open because of a lack of snow.  That has changed big time with the biggest snowfalls in the world over the past fortnight in the Pyrenees.
Some ski areas there have had over three metres (10 feet) of snow.  So there are amazing snow conditions at present in the French and Spanish Pyrenees, as well as Andorra.  Pictured below is digging out at Formigueres in the French Pyrenees.
Again the volume of snow, still falling in some places, may cause travel issues and has pushed up the off piste avalanche danger so its vital to be aware of and respect closed slopes and other safety advice.
The Dolomites too had not had much snow until recently although pretty much all their groomed terrain was open thanks to their massive snowmaking arsenal.  But it is due to snow heavily this weekend here too for a good start to February.  It looks like 50-100cm of snow may fall over the next 72 hours, more than most areas there have had all season so far, so that should transform conditions here too.
Most of Eastern Europe is looking good too.  Large parts of the Northeast of the continent (Czech and Slovak Republics, Germany and Poland) shared in the huge snowfalls in the eastern Alps of early January and there have been several big snowfalls in Bulgaria over the past few weeks leaving the snow nearly two metres deep there.
Scandinavia – where the biggest ski competition of the year – the FIS Alpine Skiing World Championships – kick off next week in Are, Sweden, it is mostly good.  Finland had a warm start to the season but it is cold now and most areas are fully open. In Norway there have been some substantial snowfalls this week with 50cm of fresh at Norefjell.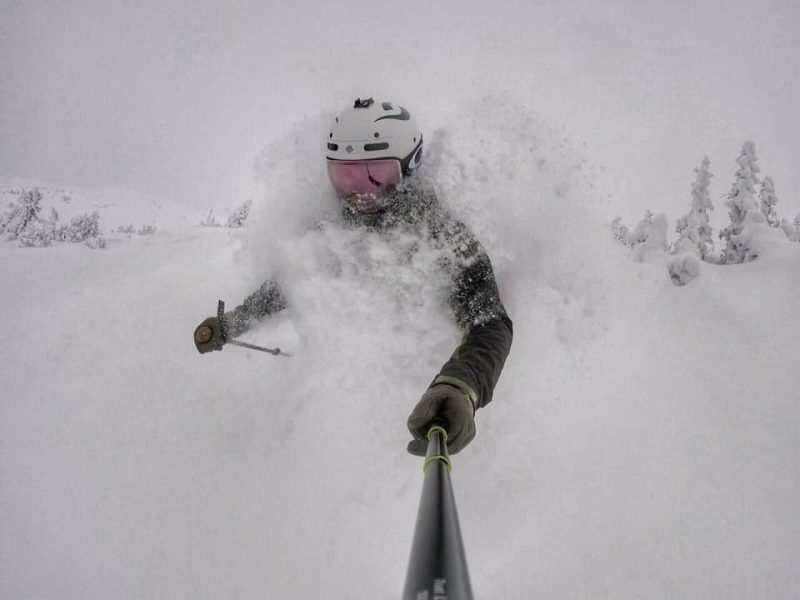 The only area struggling to open much terrain so far in Scotland, although here too it's a rapidly improving picture after mostly cold and sometimes snowy weather over the past fortnight. The five Highland areas should all have some runs iopen this first weekend of the month.
Across the Atlantic the big news from North America has been the super cold weather (-50F wind chill at its most extreme) in the centre of the continent.  This led to the closure of dozens of ski areas where it was too cold for them to operate safely.
However most of us head to ski areas on the West or East side of the continent where it has been cold, but not so much.  The East has had the most snow over the past week but there was already a good base from big snowfalls from November on in the west and more fresh snow is arriving this weekend and into next week there.  Revelstoke in BC has had more than 7 metres of snowfall so far this season.  Panorama in BC is pictured top.  Tremblant in Quebec below.
Finally, Japan – a fairly classic winter it seems with plenty of deep powder and Niseko passing the 7-metres-snowfall-to-date tally already.