This December has been an amazing month for snowfall in Europe, with many areas seeing some very impressive early season conditions. It's gotten us, like many others, itching to book trips right now to make the most of all the incredible powder out in the mountains. So, we've put together our top choices of the best areas for off piste skiing in Europe to help any powder-hungry skiers out there who may be struggling to decide where to head next.
As ever, safety is always paramount, so do ensure that you're well versed in mountain safety and have all the necessary avalanche safety equipment before thinking about heading off piste.
Best Areas for Off Piste in France
Often hailed as 'the mecca of freeriding', Chamonix has long been a top destination for off piste adrenaline hunters. One of the best in the world, let alone Europe, Chamonix offers a range of off piste terrain. From those making their first forays off-piste to seasoned ski tourers and freeriders, there is something for everyone who wants to venture off the groomed path.
With the Mont-Blanc Unlimited lift pass, you can access a staggering 900km of amazing terrain throughout the Chamonix Valley all the way through to the other side of Mont Blanc at Italy's Courmayeur. 90% of the skiing in the Chamonix Valley is located above 2000m, meaning it is the perfect destination for those looking for the best chance of powder all year round.
The Grands Montets ski area is a firm favourite of many off piste adventurers here, with a huge amount of space between groomed runs that provide a variety of off piste opportunities from serious powder bowls to fantastically fun tree runs. Whatever type of off piste you're after or if you simply want a bit of everything, head to Grands Montets.
However the fun certainly doesn't stop here! The slightly quieter areas of Brevent & Flegere are great places to head if you're finding the Grands Montets busy and tracked out. Almost limitless off piste options abound and when conditions are good, you'd be hard pressed to find a better powder playground.
---
READ NEXT: Off Piste in Argentiere – What an Off Piste Course in Chamonix is Really Like
---
The Vallée Blanche is also a must, one of the most famous off piste offerings in Chamonix. Beginning at the top of the spectacular Aiguille du Midi cable car (a must-do in itself), this 20km route takes you through some incredible terrain with breathtaking views and some of the best skiing in the area. However, make sure you know exactly what you're in for with this route and consider using a qualified guide.
In addition to all this, when based in Chamonix you've also got the option to explore the more gentle Le Tour area as well as the Valle d'Aoste of Italy. Courmayeur is definitely a top pick in Italy for those that want to venture slightly further.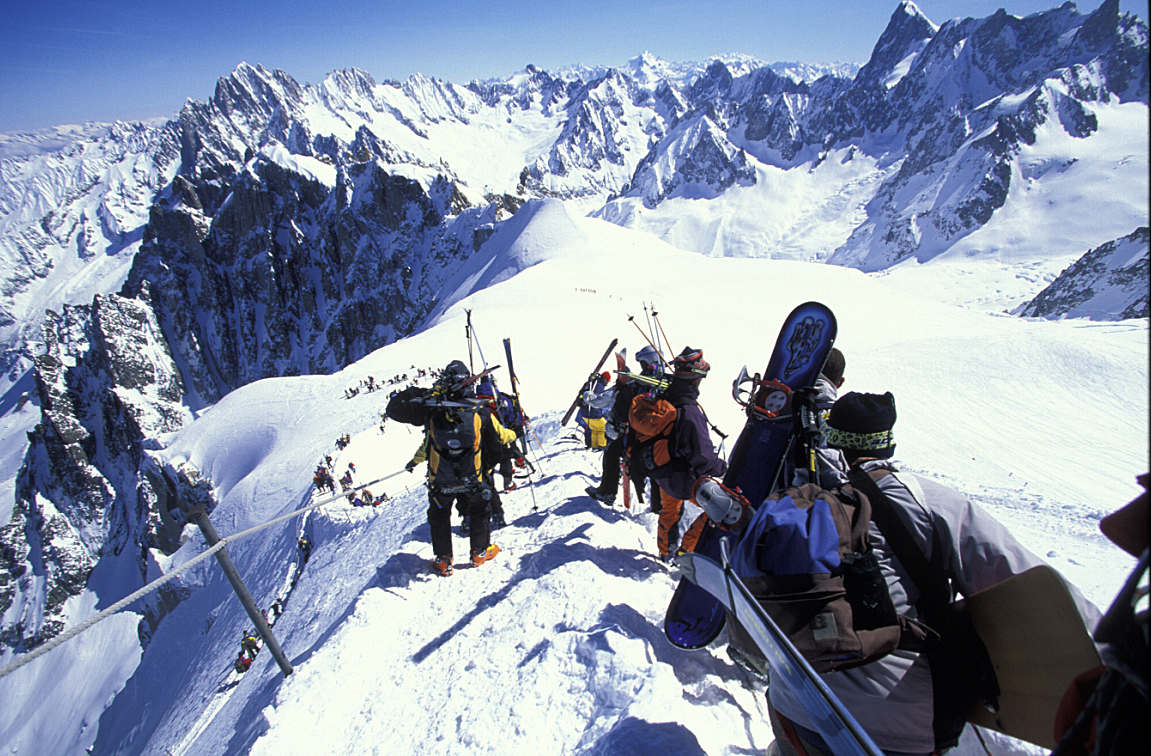 The huge ski area of Val d'Isere encompasses not only some incredible pistes across across Val d'Isere as well as Tignes, but some of our favourite off piste ski routes as well. Once you've skied here, you will understand why so many people return year upon year.
Le Fornet is one of Val d'Isere's best areas for powder hungry skiers, and as such often gets quite busy when the snow conditions are good. If you do get here early though, before it all gets tracked out, there is a lot of really nice skiing to be had, from wide open spaces to tree runs and narrow colouirs.
To head a little further off the beaten track, Les Brévières offers a huge amount of routes for the more advanced off piste players, with a range of couloirs, some of which guaranteed to bring a shiver to the spine of even the most confident skier. As with all off piste, caution is advised here as dangerous drops, rocks and other hazards are not uncommon here.
If you're after something really expert, the Pisteur's Couloir is one of the most terrifying off piste routes in the area. Hike up 45 minutes and you'll reach the top of a long, narrow couloir which leads out into some of the best skiing in the Alps.
Tignes is also a great resort in which to base yourself for some of Europe's best and most entertaining skiing. You are guaranteed to find a few runs you will want to do again and again and will end each day with a smile. Particularly popular destinations for more advanced skiers are 'The Fingers' and Lavachet's 'Mickey's Ears', both well worth a trip. Also highly esteemed in the freeride world is Les Grand Motte's famous north face, which is a whole lot of fun and again comes highly recommended for those wanting to experience the best of the area's off piste.
There's also a cult ski area over the back of Val d'Isere called Bonneval-sur-Arc. More easily accessible from Val Cenis from Val d'Isere, it boasts some incredible powder fields and steep terrain that are much lesser known than that in Val d'Isere, meaning a lot fewer other skiers and a lot more fun.
La Grave is pretty unique when it comes to ski resorts; the entire resort has just two marked runs. Essentially what is on offer here is lift serviced ski touring. You don't have to be quietly passing round the best off piste routes in resort in the hope that you can keep them between yourselves. To put it simply; the whole mountain really is your playground!
However, while it may be paradise for confident, adventurous experts, it is certainly not everyone's cup of tea. With 23 runs in total, 18 of these are classified 'very serious'. It's definitely not a place to head if you aren't confident in your off piste skiing or your idea of off piste is hopping off the edge of a groomed run safe in the knowledge that the safety of the piste is nearby should you need it.
If you can handle demanding mountains and challenging conditions though, La Grave will give you a lot back in terms of unparalleled wild terrain. With its gondola contract up for renewal, the future of La Grave is uncertain. However, one thing's for sure, if you're after serious, gritty off piste, there aren't many places better.
For advanced skiers, the Pic du Midi offers some exceptional, unique terrain and is definitely one to tick off the bucket list. Originally just a cable car up to an astronomical observatory, it's now a serious contender in terms of Europe's top off piste terrain.
The French Pyrenees are largely underestimated by holidaymakers but they do have a lot going for them and when snow conditions are good, they are some of the best in the world.
The Pic du Midi is the 'must-do' when it comes to off piste here. Open only to competent off piste skiers with correct avalanche equipment, it's more similar to La Grave than Tignes, with a lack of groomed pistes but a lot of serious freeride options. It's a fantastic unique adventure skiing destination.
From the top, there are so many options you may struggle to decide where to begin. However, you will certainly enjoy yourself, whichever route you take. Conditions can be challenging, but with some seriously impressive couloirs and fantastic routes, it's a challenge that is a lot of fun to take on.
Best Areas for Off Piste in Austria
The Arlberg (St. Anton / Lech / Zurs)
Whenever you look up a list of the best resorts for off piste skiing, you can make a good bet that one of the resorts in the Arlberg will feature. Arguably one of the most popular Austrian ski areas, the Arlberg comprises a huge range of resorts, from the party town of St. Anton, to the luxurious slopes of Lech, Zurs, and the smaller towns of Warth and Shrocken.
It's now the largest interlinked ski area in Austria, thanks to the Flexenbahn gondola, which opened a few years ago to link St. Anton to Zurs and Lech. This means that the wealth of opportunity for skiing here, both on and off piste, is huge.
Though the last few years have been somewhat lacking in terms of that perfect waist-deep powder, this year has been a different story altogether, with day after day of incredible off piste conditions. Whether you want tree runs, wide open faces or powder bowls, the Arlberg has everything you could want. The more advanced routes from the top of Valluga lift are well worth the nail-biting cable car ascent, but be aware that to reach the awesome backcountry routes from the Valluga II lift, you do need to be accompanied by a guide.
Powder days in St. Anton am Arlberg

Powder days in St. Anton am Arlberg are the most sought after days on the mountain. They are the type of days that people travel from all over the world to experience. The light, fluffy snow provides endless fun and it even plays an integral role in St. Anton am Arlberg lifestyle … #stantonamarlberg

Posted by St. Anton am Arlberg on Thursday, 21 December 2017
Meanwhile, Stuben offers amazing powder terrain that can keep you entertained for days in itself and also tends to be slightly less busy, meaning better snow for longer. Win win!! The gentler slopes of Warth and Shrocken are perfect for cruisey days when you want to give your legs a bit of a rest, while Lech and Zurs have a good balance of easy to advanced terrains.
The off piste here is mostly very easily accessible, meaning that it is a great choice for groups of varying abilities, those wanting to develop their off piste skills or simply those that want the option of both fantastic off piste and groomed runs. What's more, the St. Anton après scene really is something that has to be done once in every skiers' lifetime. What better way to end a day of great off piste?!
A little known powder paradise, the fact that Fieberbrunn is not one of the most well known off piste resorts just adds to its appeal.
The Tyrol's most powderful resort (see what I did there?) Fieberbrunn is hailed as one of the top Austrian destinations for backcountry adventures. A regular host of the Freeride World Tour, Fieberbrunn has everything you could want from an off piste area, with a great snow record and varied terrain, all of which is well serviced by a great lift system.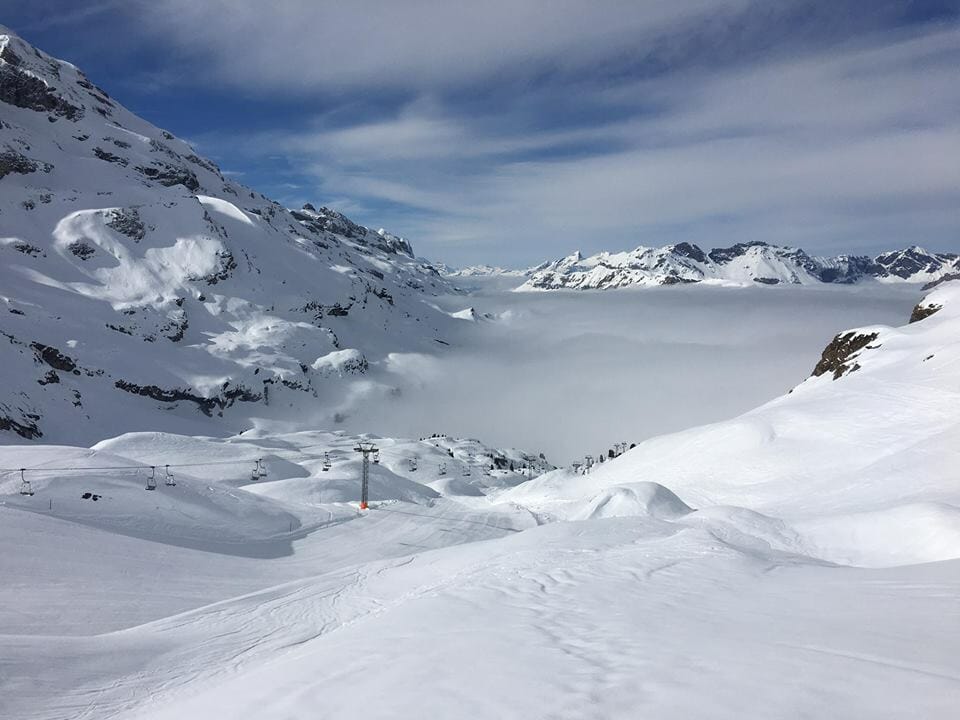 As it's less popular than the likes of the Arlberg, you're less likely to be fighting hordes of other powder fans for the best lines here. In fact, when you do eventually spot another skier or two, it's more likely you'll be so excited to tell them about a route you just found as there's more than enough fresh snow to go around. And, while the town is very different to its après loving siblings; Saalbach, St. Anton, Mayrhofen, it has a brilliant backcountry community feel. You know that you are among those who share your passions for the powder.
Best Areas for Off Piste in Switzerland
Generally renowned as one of the best resorts in Europe, Verbier tends to be on most 'top resorts for…' lists. A great all-rounder, it's off piste credentials are definitely up there with the best we've seen. Another stop on the Freeride World Tour, Verbier is definitely one of Europe's top dogs when it comes to off piste.
The backcountry here is also mostly very easily accessible, another added bonus. Off the back of Mont Fort, you will find some impressive and challenging terrain, yet this is recommended for the most expert off piste skiers only and should really only be attempted with a guide.
If you're a mogul lover, you will very much enjoy some of Verbier's off piste offerings. The steep Tortin 'Wall' itinerary route from the Col de Chassoure is often featured as one of the world's most scary ski runs. Indeed it does look utterly terrifying, but if you're confident skiing moguls, it's definitely one to add to your bucket list. However, as off piste goes, it's such a popular route that it's practically pisted at times; not one for those after untouched powder.
From Jumbo lift, you have a whole host of fantastic off piste routes at your disposal, from the easily accessible Gentianes-Tortin (which does tend to get pretty busy), to the famous 'Stairway to Heaven'. The latter is a must-do when in Verbier, which often retains great powder throughout the season. Of course, these are only a few of the many amazing runs in the area (we'd need a dedicated page just to get through them all), but we hope they give you a little insight into what adventures are on offer off the beaten track in Verbier.
Diavolezza is a resort with fantastic steep skiing for experts who may want a change from the pistes of St. Moritz. The 10km Morteratsch marked route is one of the most popular here, bringing you down from the Morteratsch Glacier into the valley with the added bonus some breathtaking views of the surrounding mountains. More adventurous and definitely not for the faint-hearted is the Lagalb descent, an awesome, challenging run that is sure to have your legs aching. This route is renowned across the Engadin area and is certainly not one to miss for off piste fanatics.
If you really want to explore, we would recommend hiring a guide. They will know the best and safest routes to take at the best times and will really leave you feeling like you've got the most out of the area.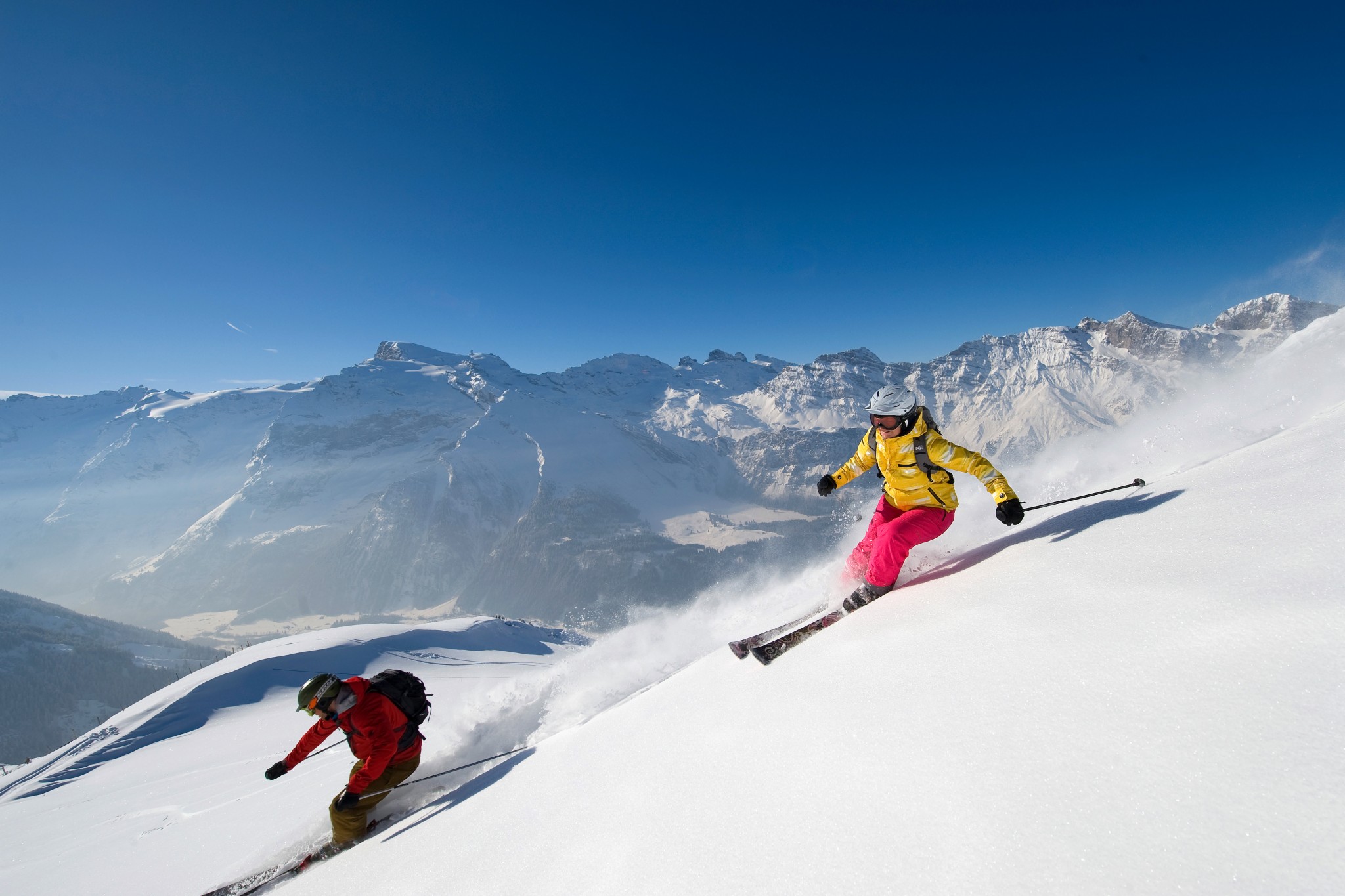 Again, not one of the first areas to come to mind when thinking off piste, the Engelberg ski area has some absolutely awesome off piste routes. The Titlis is the most iconic peak in the region, and from here, the Galtiberg offers a long descent that is extremely popular, with varied terrain that keeps you well entertained all the way down.
However, arguably the most famous route in the area is the Laub, a powder paradise so ridiculously fun that's worth travelling to Engelberg just for this run. You will want to ski it again and again. Try not to though, as there are so many other off piste routes here that it would be criminal to miss. Again, the best way to really explore Engelberg is with a guide, ensuring that you can experience the best of the mountain while remaining safe.
Best Areas for Off Piste in Italy
While Arabba doesn't have the largest of ski areas; a relatively modest 115km, the off piste options are fantastic when you get the snowfall. Unfortunately in the last few years the snow has not been the best for exploring Arabba's full off piste potential, but so far this season, we'd say the outlook is good!
From ski touring to lift serviced routes, it has a nice variety available for skiers of all abilities. It's one of the highest resorts in Italy and with the Marmolada Glacier easily accessible, is one of the most reliable when it comes to great snow conditions.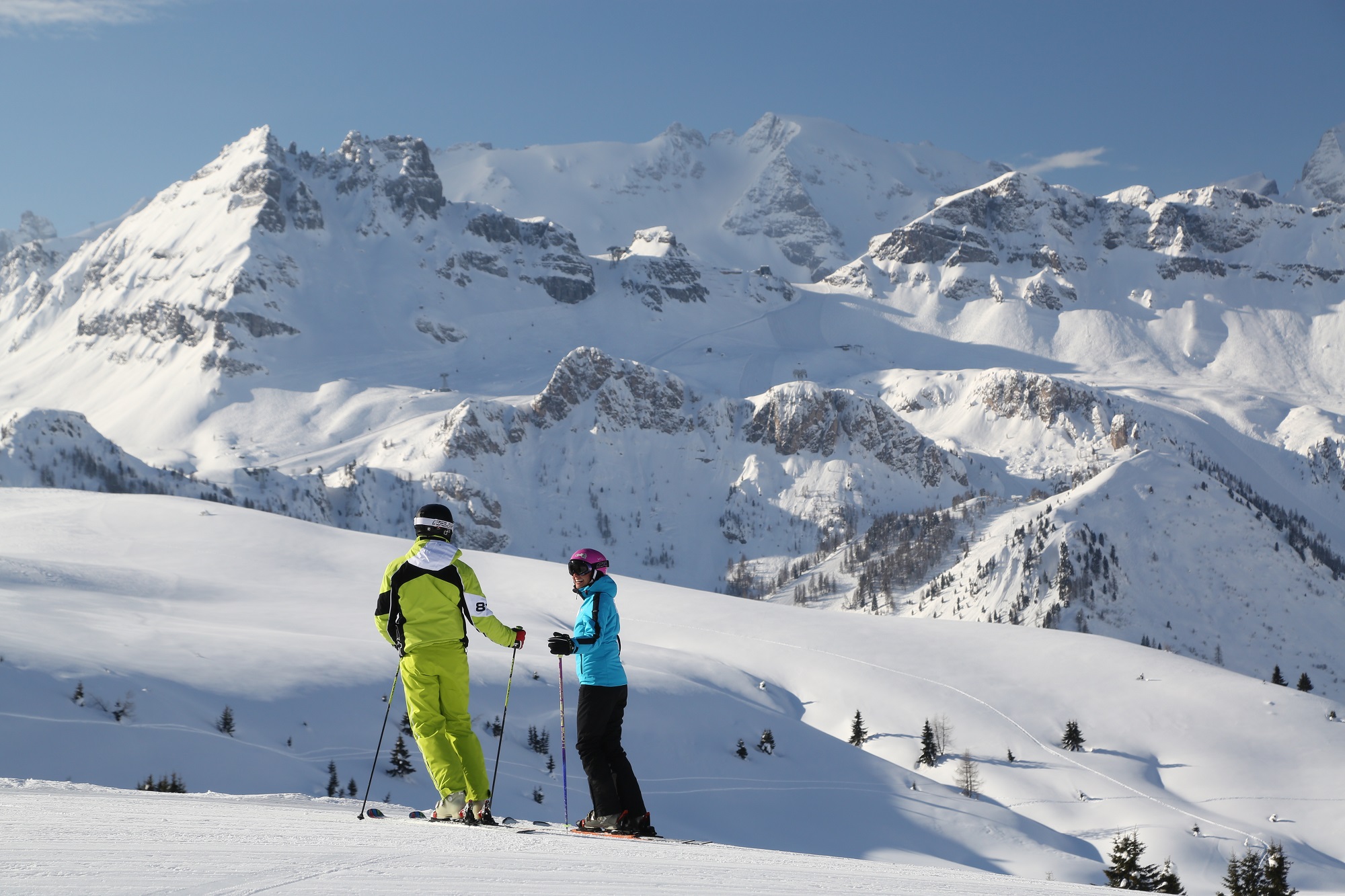 Most of Arabba's best off piste is north-facing, meaning that the snow quality is better than other areas in the resort and venturing off the beaten track offers a really different Dolomiti skiing experience to the standard Sella Ronda circuit, which tends to be busy with long lift queues.
With the Dolomiti Superski Pass, you can access around 1000km of piste, but if you're an off piste hunter, you don't even need to venture that far as the best off piste in the area is mostly found in Arabba. It's a great place resort in which to base yourself if you're looking to improve your off piste abilities and make your first forays into freeriding. The good lift system means that accessing most terrain is easily accessible without hiking, and is not too far from the pistes should you find yourself uncomfortable.
Set within the breathtakingly beautiful Dolomites, Cortina is a resort well deserving of its stellar reputation. Though it's not known as a must-visit destination for off piste in the way that Chamonix or La Grave may be, it does have a very good amount of varied and entertaining backcountry terrain.
The off piste here is slightly more challenging than in Arabba, with more potential for serious freeriding. The areas of Cristallo and Faloria (most notably the Creste Biance of Mount Cristallo, the Forcella Staunies and the Sci 18 in Faloria) offer incredible descents that range from steep, narrow chutes to powder fields with magnificent views to boot. The Tofane area also has some impressive off piste potential, with narrow couloirs that will offer even the most confident off piste skiers a challenge. You'll find a lot of Cortina's more difficult routes here.
For something more forgiving, the Forcella Col dei Bos is a great route for some easy off piste that will really allow you to enjoy the experience, soaking in the incredible surroundings with some brilliant gentle powder skiing. If you're likely you may even see some of the mountain wildlife that proves so elusive through the winter! Alternatively, the Lagazuoi Couloirs are not to be missed on a bluebird powder day, a gorgeous gentle route that is sure to be enjoyed even by the most adrenaline hungry skiers.
As we mentioned briefly when discussing Chamonix earlier, Courmayeur, nestled in the Valle D'aosta, is a great area for entertaining yet challenging off piste. Many people come here for the great piste skiing, traditional Italian mountain town and beautiful views of Mont Blanc and don't even realise the incredible off piste potential at their fingertips. However, it is home to some of the best freeride routes in Italy.
With something for everyone, you can find lovely easy powder runs to give you the most picturesque, enjoyable off piste, through to insanely steep routes that should only be attempted by the most expert of experts.
For the best powder, head to the Arp Dolonne area, where you have many off piste routes to choose from in order to really make the most of those powder days. Granted, some of these routes aren't the most handy when it comes to lift access, but hey, for that perfect powder run it is sure to be worth it. From the Dolonne couloir to the backcountry routes over to La Balme, there's enough to fully satisfy those off piste cravings.
The Vallée Blanche again hits this list as one of the top off piste routes in the area, not recommended without a guide. However, another popular route that also deserves recognition is the Toula Glacier, a challenging yet highly enjoyable 12km route down from the Punta Helbronner into La Palud. If you prefer your runs with a bit more adventure, head to the Pavillon Woods, where the snow conditions tend to be consistently good and the routes are a lot of fun. Make sure you're comfortable skiing tree runs before trying this one out though.
Interestingly, off piste skiing was actually banned in Livigno until recently; anyone venturing off the groomed runs could find themselves in deep water with the Italian authorities. However, the decision to change these rules and open of a new dedicated freeride area was met with a collective cheer from off piste lovers across the Alps. You can now really make the most of all the incredible terrain Livigno has to offer, with a thriving freeride scene and even a heli-skiing outfit.
#ProgettoFreeride a #Livigno: quando la polvere diventa adrenalina pura. ;)#FreerideProject in Livigno: when powder becomes pure adrenaline 😉

Posted by Livigno on Tuesday, 7 February 2017
However, this freeride area does not mean that you have to be an experienced backcountry expert to enjoy the off piste. Livigno is another great destination for those who are more new to off piste and who may be slightly daunted by the prospect of the challenging terrain in France. While yes, there are steeper routes to keep the experts entertained, there's also a good amount of gentler terrain for those who want to work on their off piste abilities.
Just be aware that when venturing off piste in Italy, you are legally required to be carrying a transceiver, probe and shovel. If you're thinking of hiring a guide, they can often provide these for you, but if not, it's time to get shopping! In Livigno, freeride briefings are given every Sunday evening to give information about mountain safety and are well worth heading along to.
---
READ NEXT: Livigno – The Skiing Secret Almost Too Good to Share
---
So, there you have our rundown of the best resorts for off piste. Go forth and powder!