Skiing in the Pyrenees is a secret well-kept by the French. With kilometres of well-groomed pistes, spectacular unspoiled scenery and fantastic value for money, it's one of the most enjoyable areas we've ever skied. However, it's not usually one of the ski areas that comes to mind when you think of popular European destinations. We can think of only one reason why – it's simply that good, that no-one wants to share it!
The practically empty pistes and non-existent lift queues are an absolute dream and after a few days there we could definitely understand the appeal of keeping this amazing area to ourselves. However, we simply can't keep our mouths shut about how much we love this area.
You get fantastic value for money here, paying a fraction of what you would pay in the Alps, and have the added bonus of less crowds. However there are many other reasons that we (and many others) would highly recommend the Pyrenees to mountain-lovers, so we've explained below why you need to make the Pyrenees your next skiing destination.
We opted to travel with Pyrenees specialists Mountainbug, who have been running summer and winter activity holidays in the area for years. They are experts in their field and offer holidays ranging from snow-shoeing to ski-touring. This year, they are offering InTheSnow readers a fantastic discount – all weeks half-board with afternoon tea just £350pp until the end of the season! (Previous price £535!) If that's not enough to convince you, take a look below.
So, what makes the French Pyrenees such a great destination?
Fantastic Ski Area
We visited the Grand Tourmalet (Bareges-La Mongie) ski resort, which is the largest ski resort in the French Pyrenees. The Grand Tourmalet area has over 100km of groomed runs, with 62 pistes and 28 ski lifts, with something for all abilities. However, it is definitely an area that is an absolute paradise for beginner and intermediate skiers, with beautiful, gentle wide runs across the resort and some great nursery slopes. In fact, you can visit all five interconnected ski areas in the region, without skiing anything more difficult than a blue run!
Pretty much the entire resort is accessible by chairlift, which also makes it a great destination for boarders. Wave goodbye to those dreaded drag lifts and instead spend your days in Grand Tourmalet's awesome snow park or making the most of the fantastic off piste on offer.
Off piste / backcountry options
For more advanced skiers, the 16 red and 5 black runs provide some great entertainment on piste, but the real fun is off piste, where this ski area really excels. In 2003, the decision was made to open the Pic du Midi cable car to skiers, to the delight of freeride fans. The terrain that is accessible from here is challenging yet incredibly rewarding and the full descent, from 2877m at the summit right to the bottom of the valley is almost a vertical mile! It has even been compared to the famous Aiguille du Midi in Chamonix and is certainly a 'must-do' for dedicated off piste skiers.
In addition to the Pic du Midi, the Grand Tourmalet resort offers a huge expanse of undeveloped skiable terrain which is ideal for ski touring. Under developed in comparison with some areas of the Alps, the Pyrenees offer a great chance to get away from busy slopes and out into the wild mountains.
From perfect ski touring opportunities for beginners in the Refuge de la Glere, just above Bareges, through to more intense hut-based ski touring expeditions, the Pyrenees have a lot to offer those who really want to immerse themselves in the mountains.
When it comes to ski touring, Mountainbug run two guided small-group ski touring trips: Level 1 is an introduction to Ski Touring aimed at confident piste skiers looking to learn the skills of touring and off-piste skiing, while Level 2 is aimed at strong skiers with previous touring experience. Both trips include a mountain refuge-based expedition with 1 or 2 nights out so you can really get the backcountry experience.
Or, if you aren't quite so confident in your off piste skills and want to work on this, they also offer a guided off-piste small-group skiing holiday, including 6 days of instruction with a qualified local guide.
Snow-Sure
Situated between 1250 and 2500m in altitude, the ski area has a reliable and consistent snow record, something which has become much more important in recent years. Located close to the Atlantic coast, the Pyrenees tend to receive more snow than the Alps, and stable high pressure systems often mean that the area benefits from clear blue skies, interspersed with heavy snowstorms to refresh the slopes. You couldn't ask for a better weather pattern really! This also means that the area is known for a reliable, long season, often from the end of November through until April. Even if the Pyrenees do experience periods of warm weather, the 306 snow cannons that service the area guarantee good skiing.
The Town – Barèges
We stayed in "Les Cailloux", a gorgeous traditional chalet in the heart of the village of Barèges, close to all the local shops, bakery, thermal spa, bars and restaurants. Near our chalet we found a lovely local pub, the "Richelieu", which was great for an après-ski drink or two!
When it comes to places to stay, Barèges is a great location for Pyrenees skiing. It's a real mountain village, perfectly picturesque and with a fantastic homely atmosphere. It's a true escape from the hustle and bustle of UK city life and allows you to fully switch off and relax in alpine style. Situated in a dramatic valley at an altitude of 1250m, surrounded by forests as well as the river Bastan, it's a really beautiful place to stay, even if you aren't a fan of skiing (apparently those people do exist).
One of the unique elements of the area that makes Barèges so popular is their thermal baths. The highest thermal spa in France, the baths date back to the time of Napoleon the third, with sulphurous waters that are well known for their healing properties. Whether it's arthritis or simply ski-related stiffness, the "piscine" will provide your muscles with some welcome R&R. Many other beauty and healthy treatments are also available, including hydromassage, aromatherapy massage, sauna, hammam, jacuzzi baths and mud massages. There's so much pampering to be done it's almost enough to make you forget about the skiing!
The skiing, of course, is why we're all here though, and in terms of access to the Tourmalet resort, Barèges is very well situated. Two runs offer skiing right back to the village, a blue and a green, accessible for most skiing abilities. Plus, there's a regular free ski bus to the main lift departure area, which only takes around five minutes and is a great help in the mornings!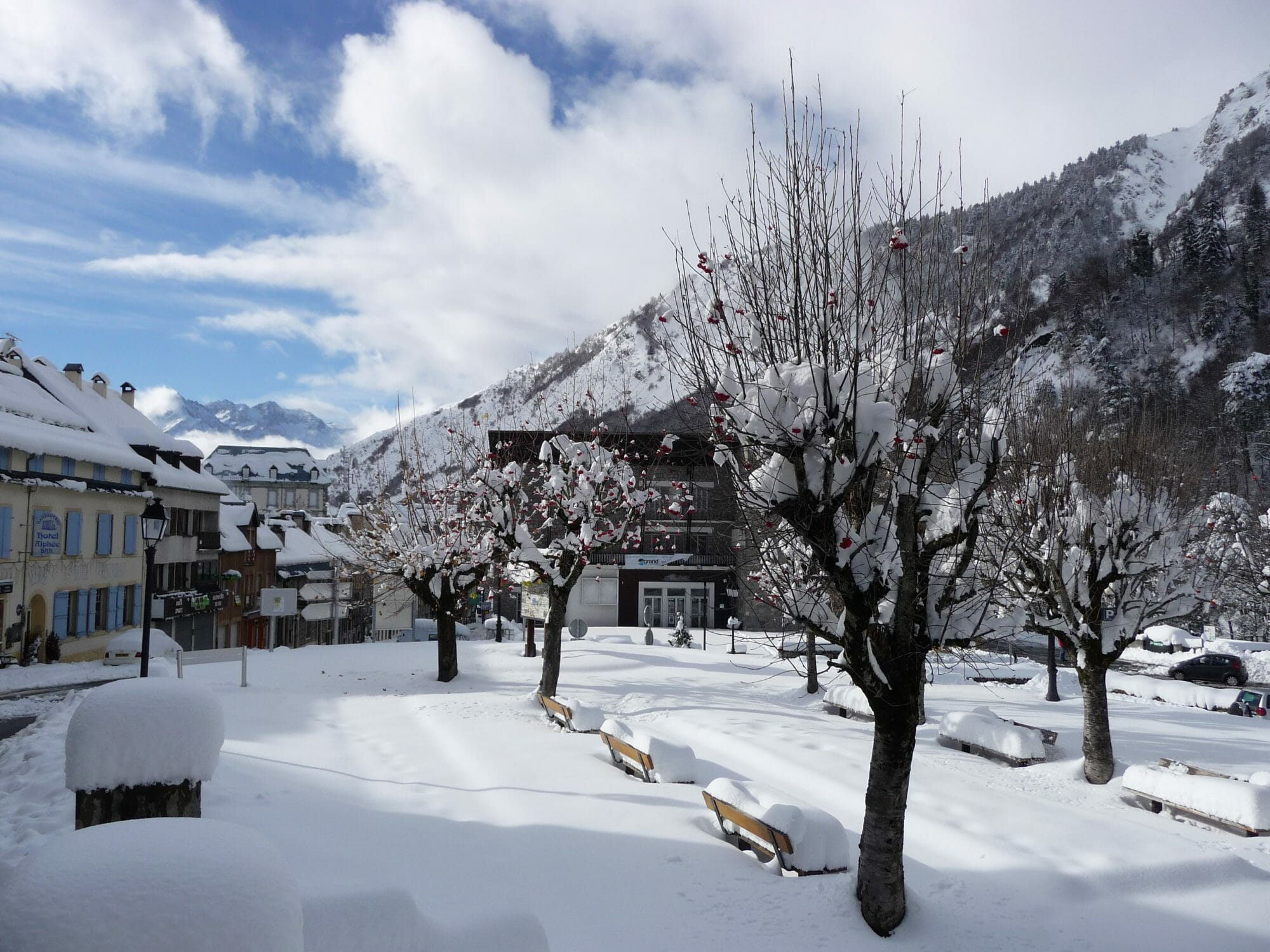 So, what else?
However, if you don't ski, or are travelling with those who don't, the Pyrenees have a lot to offer off-slope. A huge range of winter activities are available, including snowshoeing, husky-dog sledding, skidoo riding, sledging, cross-country skiing or even paragliding! All of these allow you to get out and about enjoying the incredible scenery and fresh mountain air, while having a whole lot of fun. We got to experience the amazing husky-sledding, which was fantastic, fun experience. The dogs were gorgeous and it really was a unique treat to sit back and enjoy the beautiful scenery without working up a sweat on skis!
What's more, anyone can access the cable car up to the Pic du Midi, which is definitely a must-do for anyone visiting the Pyrenees. At 2,877m, the journey up offers dizzying views of the surrounding mountains. Once you reach the top, panoramic terraces offer views across an incredible 300 km of the Pyrenees range and Europe's highest museum tells the story of how this awe-inspiring structure came to be. There's also a restaurant for those that might want to spend an afternoon high in the sky!
Getting There is Easy (and cheap!)
Many people may assume that the Pyrenees are a hassle to get to, especially when compared with the convenience of many resorts in the Alps. However, this is not the case, and in fact, the Pyrenees is often cheaper to reach than many other resorts.
Flights to Lourdes with Ryanair from London Stansted are often under £50 return, and from here it's just a 50 minute (€30 return!) transfer using the airport shuttle service to Barèges. Alternatively, various budget airlines fly from UK airports to Tolouse (including Easyjet from Bristol and Gatwick, British Airways from Heathrow and Jet2 from Manchester). From Tolouse, it's a 2.5 hour drive, or a simple train journey to Lourdes and then local bus to Bareges.
If you would rather take the train than fly, then the Pyrenees is definitely a destination to consider. You can travel by Eurostar to Paris, then take a TGV fast train on the mainline to Lourdes and get the local bus to Barèges. If you can take the night train, you will leave London early on Friday evening and get to Barèges before 10am Saturday morning. Not only is this a great, quick, stress-free journey, you can even get an extra day's skiing in as it's only a €10 extra charge for a 7th day on the 1 week Grand Tourmalet lift pass!
Mountainbug Special Offer
This season, you can save even more money in this fantastic area, as Mountainbug are offering a special discount for InTheSnow readers. They have reduced their rates for a week half board with afternoon tea (classic chalet faire), to cost price. In the case of February, this takes the price from £535 down to £350, and this £350pp price continues until the end of the season. What are you waiting for?!
Head to http://www.mountainbug.com/winter-calendar/ for more information on booking.