Chamonix has always been one of the world's great mountain destinations. It is where Alpinism began, that mountain tourism developed, that the first Winter Olympics were staged where technical prowess set its sights on the summits.
But with each generation, new mountain sports emerge whilst legendary sportsmen and women from the past continue to inspire generations across the globe.
This year, therefore, alongside the usual improvements in infrastructure that most big ski areas announce each autumn, those today tasked with running the Chamonix Valley today have been taking stock of where their resort has come from, and sought to create a common Valley philosophy to keep in mind when planning the route ahead.
The Chamonix-Mont-Blanc Valley includes five resorts (Servoz – Les Houches – Chamonix-Mont-Blanc – Argentière – Vallorcine) and whilst benefitting from the strength of a unified brand, each destination is unique.
So this new strategy highlights the charm and diversity of the Valley's villages and landscapes, which as a whole, constitute the attractiveness of the valley.
The strong values which define and unite this unique Alpine locality are energy, a pioneering spirit and commitment and the Chamonix Valley's future identity will grow on three pillars: extraordinary adventure, captivating nature and being a vibrant capital in the mountains.
Visitors are invited to "Ouvrez La Voie" or "Open the way" to their own part in the Chamonix-Mont-Blanc Valley. Voie in French means both a mountaineering route as well as a pathway or road.
New In The Mountains
The big news in terms of ski lift upgrades fort this winter is that the Flégère cable car, which dates back to 1956, has been replaced by a new generation Doppelmayr lift.
This swish, smooth and almost silent new gondola features ten-seater panoramic cabins and will more than quadruple uplift capacity from 450 persons/hour on the old cable car to 2000 persons/hour now.
This mono cable lift is the first of its kind to be installed in France and is one of the fastest lifts around designed to reach a speed of seven metres per second.
As part of this new development the all new departure station, with its contemporary design and functionality extends over 300m2.
It features an information area with reception desk and workstations, express purchase terminals (sales machines) and an 'experiential space' complete with scenic screens highlighting all of Mont Blanc Natural Resort sites). For added customer comfort there's also a waiting area in the lobby with a cosy corner and coffee truck.
New Activities
Winter Snowshoe Hiking In Wild Animal Territory
Small groups of 5 to 8 people led by a mountain guide are invited to snowshoe in to the Merlet Animal Park under its winter cloak. Here mountain animals roam in semi-liberty and hiker will also enjoy the stunning location, facing the Mont-Blanc range.
Be A Better Snowshoer!
Leisurely snowshoe excursions are one of the pleasant alternative activities offered in many ski resorts, but once you try it you can get hooked and in the Chamonix Valley, as with all wintersports here, there are some serious 'snowshoers' and many enthusiastic amateurs.
With the latter probably most in mind the local Compagnie des Guides de Chamonix are now offering training courses for 'snowshoers' who want to hike out alone in safety, The course include analysing snow conditions, terrain, meteorology, orientation and how to make the right decisions on when and where to hike and when and where not to, as well as advice on safety, rescue alert and everything else you might need to know.
Steep Slope Sessions
The Compagnie des Guides de Chamonix is organising a three-level training course targeted at those who want to discover and perfect their "steep slope" skiing technique. The courses enable skiers to progressively acquire the technical skills necessary before embarking on epic and legendary itineraries in the Mont-Blanc Massif.
Time To Snooc
This year the Planards beginners ski area is celebrating its 40th anniversary and there's an even greater focus on having fun.
This season it will be possible to try riding a "Snooc" there, a kind of cross between a ski and a sled. Fun to ride and comfortable to sit on it is also, we're told, easy to steer!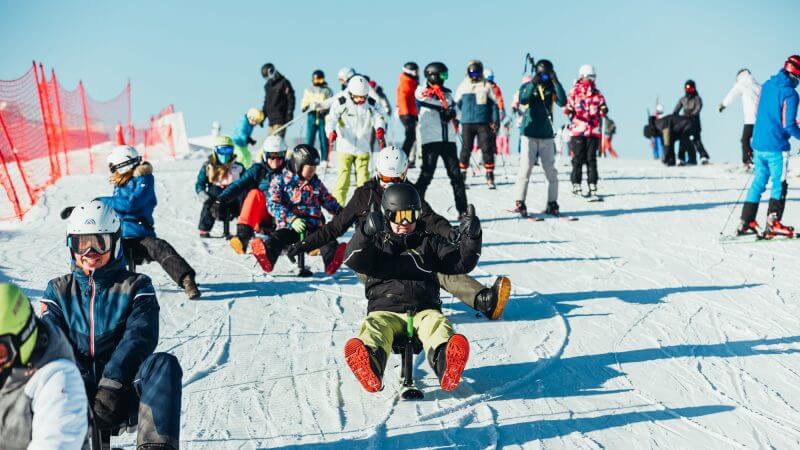 Ideal for beginners, non-skiers and for après ski fun, a special package will be offered throughout the season which includes the required ski clothing and equipment, a four hour ski pass and an introductory Snooc descent with an expert 'Snooc-er' professional for 59 € / person.
Suitable from 10 years and over, snooc-ers will begin on the green slope but should rapidly progress to the blue and then the red during their half-day session.
Hit the Spa
The incredible QC TERME, which opened in summer last year, has wonderful facilities including 30 wellness experiences and an exceptional infinity pool at the foot of Mont-Blanc.
New for this winter a new sauna experience recalls the colourful character of the 19th century English traveller, artist, author and entrepreneur Albert Smith.
Throughout his childhood, Albert nurtured a passion for the stories of Mont-Blanc and the Vallée de Chamouni and in August 1851, with a group of 16 guides and three students from Oxford University, he finally made his ascent of Mont Blanc.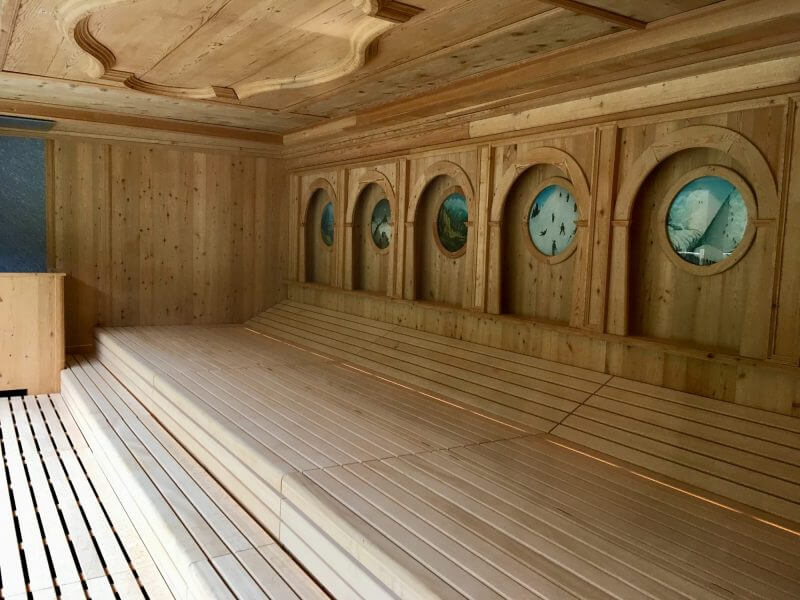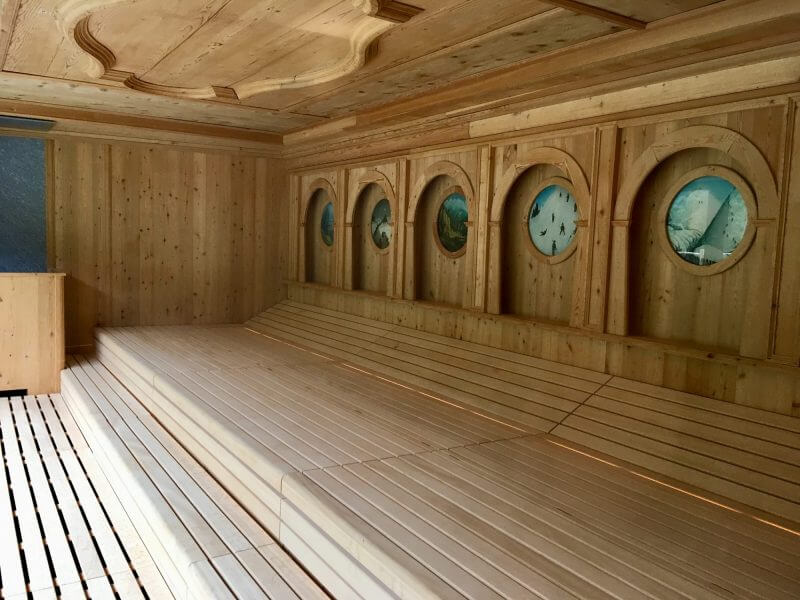 He was by no means the first to reach the summit, but the way he related his adventure, through theatrical performances in London, inspired many fellow Englishmen and contributed to making mountaineering popular.
For this reason, QC TERME Chamonix has decided to honour his memory with the new "Magic Lantern World" of Albert Smith. It features luminous projections offering a spectacular visual journey to the summit of Mont Blanc, all within a sauna!
The Main Event This Season
On 8 & 9 February 2020, the world's best skiers converge on the famous « Verte » in Les Houches for the Men's Kandahar Slalom World Cup.
First launched in 1928 in Austria, the Arlberg Kandahar takes place in St-Anton (Austria), in Garmisch-Partenkirchen (Germany) and in Chamonix Mont-Blanc.
This world-famous race was created by Englishman Arnold Lunn. A generation before that, his father Henry Lunn organised races for members of the Ski Club of Great Britain on the slopes in Chamonix. At the time SCGB members arrived in Chamonix in horse-drawn stage coaches!
In 1948 Chamonix hosted the first Arlberg Kandahar race. It took place on the piste des Glaciers, beneath the north face of the Aiguille du Midi. Local lad James Couttet, from the village of Les Bossons, won both the downhill and combined races that year. The piste was later deemed too dangerous and was abandoned in favour of Les Houches in 1952.
Since that date, winners of the Kandahar on the Verte des Houches, include many great names : Karl Schranz, Emile Allais, Ingemar Stenmark, Hermann Maier, Kjetil-André Aamodt, Alberto Tomba, Stefan Eberharter, Bode Miller, Ivica Kostelic, Didier Cuche, Romed Baumann, Jan Hudec and Klaus Kröll, Dominik Paris, Alexis Pinturault…
Ever Better Low CO2 Public Transport
Chamonix's global popularity brings a lot of people visiting from all over the world, but no longer in horse drawn carriages. They're all very welcome of course but as part of its future planning, Chamonix works hard to encourage people to travel smart and arrive in the least environmentally damaging way they can. To that end there's a major investment in clean public transport and ever more options for visitors.
Chamonix has been battling to reduce traffic in the Valley for decades now, knowing that the CO2 generated by petrol and diesel vehicles are having a big negative impact on the glaciers above.
The resort has invested in electric shuttles, hybrid buses and soon buses running on natural gas. There has also been an extensive renovation of the railway line with increased frequency, pedestrian paths and new cycle ways.
The Mont Blanc Express increased its frequency to one train every half hour between Vallorcine and les Houches in both directions last summer and passenger numbers are steadily increasing year on year so that they are now nearly four times what the y were in 2000: 250,000 passengers per year then, 900,000 in 2018.
In addition to this figure, the resort's shuttle buses annually transport 2.5 million passengers.
Public transport is entirely free for all visitors overnighting in the Chamonix Valley.