Work to repair the Cairngorm funicular railway may get underway next May 2020, nearly two years after problems with the lift's structure were made public, if the process involved in reaching the stage where work can begin goes smoothly over the next nine months.
Speaking at the opening of an exhibition on the Cairngorm mountains that has been set up in the unused base station of the lift, a spokesperson for public-body Highlands and Islands Enterprise (HIE) which owns the land above the town of Aviemore where the Cairngorm ski area is located, and now also operates  Cairngorm Mountain (Scotland) Ltd which runs the lifts, said that since last autumn they have been involved in a thorough "peer review process" involving two engineering companies.
Once completed a detailed design will go to the Scottish Government for consent which, assuming it is granted, will move the process on to the planning permission stage and the need for other  regulatory consents.  At that point a contractor is appointed with the best case scenario being work starting in spring next year.
The problems with the nearly two-decades old funicular are believed to centre on raised concrete track supports which need repairing/replacing.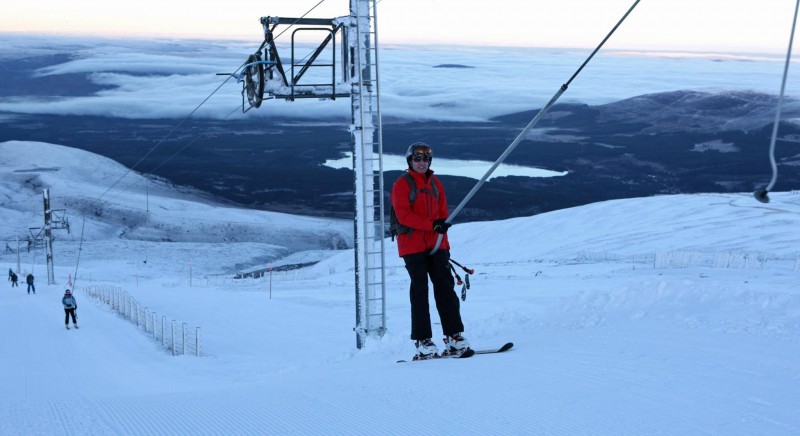 It is currently unclear whether, if work does start next spring, the lift could be back in operation for winter 2020-21.  In the meantime much of the ski area is accessible by drag lifts when there's snow.
"It's important to stress that, providing we see sufficient snowfall at Cairngorm this year, the resort will be open to skiers and other snowsports enthusiasts," the HIE spokesperson said.
Last winter Cairngorm Mountain (Scotland) Ltd spent around £1m on snowmaking including a SnowFactory all-weather snowmaking system.
In other Scottish ski news Glenshee ski area has announced its intention to buy a SnowFactory unit, after being unable to open for more than a month in total through last season due to lack of natural snow.  SnowFactory machines create finely crushed ice inside articulated units which is then spread over the slopes, regardless of outdoor temperature, to create a small snow area suitable for beginners on terrain features.
Besides Cairngorm two other Scottish areas, The Lecht and Glencoe, installed SnowFactory units last season, allowing them to operate for longer periods through a winter that was short on consistent natural snowfall and saw some record high winter temperatures.