The Scottish Government has approved plans for the troubled Cairngorm Mountain ski area above Aviemore in the Highlands to receive a £20.5 million cash injection to help it get back on track and move forward as a ski destination.
The majority of the money (£16m), will go on repairing the centre's key funicular railway which access the upper mountain as well as being a year-round attraction in its own right.
The funicular has been out of action for two years since structural problems.  Around the same time, the lift company running the centre was plunged in to bankruptcy by the former private operators of the centre, leaving it back under public control.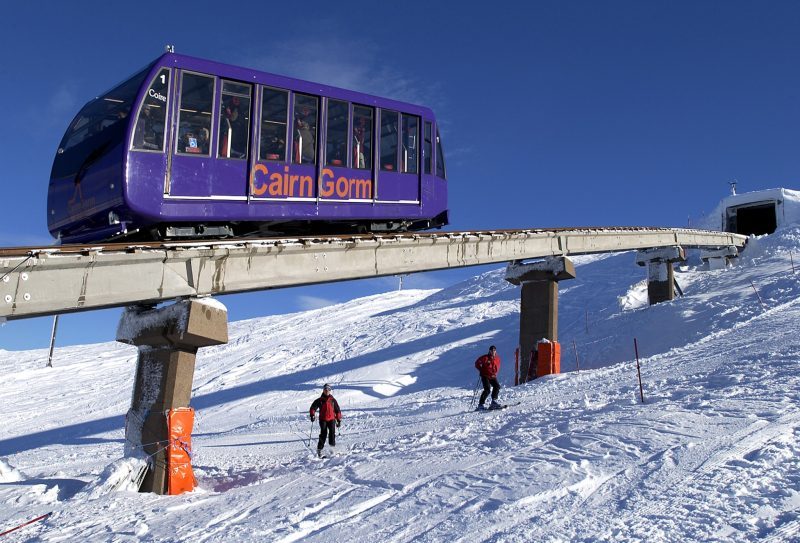 Regional development body Highlands & Islands Enterprise (HIE) have spent more than £1m on snowmaking and other initiatives over the intervening years to try to keep the centre going whilst a decision on the funicular – which would reportedly cost about as much to remove as repair – was awaited.
HIE also commissioned North American ski resort designers the SE Group to produce a report on how Cairngorm might become a viable mountain resort moving forward. It is as yet unclear if some of the £4m or so of funding announced beyond the funicular repair costs might go towards some of their infrastructure recommendations.
Their plans, announced in November 2018, were for a £27m, 10 year investment programme, in year-round facilities including two new chairlifts (currently all of Cairngorm's lifts are surface tows,  other than the funicular), 30 hectares more skiable terrain, a zipwire and summer mountain biking trails.  The £27m seems to be on top of the funicular repair costs and it is unclear as yet if HIE have committed to the further investment.  HIE is currently involved in consultation with local stakeholders over the future of the area.
It seems likely the funicular will remain closed for kits third winter in 2020-21 and it is not yet clear if today's announcement means the funicular will re-open by winter 2021-22.
Scotland's four other commercial ski areas will be looking with interest at the large injection of public funds Cairngorm is receiving.