It's no myth that travelling is stressful. Early morning alarms, airport breakfasts, turbulent journeys, tedious passport control queues, long waits at baggage claim… While air travel is incredibly convenient, it's not always the most relaxing way to start or end your holiday.
So, ahead of a recent trip to the Dolomites, we decided to scrap all this and give driving a go. As quite frequent fliers, we are well aware of the uneasy guilt that comes with racking up those air miles so, we decided that we would not only drive, but we would drive electric.
As it turns out, Tesla's P100D Model S was the perfect choice for this journey; ultra safe, with electric all-wheel drive and a lot of space for all our luggage (a family of 4 + ski boots = a lot of luggage). It's supercharging function meant no paying for petrol, and the stopping itself was not a chore at all.
On the way down, we stopped at Hotel au Boeuf Rouge, an amazing hotel in the middle of nowhere, with great food, a fantastic wine cellar and a supercharging point – perfect for our needs! The next day, we continued onwards, marvelling at the gorgeous scenery as we approached the Dolomites.
Eventually we reached our destination, the magnificent Pizseteur mountain chalet set in amazing location on the slopes of the mountain, accessible only via skidoo or chairlift! 12 skidoos came down to collect us and our luggage – an exhilarating ride to end the 1000 mile journey, which both we and the kids absolutely loved.
It was dark when we arrived, so we had the brilliant surprise the next day of waking up to a spectacular mountainscape right outside our window. With glorious sunshine and the fantastic ski area of the Dolomites at our fingertips, we knew we were in for a fantastic few days. The location of the Pitzseteur really is unparalleled, right on the edge of the Plan de Gralba ski area – it doesn't get more ski in/ski out than this.
A UNESCO World Heritage Site, the Dolomites offer some of the most beautiful natural landscapes we have come across in a ski area, with some fantastic skiing to match. The Dolomites Superski Pass gives you access to the whole area – a staggering 1200km of slopes across 12 ski areas.
We spent our time at the Pizseteur mostly skiing the wonderful slopes of Val Gardena, which offer some great opportunity for the whole family to develop their skills. A selection of blues, both easy and challenging reds and some enjoyable black runs are available, as are three funslopes, sure to be a hit with younger skiers.
A brand new 10 seater lift has opened in Val Gardena this season, the 'Piz Seteur' – a popular name it would seem! Convenient and comfortable, it allows for incredibly easy access into the Sellaronda circuit. Skiing the Sella Ronda is an experience that we loved sharing with our children. This famous circuit is a great way to spend a day and takes you through the most stunning natural landscapes. Quite an easy route, the Sella Ronda is very suitable for families, and covering 40km, you feel a real sense of achievement afterwards.
When we weren't skiing, we were lunching in the fabulous fish restaurant 'Rifugio Emilio Comici', having a few après-ski drinks in the chalet's own piste-side bar or sampling the delicious food on offer. From the incredible hospitality of the Pizseteur staff (thanks to whom I was reunited with my wallet which I thought lost forever on the mountain), to the impeccable cleanliness of the hotel and the fun of the skidoos, we all absolutely loved our stay here.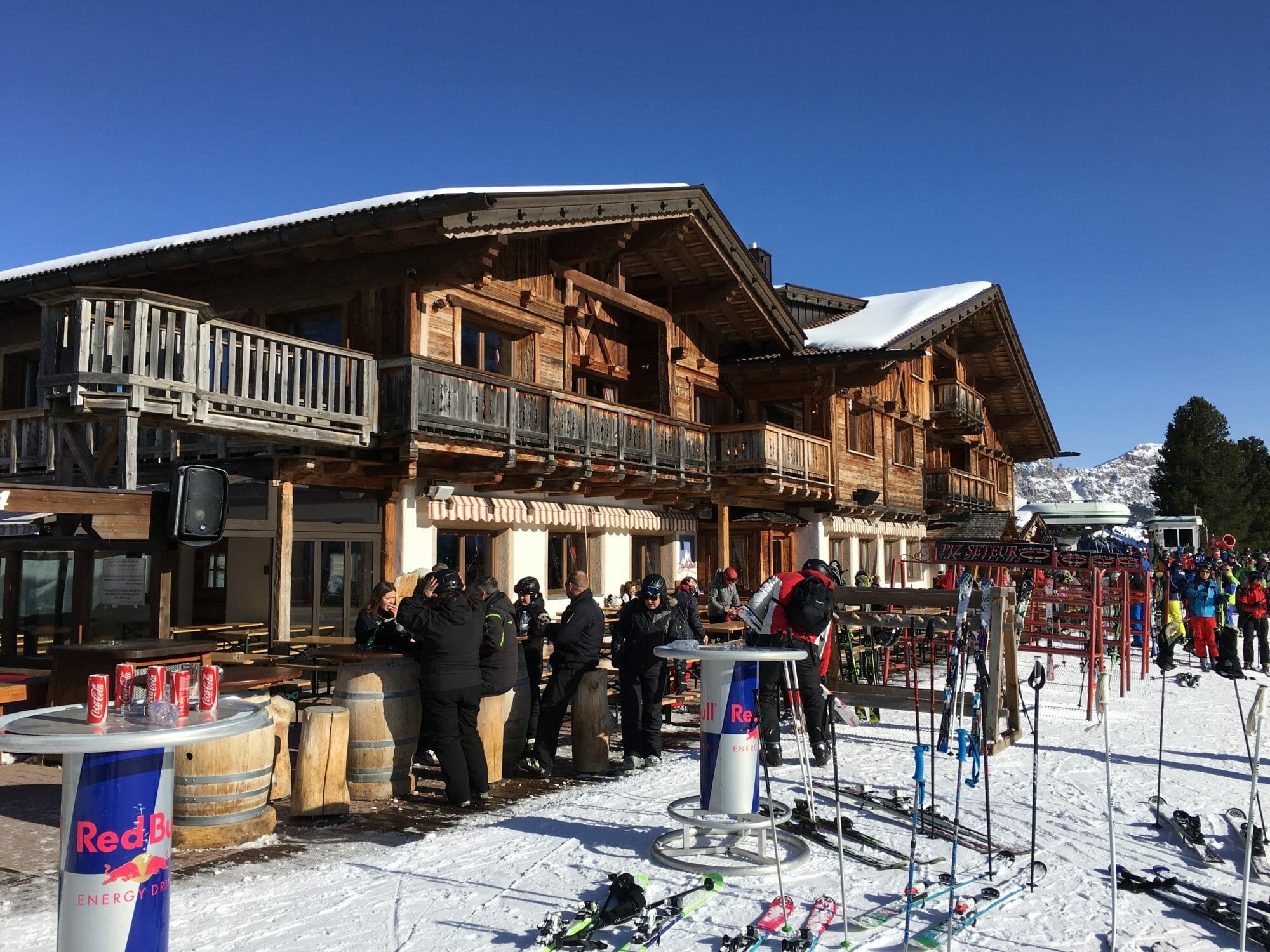 Our second Dolomites destination was Corvara's La Perla hotel, which was utterly unlike anything we have ever experienced in a ski resort (and we've stayed in our fair share of hotels!). It's a gorgeous hotel, with beautiful rooms, a luxurious wellness area and a number of delicious eateries. However, our favourite moment was on arrival, when an evening of energetic Italian live music descended into a parade of the hotel, the kitchens and the hallways with a real fun, inclusive party atmosphere.
A lively village, Corvara was a definite hit with the family, as were the lovely cruisy red runs of the Alta Badia area. With 53% of runs red and 38% blue, it's a fantastic resort in which to base yourself when travelling with your family, particularly if some are less confident on their skis.
Our journey back home was as seamless as on the way out, stopping at Domaine de Barive, a beautiful country manor hotel. Arriving late, we were shown to our room in a tower of the hotel, which the girls absolutely loved. Equally loved by us was the jacuzzi bath after a day on the road! We arrived home in England relaxed and rejuvenated after an incredible holiday. Our advice about travelling to the Dolomites? Definitely do it!