#Ski2Paralympics, a new campaign from Disability Snowsport UK (DSUK) and Crystal Ski Holidays was launched yesterday by DSUK patron and snowsports fan Pippa Middleton. The initiative encourages participants to clock up enough miles on the slopes to cover the 5,560 mile distance from London to PyeongChang to raise funds for DSUK.
In March 2018, PyeongChang will play host to the 2018 Winter Paralympic Games, where Team GB will be hoping to build on the impressive six medals they achieved at the Sochi 2014 Games. This team of inspirational athletes are all supported by Disability Snowsport UK, a charity which changes and enhances lives through inclusive participation in snowsports.
DSUK are committed to delivering qualified instruction to ensure that people with any disability can take part in snowsports. At a time when the Department of Work & Pensions found that around 1 in 5 people in the UK are affected by disability, this is extremely important work.
Extreme Adventurer and DSUK patron Pippa Middleton says "It is clear to me that the work of DSUK changes and enhances people's lives. Their adaptive snowsports programs create opportunities and inspire disabled people through snowsports."
This is why Middleton herself yesterday launched the new #Ski2Paralympics initiative, a campaign from DSUK and Crystal challenging snowsports fans to spend time on the slopes in order to raise money for the charity.
Fiona Young, CEO of Disability Snowsport UK, said "As we can't all be in PyeongChang to cheer on our Paralympic athletes we've decided to partner with Crystal Ski Holidays to create the #Ski2Paralympics Challenge. The total distance from London to PyeongChang is 5,560 miles, can we ski there and back?"
Entrance to the challenge is simple; participants are asked to donate £5 to Disability Snowsport UK via JustGiving and then track their miles skied, snowboarded or snowshoed on a ski tracking app such as the Crystal Ski Explorer. They are then encouraged to share screenshots of their mileage as often as possible on the DSUK Facebook event page so that DSUK can keep an up to date record of the total distance travelled.  A simple and inexpensive initiative, #Ski2Paralympics has the potential to make a huge difference to many people's lives.
Miles can be achieved either in the UK or abroad, so whether you are heading out to the mountains on holiday or having a lesson at your local dry slope, every run counts! Furthermore, each participant will also be automatically entered into a prize draw for the chance to win one of a selection of great prizes and for a great cause.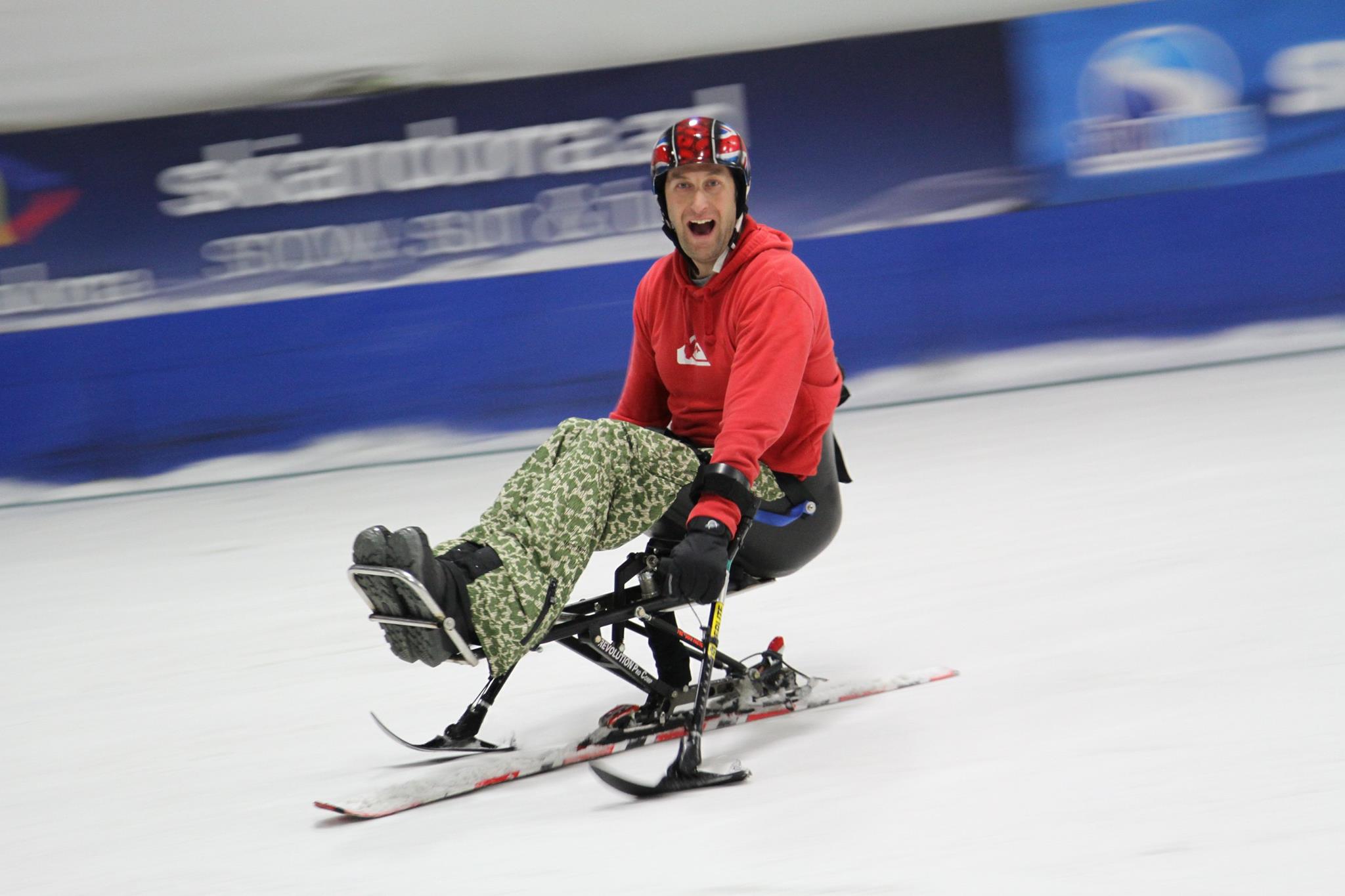 Snowsports are for everyone and DSUK are hoping that the PyeongChang 2018 Paralympics as well as the #Ski2Paralympics initiative will further inspire those with a disability to experience snow sports, while increasing enthusiasm for adaptive skiing and snowboarding at a grassroots level.
At the campaign's launch in London yesterday, Crystal Ski Holidays were pleased to present a cheque for a whopping £77,000 to DSUK, the result of another year of fundraising efforts by their staff and customers. Let's hope that the #Ski2Paralympics campaign can match this impressive achievement!
To learn more, go to the #Ski2Paralympics JustGiving Page or visit Disability Snowsport UK's Facebook Page.