Gutted for Aimee Fuller, not able to put a score together and placing 17th. But weather conditions were super tricky today for women's Olympic Snowboard Slopestyle finals. Good luck to Aimee in the Big Air.
Today's events
Snowboard: Ladies' Slopestyle (final)
Alpine: Ladies' Giant Slalom – postponed
Tomorrow's events
Cross Country: Men's Sprint Classic
DAY 3 WRAP
SNOWBOARD: LADIES' SLOPESTYLE at Phoenix Snow Park
Team GB Results: Aimee Fuller 17th
Competing in her second Olympic Winter Games, snowboarder Aimee Fuller has finished 17th in the ladies' slopestyle in challenging conditions at Phoenix Snow Park.
The event was won by defending Olympic champion Jamie Anderson (USA) ahead of reigning World Champion Laurie Blouin (Canada) while Sochi silver medallist Enni Rukajarvi (Finland) took the bronze.
Qualifying was cancelled yesterday due to high winds with all athletes moving through to a two-run straight final this morning.
The start of today's final was again delayed by the conditions and while there was some doubt as to whether the competition would, and should, go ahead, proceedings were underway more than an hour after the scheduled start time.
Fuller took a positive attitude into both runs, but was forced to pull up short on the second kicker on her first run, and after a solid second trip through the course she came unstuck on the final jump when the wind grabbed her board from underneath her and sent her crashing to the snow.
After matching her 17th place from Sochi, the 26-year-old was disappointed that inconsistent weather conditions played such an influential role in deciding Olympic medals.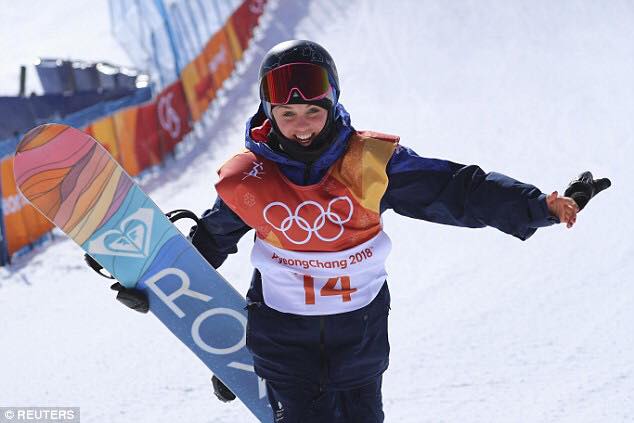 "Conditions today were definitely a challenge," she said. "It was for sure not what I wanted, not what I expected, not what I dreamed of for my Olympic final, but it is what it is.
"There were huge gusts of wind. I've decided to call it the 'PyeongChang Gust'. Some riders were very lucky. If you got a drop in the wind you could get through and have a cruisy run.
"In general, I think for the most part everyone struggled. And I'm happy to see everyone's in one piece.
"Looking at the long range forecast this was the best day to do it. Unfortunately it wasn't the best day for our sport. Some people got lucky and I didn't."
Fuller will now look ahead to next Monday when snowboard big air gets underway at the Alpensia Ski Jumping Centre, another venue which has had weather disruptions already at these Games.
"I'm hoping that it's a little more sheltered at the big air stadium," said Fuller. "As it's in a stadium, I'm hoping that the wind won't be so much of a factor."
ALPINE SKIING: LADIES' GIANT SLALOM at Yongpyong Alpine Centre
POSTPONED
The abrasive weather conditions which cancelled the men's downhill yesterday claimed the ladies' giant slalom today.
Alex Tilley has two days off before she joins Charlie Guest in the slalom, with the giant slalom now rescheduled for Thursday with the first run due to get underway at 12:30am GMT.
DAY 4 PREVIEW
CROSS COUNTRY: MEN'S SPRINT CLASSIC at Alpensia Cross Country Centre
9.05am (GMT) Andrew Young
Andrew Young will line up for his third Olympic Winter Games tomorrow and take on the Sprint, his strongest race distance and one which has already seen him visit the World Cup podium.
At these Games, the Sprint is being contested in the Classic technique, not Free skate which is the technique which has earned Young four individual World Cup top 10s including a third place at Toblach in 2015.
Having battled illness at the start of the season, Young has come on strongly in the last six weeks, placing 10th in the Sprint on the opening stage of the Tour de Ski and finishing 9th in the Team Sprint (with James Clugnet) at the Dresden World Cup.
In 2010 Young was 60th in the Sprint Classic in Vancouver while in Sochi he was 42nd in the Sprint Free.
Tomorrow he will be hoping to qualify in the top 30 in the prologue to earn a place in the knockout stages.