Freetrain made a name for themselves with gear for running, but the good news is it can be used when you're skiing or boarding too, then brought back for spring, summer and autumn use back home.
Freetrain's signature Running Vest (£24.99) revolutionised how you carry your phone as you exercise, holding it centrally on your body so that it's weight is not shifting as you move. Wearing the vest under a ski jacket works too and has the added bonuses that (1) your phone is less likely to be lost in a fall by dropping out of a pocket (2) your phone won't suffer sudden power loss if its too cold in an outside pocket and (3) you won't forget which of your 30 pockets your phone is in.
Other Freetrain products include a neck warmer (£9.99) which covers your face and neck with soft 100% polyester that moves sweat away from your skin for quicker evaporation, helping you stay dry and comfortable. The perforated mesh vent enables you to cover the mouth and allow breathability, letting both moisture and sound escape for communication whilst protecting you from the elements.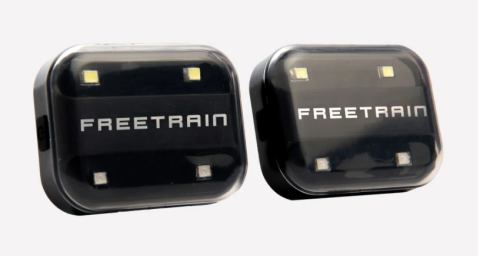 If you're freeriding in low visibility the company's Freetrain illuminate LED running lights (£19.99). The featherweight design and robust qualities make them effortless to add to your ski kit  making you  visible up to a 1/2 mile meaning you can be seen from a distance.
The company also produce Water Resistant or Reflective Gloves, Beanies and Socks.