Now, we all know that finding the correct thermal underwear can be key to your comfort on the ski slopes. This is why the Falke Impulse Women's 3/4 length tights are a great choice for this winter, featuring innovative materials and an improved fit to keep you highly comfortable wherever you're skiing this year. What's more, these tights actually aid your body when skiing and help you to ski more healthily!
The Impulse tights feature skin-friendly polyamide activate sensors at the hips, thighs and knees, which stabilise the lower body using silicone nubs and an innovative 3D knitted material. These specifically target the fascia in the legs and hips. They are designed to ensure targeted muscle control and improve the health and stability of the knees, thighs and hips.
So, benefits of the Ski Impulse tights include improved body awareness, heightened co-ordination and lower risk of injury while skiing.
Add in to the mix exceptional comfort and effective climate control and you've got yourself a pretty impressive pair of tights!
Falke Impulse Ski Women's 3/4 Tights Key Features:
Close-fitting 3/4-length ski trousers in skin-friendly polyamide
Silicone nubs and innovative 3D knitted material specifically activate the sensors and stabilise the lower body
Improved stability and health of the knees, thighs and hips
The tissue and the muscles are lightly massaged and in this way ensure faster regeneration
Improved body awareness, lower risk of injury and coordination while skiing
Climate control and ultimate comfort
Available in black or white.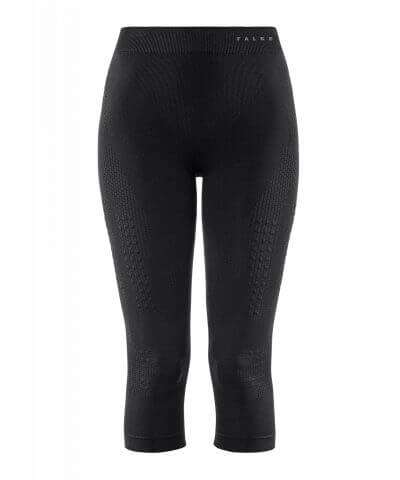 Specification
Material: 91% Polyamide, 9% Elastane
Pattern: Block colour
Form: Tight fit
Gender: Women
Leg Length: 3/4
Compression: Strong