If you are a keen skier or snowboarder then there is a high chance you love all things equipment related. It's an area of the sport that I find interesting and am not ashamed to admit i'm a tech nerd. A big part of the sport is travel, which means taking into account moving around with all this awesome stuff and so I feel its important to pack correctly and take the essentials.
I move around between each hemisphere chasing the snow and so packing is second nature to me now, its no longer a stress. My bag with clothes and 'normal' things can change a lot depending on how long I will spend in each place but my snowboard bag stays the same, it has all the essentials that I need for snowboarding and i'm going to run through what I take on my travels.
Snow Safety
This is pretty much the most important part of any backcountry skier/snowboarders kit, It should never be left behind.
Shovel, probe and a good transceiver are the essentials and should always be carried with you when venturing into any side/backcountry. I always ride with a backpack, even in resort, and will always have my shovel, probe and transceiver on me just in case. It also helps with getting used to wearing the gear and feeling comfortable. Make sure you know how to use it all and what to do if an avalanche was to happen.
If going backcountry is your thing then I feel that the more safety gear and knowledge you have the better, this will at east mean you have all the tools required if the worst was to happen. Look for local avalanche courses, read as much as you can,I recommend a book by Bruce Tremper – Staying alive in avalanche terrain.
Backpack
A good quality backpack is something worth spending a bit of money on. It needs to feel comfortable when loaded with gear and it needs to suit your needs. I have a 48litre Dakine pack which is the perfect size for carrying all my splitboard gear if I need too. I can fit all my snow safety gear along with skins, crampons, water bottle, spare layers and food. A lot of people say that 25 litres is enough for a daypack but in my experience its never enough, I have found that 48litres is fine for one day or multiple days.
Whats in my daypack
– Snow safety equipment
– Mutli-tool – get yourself a Leatherman or a Gerber
– Medical tape – incase anything breaks its always good to be able to bodge a repair
– Water
– Spare Lens – Carry a low light lens if you can.
– Sunglasses – needed for hiking in the sun, you don't want a sweaty goggle face
– Camera – Mirrorless cameras are great. Makes it easy to get that 'Insta-banger'
– Balaclava or 'buff" – Merino is best for breathability
For backcountry days I will add the following
– Splitboard skins
– Crampons
– Spare base layer – after hiking its good to be able to change out of a sweaty base layer, merino works well
– Food
– Head-torch
– For overnight trips I will add a packable down jacket, Primus stove and lighter with metal cup
– Collapsable poles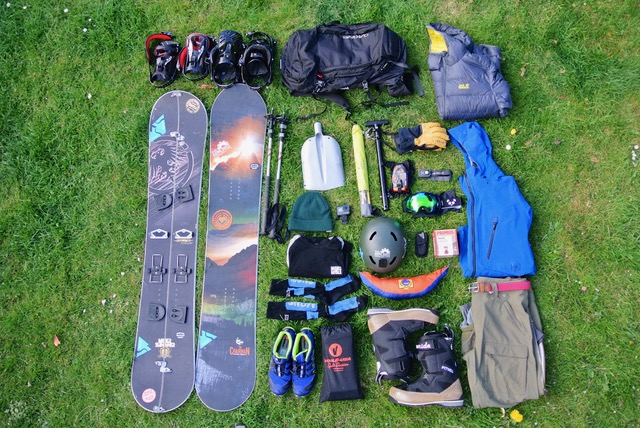 Outerwear
I aways wear shell jacket and pants with zero insulation. I find its easier to warm up by adding the right layers rather then being too warm and unable to do anything about it. Also a packable down jacket is great for the colder nights. I use a Jack Wolfskin jacket that packs into its own pocket, a really warm jacket that uses up little space.
Good gloves are key. Leather is usually the way to go for warmth, I currently use Oyuki which have a great fit and stay warm.
Good goggles are also essential, there are many brands out there so just find what works for you and fits you properly but don't skimp on the cost. Theres an exciting new British brand called 'Panda Optics' making great fitting new goggles, be sure to check them out.
Layers
The key to keeping a good temperature when riding is to get your base layers right. Merino wool is the new thing with temperature regulation and as long as you layer up properly then it does work. A Long sleeve base layer and a mid-weight zip up are must haves. It's much better to be able to lose or add a layer to deal with changes in body temperature.
Approach shoes
If your going to spend a lot of time in the backcountry then its good to have a decent pair of trail shoes. They are perfect if you need to hike over rough ground to get to the snow and are great to put on after a long day riding.
Snowboards
Everyone has their own preference when it comes to which boards to ride, I have friends that can ride a soft park board perfectly in the backcountry. For me though, I like the stiffest boards due to their response and the confidence they provide when holding an edge and not washing out on hard landings. For me, the Never Summer Chairman is the best freeride board I have ridden. It has hybrid camber, which is rocker between your feet with camber under the bindings providing you with good float in the powder but still the snappy response of a full camber board.
I take my splitboard everywhere I go. Its a side of the sport that is really taking off now and with all the new tech it looks like its here to stay. Long gone are the days of cutting your old board in half, the new factory splitboards feel like riding a regular snowboard meaning there's no excuse to not get out and explore.
Bindings
Regular bindings again is preference. Im always trying out new ones if I can but as long as they feel solid then thats all you need.
Splitboarding is not cheap. The boards themselves are expensive but then you also need the gear to go with it. Skins, poles, crampons and bindings. Voile have a great kit that means you can adapt regular bindings but you lose a lot of performance. Its great for starting out but you get to a point where it becomes frustrating.
Splitboard specific bindings are the next logical step, it makes the board feel more responsive and a lot easier to control. They improve your riding and give you a lot more confidence which is key when you are out exploring.
Boots
Obviously an essential part of your snowboard gear. For me, I always struggled finding a boot that was stiff enough or that didn't collapse. Im a big guy with dodgy ankles and found that most boots would just break down after two weeks of hard riding. I was lucky enough to find Fitwell, a small Italian brand who make,in my opinion, the best freeride and splitboard specific boots on the market. If your like me an crave response from your boots then I strongly suggest them. Boots need to be comfortable and allow you to do what you want them to do, as with most of this gear it again comes down to personal preference.
So that should just about do you. Everyone will carry slightly different gear, but I think this is the basic for any keen snowboarder who wants to get out into the backcountry. Unfortunately this does mean more gear then normal but it's important to have the right stuff in every situation.
You can also follow Leon Butler on social media: