With the bi-annual Alpine Skiing World Championships coming up in Are, Sweden, next month, Britain's Dave Ryding has got bacck on the podium with his secend career silver.
Ryding took the runner's up spot in the World Cup Parallel Slalom competition in Oslo this afternoon after knocking out Austria's Marcel Hirscher, in the quarter-finals, and then Olympic Champion and the winner of the event last year Sweden's André Myhrer in the semi-final, but lost in the final to another Austrian Marco Schwarz who posted his first ever World Cup win.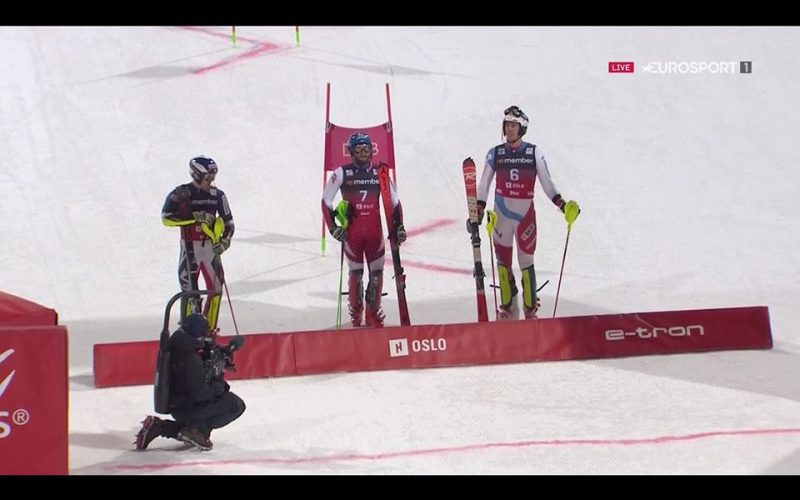 The silver gives Ryding, who turned 32 last month, 80 world cup points, doubling his total this season and moving him up to 6th in the 18-19 Slalom world cup table only 4 points behind fifth placed Norwegian Henrik Kristofferson. Current leader Marcel Hirscher has 236 slalom world cup points.
The Oslo competition is only open to the best 16 male and best 16 female slalom racers with up to four knock-out races in successive rounds, each in two legs, for those who make it to the final or small final. It also carries significant prize money.
Eurosport posted this video of the final run.
Ryding posted Britain's best result for three decades when he took silver in the Hahnenkamm slalom at Kitzbuhel in January 2017 and now becomes the first British racer to win two silvers.
Ryding's silver comes just over a week after he came close to the podium at Madonna di Campiglio when he moved from 26th after the first run to 4th in the end after posting the fastest second run of all competitors.
In the women's competition with rounds staged on the same course as the mean, alternating rounds with the men, Slovakia's Petra Vlhova beat Mikaela Shiffrin in the final after being runner up in their four previous encounters.
Ryding said the results at Madonna and Oslo are a testament to doing the right things in training and that his move back to Dynastar skis is proving to be a good call.
"I've changed skis and it's not always that easy in the first races to know exactly what's going to happen," said Ryding. "Training's great, but when you get into that race mode it takes time to shift over what happens naturally to the new line I have to take with the equipment.
"But everything's coming together now and I'm really happy with how the equipment is; I just need to keep going and keep believing in myself a bit more than I was at the start."
Ryding will line up again in just five days time when the World Cup circuit moves onto Croatia, a venue at which he has scored top 10 for the last two years. Like the corresponding event last year, he goes into this weekend's race in Zagreb with strong form and good results but without the lingering impact from a crash in the 2018 Oslo semi-finals.
"I need a day off or two and then wrap it up for Sunday but things are definitely going in the right direction," said Ryding. "I'm feeling good, I'm in good shape physically – everything's positive at the moment.
"Madonna was certainly needed to get that going but I have to keep skiing well and we'll see what that brings in Zagreb."
British Alpine World Cup Podiums
Gina Hathorn – 2nd Women's Slalom, Grindelwald SUI, 10 January 1967
Davina Galica – 3rd Women's Downhill, Bad Gastain AUT, 17 January 1968
Davina Galica – 3rd Women's Downhill, Chamonix FRA, 23 February 1968
Konrad Bartelski – 2nd Men's Downhill, Val Gardena ITA, 13 December 1981
Dave Ryding – 2nd Men's Slalom, Kitzbühel AUT, 22 January 2017
Dave Ryding – 2nd Men's City Event, Oslo NOR, 1 January 2019