Winter holiday destination choices for the British skier can be hard to deviate from, and why would you? France, Austria, Italy and Switzerland offer superb skiing areas complimented by all the extras we have come to expect – delicious food, more-ish wine and quaint picture-postcard villages.
However if your thirst for adventure has been heightened in the lockdowns then why not try a lesser-know ski destination this winter? You may find yourself pleasantly surprised.
This curiosity took me to Bansko on a 4-day jolly to celebrate New Year 2022 with a group of 16 friends. Without a doubt Bansko is the ski capital of Bulgaria with it being crowned Winner of the prestigious World Ski Awards' "Best Ski Resort In Bulgaria" every year since 2013, so I was intrigued to see how it matched up to its counterparts in the Alps.
Getting There
We approached Bansko under the cover of darkness after a 2.5hr transfer (160km) from Sofia Airport so mystery and suspense shrouded the scenery until daylight broke. Fortunately, the morning blessed us with blue skies and a clear view to the top of the Pirin Mountains snow-y peaks, the hills from which the ski area is built upon. The mountain range was stunning and we were excited to explore this new ski territory.
Suited and booted we jumped on the Bansko Gondola, a main artery within the lift system connecting Bansko town to the ski centre 12km away perched at just over 1600m. Top tip – it can get busy at the bottom of the gondola so instead hop in a cab from your hotel to the top of the gondola up a mountain road, it costs less than £5 and is much more convenient.
After sparking friendly chair-lift-chat with some locals it was interesting to learn that Bansko ski area only started it's build in 2004, so it's a resort truly in its infancy but yet it has carved out somewhat of a niche for itself delivering quality entry-level ski holidays at incredibly good value prices.
The Resort
The lift infrastructure is modern with speedy and comfortable chairs, including the 8-man Gondola and the four-chair bubble lift opening up 75km worth of beautifully groomed pistes. After only a few runs you can tell a lot of thought and consideration has gone into how the slopes have been carved into the side of the mountains offering an eclectic mix of alpine and gladed routes.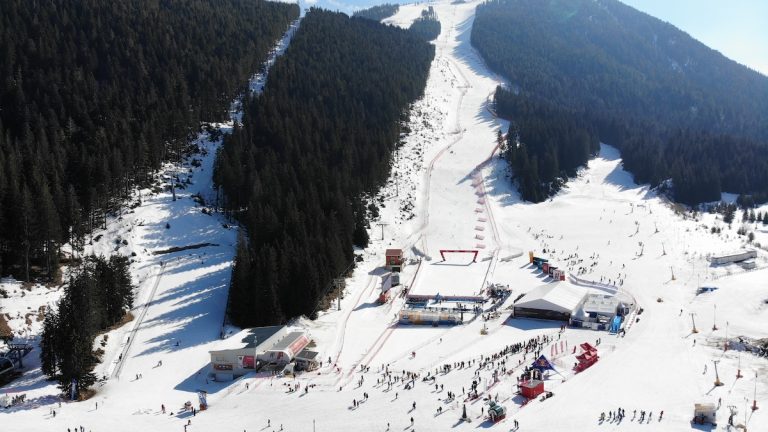 Experienced skiers can enjoy the steep, north-facing Alberto Tomba black run under the Banderitza chair lift, a stretch of piste that is recognised for its quality playing host to a number of FIS World Cup events. Bulgaria's top winter resort has proven itself as a competent host, capable of turning each event into a real winter sports celebration. Some of the biggest names in the sport like Lindsey Vonn and Marcel Hirscher, have both enjoyed career highs with gold medals at Bansko.
If off-piste is more your thing then be sure to visit over March 18th-20th 2022 to feast your eyes on some of the very best backcountry skiers as they compete in the Freeride World Qualifier.
The Ski Area
Bansko, however, has built its reputation on being a playground for novice and intermediate skiers and I could see why. A stand-out piste was a unique 16km meandering blue that runs uninterrupted from the Todorka Peak, the highest point in Bansko at 2600m, weaving all the way down to the base station of the gondola lift in Bansko town. Despite fairly mild temperatures towards the bottom the snow cover was superb throughout thanks to the resort's impressive 80% snow-making coverage and 400 cannons.
This particular 'ski-road' was a favourite within the group thanks to countless piste-side bars where you could pull over for a swift pint at the end of a long day on the mountain. And with beers being under £2 it won't pinch your pocket either!
The Après
By the time you have reached the bottom the Bulgarian Apres Ski is in full swing. The Bansko Apres Ski is infamous and there's no shortage of Après options. The Happy End is however a popular destination conveniently located at the base of the Gondola terminal where people enjoy mountain views with live music and dancing, all with happy-hour like prices.
However if you are looking for something a little quieter and cozy, seek out the local taverns, mehanas, for a more authentic Bulgarian experience. These are essentially restaurants which will whip up some hearty local specialties with regional wines to the soundtrack of live Bulgarian folk song and dance.
Typically these are found in the old-town which is well worth a visit. Indeed Bansko is a UNESCO World Heritage site with its quaint cobbled streets and its hundred-year old houses still captures the charm of yesteryear. If you time it right you hear the bell of the old clock tower chime throughout the streets as it has been for the past 150 years.
Skiing has taken me all over the world and I find it fascinating to see how the same sport manifests itself in different cultures. If you are someone who enjoys the adventure of ski, Bansko offers an entirely unique ski experience all within a short haul flight and at a price that doesn't break the bank.
Check out our Resort Guide for more inspiration