Remarkably it's already 20 years since the world's first 8 seater chairlift was installed, at the Norwegian ski area of Vrådal, but up to now no ski resort in North America has felt the need to install one.
That's changing this summer though with the news that Big Sky Resort in Montana will install the continent's first eight-seater chair in time for next winter. What's more it looks like the new lift will be the most advanced chairlift ever built.
Big Sky's owners, Boyne Resorts, have announced they'll install the next generation Doppelmayr D-Line chairlift ready for the beginning of winter 2018/19. The lift's chairs will feature the signature Big Sky blue bubble covers for added warmth and seats that are heated, form-fitting and wider than any ever made, providing the most comfortable ride yet conceived. The lift will feature an audio system for communication with guests during uphill transport as well as a child restraint system for optimized safety.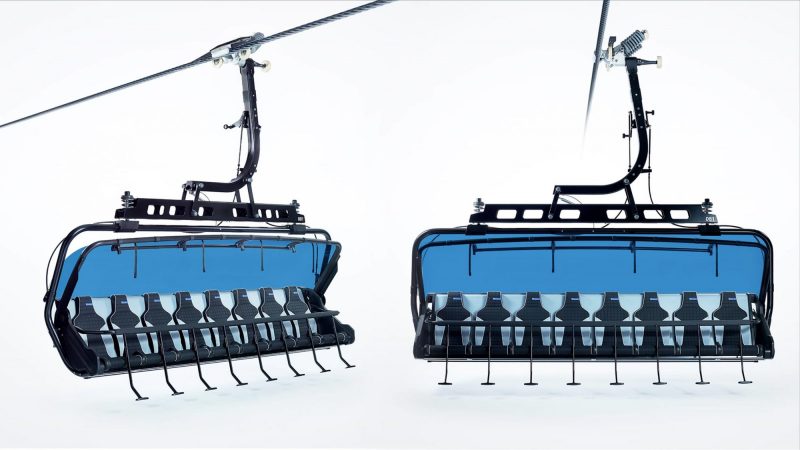 Other features include an integrated 30' x 10' high resolution LED screen for guest information and engagement, height adjustable conveyor loading for safety and efficiency, improved suspension and grip design for a noticeably smoother ride, and fully automated chair parking in an underground facility to keep the chairs in optimal condition.
"This custom eight-seater we are building for Boyne Resorts is the most technologically advanced lift Doppelmayr has ever delivered," said Doppelmayr president, Mark Bee, continuing "The folks at Boyne have always looked to change the game by capitalizing on our latest advances in lift technology, and setting new standards for guest comfort, safety and aesthetic quality. In my opinion, this addition at Big Sky will make riding many older lifts like flying coach versus the upgraded experience of flying first class."
It's not the first North American first for Boyne and Doppelmayr who have worked together since the 1980s, in 1992 the two introduced the first high-speed six-seat chairlift in the U.S (and before any had been installed in Europe) at Boyne Mountain Resort in Michigan. It was way back then that a joint ambition to create an eight-seater chairlift was first discussed.
"This is a very exciting moment in our company's history, being able to capture another industry first with whom I consider the best lift manufacturer in the world, is truly remarkable, and as well an important time for Big Sky Resort in its journey toward becoming an internationally acclaimed mountain destination." said Boyne Resorts president, Stephen Kircher, adding,
"Big Sky Resort is considered America's Alp due to its Matterhorn-like peak and we will now have lift technology that rivals the best of what Europe offers and is truly beyond anything that exists in North America today. Bringing this next generation D-Line and installing the first eight-seater on this continent reinforces our company's long history of industry firsts and without a doubt, is a transformative next step for Big Sky."
D-Line technology and features developed by Doppelmayr are visionary. So much so, the system boasts 31 innovations and holds 14 patents. "Installing North America's first D-Line eight-seater at Big Sky and treating guests of this incredible resort to the lift's unrivaled comfort and safety is a proud moment for us," said Doppelmayr president, Mark Bee. "In my opinion, this addition at Big Sky will make riding many older lifts like flying coach versus the upgraded experience of flying first class."