A chalet is your home-from-home in the mountains for the most important week of your year.  Nowadays more than ever, we see operators offering the latest and greatest gadgets to ensure your stay is as fabulous and luxurious as possible.  From the hand creams and shower gels to the big screen TV's and games consoles, morning coffee machines and 2 way radios, the list is almost endless.  So we have gone out to find some of the must have luxuries in your next chalet stay.
A simple clean design for this voice-operated alarm clock manufactured with natural wood material, fine workmanship and creative shape provide you with a healthy and fashionable lifestyle. It includes a voice-activated sensor, three sets of alarm function and the possibility to adjust brightness. The device can be quickly charged by using batteries or USB cable.
RRP £19.25
Tablets, iPhones, Kindles, Blackberries, hand held consoles and so the list goes on…you can never have enough charging sockets! This ultimate charging station includes ten ports that pump out 60 watts of power, enabling simultaneous multi-device charging. Exclusive to Anker, PowerIQ and VoltageBoost combine to ensure the fastest possible charge speed. Compatible with iPhones and iPads, Android smartphones and tablets and other USB-charged devices.
RRP £11.99
This docking station lets you play anything from your iPod, iPhone or iPad while you charge your device. Whether it's your own music collection, YouTube or a streaming service, it will play it all. Built-in FM radio gives you more freedom. You can even stream your music wirelessly through Bluetooth and continue to use your phone or tablet.
RRP £49.95
A modern wall clock with four world times at one glance including eight city magnets for individual adjustment, so you can determine yourself whether you are the time of New York, Shanghai, Los Angeles, Paris, London, Sydney or Tokyo and the local time.
RRP 59.95
Keeping your shoes warm and dry is more than just a matter of comfort. The Sidas Drywarmer Pro USB is a small and efficient gadget that helps dry and warm all types of shoes. Plugs into a USB socket and quickly gets your boots warm or dry.
RRP £25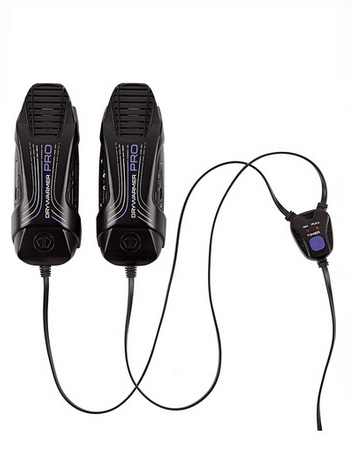 With almost three times more suction power than any cordless vacuum they've ever produced, the Vax Blade 2 Max 40V is proven to clean carpets better than the UK's top 10 cordless vacuums; in a sleek, lightweight design. The specially designed floorhead complements and powerful brushless motor ensure optimal pick-up on all floor surfaces.
RRP £249
THE MRx has been designed to look as good as it sounds. On its own, the MRx is the perfect system for the kitchen, bedroom or study as a standalone connected bluetooth and connected speaker or pure quality. But, with its multi-room capabilities, you can link two or more MRx's together to provide beautifully synchronised sound all around the home or chalet.  With full access to internet radio and streaming online services and the Ruark Link App that gives full remote control, this really is the ultimate in wireless, connected beautiful sounding bluetooth speakers.
RRP £399
VertuoPlus is Nespresso's newest design for the ultimate brewing experience. Offering five cup sizes at the touch of a button, the VertuoPlus is a versatile brewing machine to satisfy all your coffee needs. Just insert a capsule and close the lever – when activated, the capsule spins up to 7,000 rotations per minute, blending ground coffee with water and producing the perfect crema to enjoy quality coffee.
RRP: £199 – but on sale for £129!

At Neom, WELLBEING starts with the little moments.  The shower drops that help you KICK ASS at 6am, leaving you energised and ready to go.  The candle that creates a tranquil CALM ZONE in your busy family home.  The DEEPLY RELAXING bath that works HARD to prepare you for a perfect night's SLEEP.  Their 100% NATURAL fragrances offer true wellbeing benefits: to help relieve stress, aid sleep, boost your energy and lift your mood.
Goodbye 40 inch plasma or LED TV's and hello the 75 inch lifelike QLED 8K resolution of Samsung's flagship Q900. Four times as detailed as 4K UHD, it combines real 8K resolution with intelligent AI upscaling for an incredibly lifelike picture. With over a billion true-to-life colours, this screen delivers staggering HDR brightness contrasted with ultimate QLED black levels. Add in minimalist 360 design, Near-Invisible Optical Cable, One Connect box and Premium One Remote and it all adds up to…I really want one.
The Nintendo Switch is one-part handheld and one-part home console, and plans to be the only device you'll ever need for gaming, wherever you are. The hybrid console is undeniable clever, offering up an exceptional level of handheld graphical quality, while seamlessly transitioning into a home console straight onto your big TV – no chalet should be without one.
A duvet is a duvet right?  WRONG! The Simba Hybrid Duvet is designed to take the heat – literally. With built-in heat regulating OUTLAST® technology to keep you comfortable all night, this is the all-season duvet you don't find every day. And no more duvet swapping winter to summer, the 10.5 tog duvet keeps your nights comfortable year-round, thanks to temperature regulating technology that's out of this world – literally, it was designed for astronauts.