I was lucky enough to be invited to the SPECTRE premiere in the Tirol on Thursday evening, followed by a day in Sölden where scenes from the new Bond movie were shot.
(Warning for those who have not seen SPECTRE but intend to, this blog contains spoilers)
Scenes shot in Tirol included the spectacular 'Bond-in-plane-chases-down-baddies-in-car' scenes and the 'space-age-mountain-top-medical-facility'  In addition Q takes a ride in Sölden's wonderful 3S gondola and there's reference to Q staying in Sölden's Central Hotel (its only five star) in room 12.
I stayed the night there and have to report that whilst the hotel is very real and very nice, rooms start on the first floor with room 101, there's no Room 12 and all of the hotel scenes were shot on a set in Pinewood.  Whether the hotel will create a Room 12 just as you can now find the entrance to Platform 9 ¾ at Kings Cross station remains to be seen.
Actually Daniel Craig stayed in a suite at the nearby Hotel Bergland (a four star – although the 212m² three-bedroom Gipfel suite he had is rather special) during filming in January this year.  His rooms are already becoming a tourist attraction, at least among the female continent of the international media group on the trip with me.
The media launch kicked off at 5pm on Thursday with a gathering at Innsbruck's Metropol theatre ("the largest cinema in the Tirol") where we were all issued James Bond press passes (already one of my most treasured possessions) and were offered free drinks, including special edition 007 bottles of Heineken, and popcorn.  Our phones and cameras were taken off us as we entered the cinema under strict rules from the film makers in LA apparently.
I, along with hundreds of thousands of Brits, had already seen SPECTRE when it had opened in the UK ahead of everywhere else in the world, even the US, last Monday but it turned out that the perception in Austria was there had only been a London premiere and not a general release, so they seemed slightly miffed.
It turned out well for me that I had seen it though because rather than the original version with German subtitles expected, it turned out to be a dubbed German version shown.  This was a bit of a hiccup as around 80 media and other international guests at the screening had expected an English version that everyone could follow, so I spent a lot of the rest of the evening trying to explain the plot to everyone and what 'smart blood' was.
Jakob Falkner, a Sölden big wig who is Managing Director of the resort's ski lift operator as well as having many other business interests in the resort, rightly takes 99% of the credit for bringing SPECTRE to Sölden (and vice versa). He made a speech and cut a giant themed cake and we all had a slice.
Meanwhile a high society band played Bond hits and the male lead singer did a very passable interpretation of Sam Smith's current 'The Writing's On The Wall' theme tune with the help of lady band members for the high notes.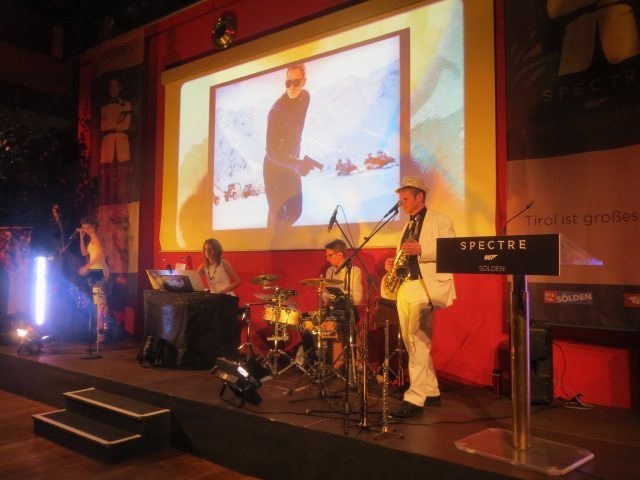 Friday dawned bright and sunny and the international press corp jumped in to buses outside our Innsbruck hotel and headed up to the mountains. Skiers and boarders were heading up to the glacier and were impatient to get on to the snow, non-skiers were heading to the valley's excellent Aquadome spa and swimming complex.
As we headed up to the glacier the road used for the plane/car chase in the film was pointed out and cameras whirred.
We picked up rentals in a slopeside Salomon test centre and jumped in the gondola. There'd been fresh snow the previous few days but now the sun was out, the skies were completely cloudless and there was no wind – a perfect skiing day and one of my best in 2015 – and this was October 30th!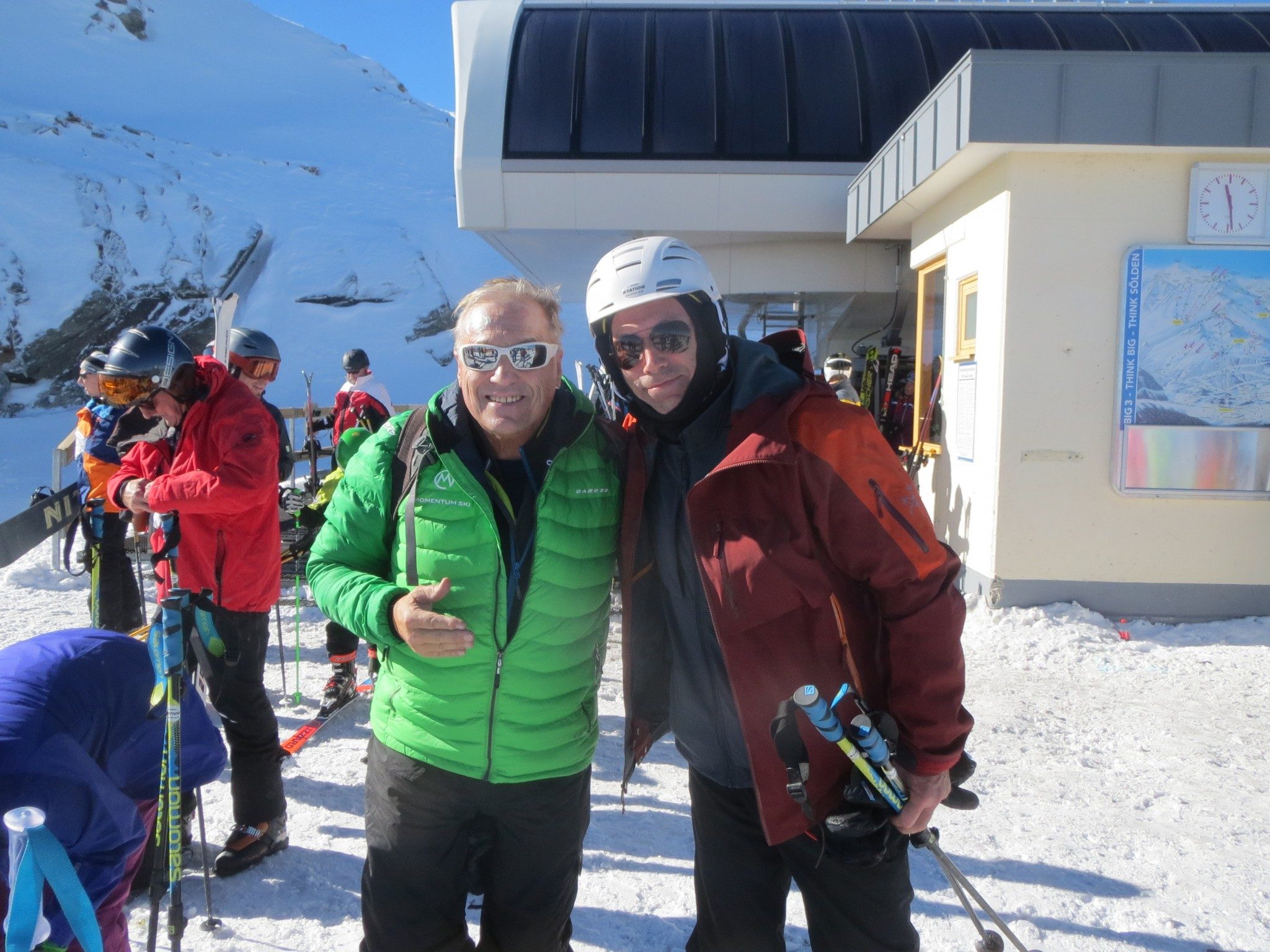 I joined the 'fast group' with fellow British ski journalists Arnie Wilson (aictured above); Felice and Peter Hardy from WeLoveToSki and Jane Peel from PlanetSKI as well as others from Denmark and Germany.
We had a wonderful, but all too short, few hours whizzing around the 30km or so of open slopes, and tackling the alarming viewing platform.
We rounding it off on the World Cup Run which had seen racing on the previous weekend.
Next we were back in Bond's tracks by heading over to the hi-tec 3S gondola lift which features in the film for the ride up to the ice Q restaurant.
The route took us along the road used by the 'baddies' as they tried to drive away from the mountain pursued but 007 in a plane he found helpfully sat around next to the ice Q/Medical Facility – parked on an airstrip created (and soon after demolished) just for the filing.  Driving the road gave us some idea of what an impressive piece of flying that must have been.
As something of a ski lift obsessive I was probably more excited than I should have been about riding up in this amazing fast lift with its huge cabins which had been switched on just for us as it is not in the glacier ski area but accesses Sölden's third 3000m+ peak.
So we reached the ice Q restaurant, a phenomenal three-storey glass structure perched more than 3,000m up above Sölden.
I had ridden the 3S Gondola lift up with Jakob Falkner and he told me that it was sheer luck that only shortly after they had decided to build this amazing restaurant which opened two seasons ago, SPECTRE location scouts who had been trawling the Alps looking for an ultra-modern mountain building to use in the film came across images of ice Q online.  They were very keen to use the restaurant after coming out to visit, but Jakob Falkner said he had to go to London and make it clear that Sölden were ready to do all that was needed to fully accommodate the huge crew and make everything possible for the filming to go seamlessly which, they say, it did.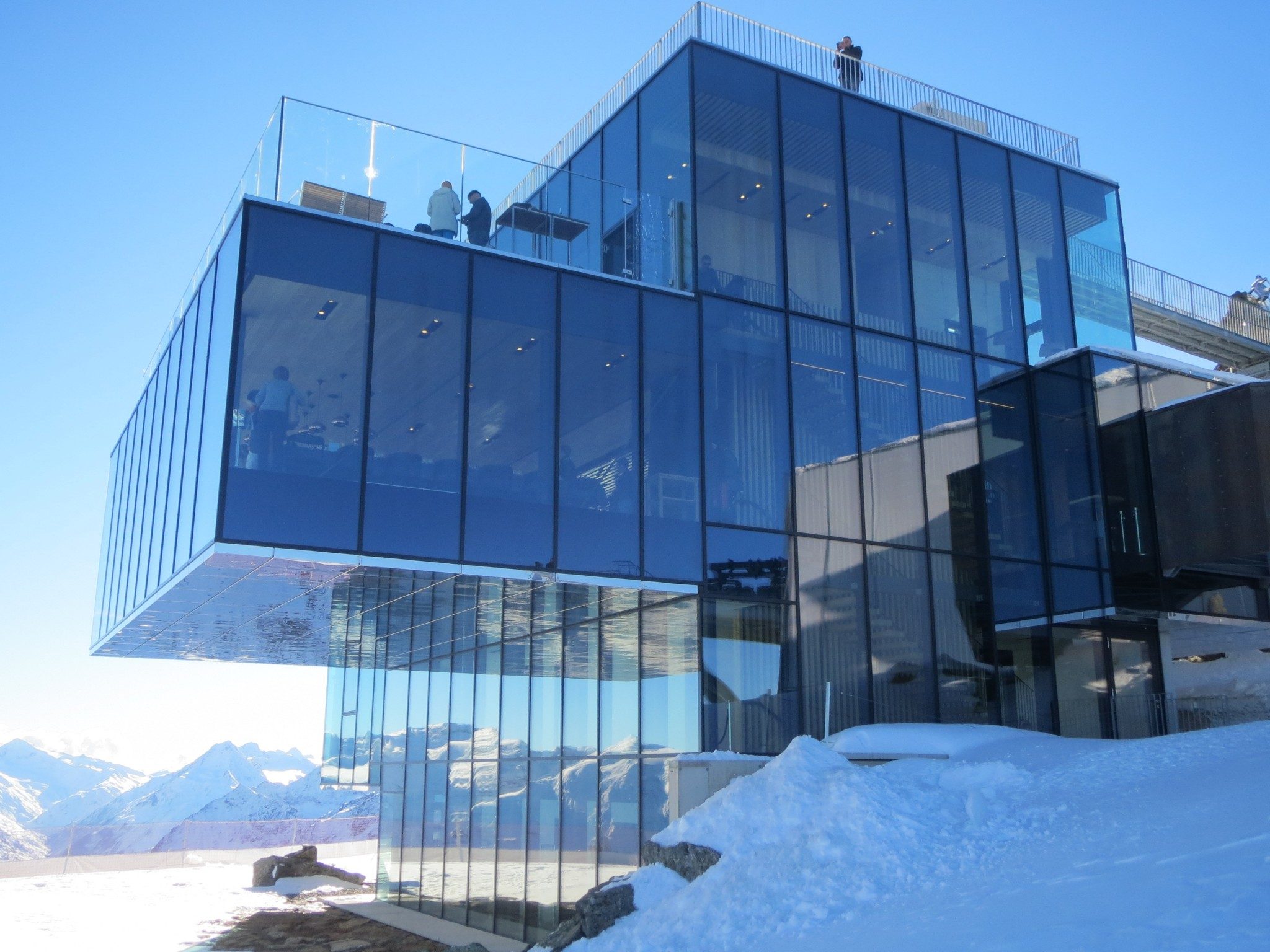 The building is completely stunning – particularly on the day we visited with perfect weather.  There are amazing views from all sides to surrounding peaks as far as the Italian Dolomites.
We were welcomed with a vodka martini on the terrace and than treated to a sublime lunch – Sölden had really spared no expense on this one!
The 3S lift was stopped whilst we were dining with the single SPECTRE themed cabin left hanging across from the restaurant and for a further thrill we were allowed to climb up in to the let's massive working mechanism and walk out in to the void where a beauty blogger was taking a few styish 'Bond Girl' inspired snaps with the mountains and…
Jakob Falkner says there are plans to capitalise on the SPECTRE connection in years to come but that these won't move forward whilst the film is still in cinemas around the world, it's something for next season he says and subject to negotiation with the film company, but he's optimistic, if tight lipped.
I had hoped to lean against the bar where Q orders his probiotic health drink in the film (oh, Q in the ice Q, I just realised…) but am informed that the entire interior was recreated in Pinewood then seamlessly integrated.  I am such an innocent.  I leant against the bar anyway to keep in the spirit of the thing.  They didn't have any probiotic drinks menu.
After recreating Q's ride back down from the ice Q it was back down to Sölden for a night in the Central hotel.  This is mentioned in the film but not shown, and the fictional hotel room 12 in the movie is a lot less plush than the actual rooms.
It does have quite a Bond feel too it, with a huge spa and selection of bars and restaurant.  The desert buffet was off the scale even for the five star hotels I've been lucky enough to stay in in other resorts.
The evening ended with a nice Bond touch as we came across a nice £100,000 BMW electric sports car parked in a room off the restaurant.  You can just imagine Mr Bond jumping in and driving it off, although perhaps not if he has to wait round to charge it up.
Whether you like the film or indeed Mr Bond or not, in fact even if you don't bother to see the movie, the ice Q is a wonder of the ski world and a place you should add to your mountain sightseeing bucket list.  It's incredible.
Enregistrer