Dave McCoy, one of the world's great figures in the development of skiing, has died aged 104.
McCoy was born in California in 1915 and went on to create one of the most famous ski resorts on the planet, Mammoth Mountain.
McCoy famously started his first ski area with a basic DIY rope tow created using parts from a Model "A" Ford truck in 1938, before deciding to move his operation to the more snowsure location of present day Mammoth Mountain in 1942, growing it over the next seven-decades in to a multi-hundred-million-dollar ski area.
Before that however McCoy is reported to have made his first skis himself in the 1920s whilst at school and became  California State Ski Champion aged 22.
Mammoth Mountain's initial development was slow with the first 'lodge' not built until the early 1950s and then just a 12′ x 24′ structure with a dirt floor and an outside toilet. The first chairlift was installed in 1955 after several years battling to secure a bank loan.  Dave's wife Roma whom he'd met in the 1930s was a leading player in the battle to secure finance to set up and then grow the resort.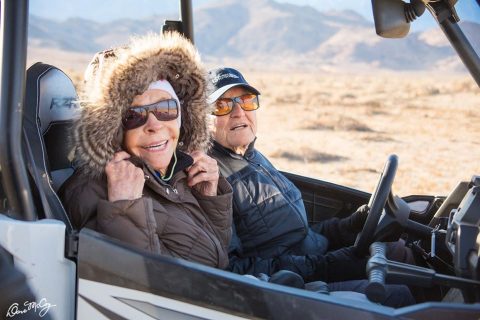 (Roma and Dave in 2015)
Mammoth developed relatively quickly after the first chairlift and base lodge were created and the nearby town of Mammoth Lakes grew on the back of the ski area and was incorporated in 1984.  Today it is one of the world's largest resorts and often has the longest ski season of any ski area without a glacier in the world, sometimes staying open from November to August.
McCoy retired in his 90th year in 2005, selling Mammoth Mountain Ski Area for $365 million and remained active well past his 100th birthday on August 24th, 2015.
Dave and Roma were married for around eight decades and are reported to have more than 50 children, grandchildren, great grandchildren and great great grandchildren.