The Magnificent Seven – Home of the largest ski areas on the planet, affordable family accommodation and that unique ambience.
As our nearest neighbour and home to the world's largest ski area, it shouldn't come as any surprise that French ski resorts are the most popular with British skiers.
Easy to reach by rail, road or plane the French have embraced skiing like no other nation, building high-altitude resorts that are both snow-sure and designed with the skier in mind. Ski-in, ski-out is the norm from early until later in the season and all services are just a few steps away.
But, of course, France is also famed for its ambience, fabulous food and stunning mountain scenery, so there are plenty of centuries-old traditional villages to choose from as well. They come in all shapes and sizes from market towns lined with enticing cafes and boutiques to tiny hamlets where you're soon on first name terms with the locals. Whichever you choose, though, they'll all share access to the world-class ski slopes for which France is famous.
CHAMONIX
Ready For Winter 2022/23
Those who already know Chamonix will know that it is more than just a single world-famous ski town but an entire valley, home to different smaller villages and hamlets, most connected to the ski slopes above and with a great free public transport network of rail and bus services connecting them below. The spectacular summits and needles of the Mont Blanc massif and the Aiguilles Rouges tower above them all.
Chamonix attracts skiers from all over the world each winter to enjoy its outstanding skiing. The slopes are open from December to May with reliable snow cover and, when the days get longer, excellent springtime conditions.
Although Chamonix's most famous runs like the Vallée Blanche (the world's longest lift-served run, a 20km-long glacier itinerary), its freeride spots and vertical drops, the valley also offers gentle tree- lined slopes, wide, open panoramic pistes, snowparks and nursery slopes for beginners and children.
The Club des Sports Chamonix will host the next Kandahar World Cup races in Chamonix on "La Verte des Houches" this winter.
With so many activities requiring some use of your physical energy, it's good to know that Chamonix is also home to the most scenic Spa in the Alps. QC TERME, which brings a little Italian chic to the French Alps offers a multi-sensory journey offering over 30 wellness practices and an infinity pool at the foot of Mont Blanc.
To best discover the Mont-Blanc region, the remarkable "Mont-Blanc Unlimited" lift pass enables visitors to enjoy over 1,000km skiing at liberty in three countries.
LES MENUIRES & SAINT-MARTIN-DE-BELLEVILLE
Two Resorts, One Ski Domain!
Les Menuires and Saint-Martin-de-Belleville bring the very best of French skiing to the world's largest ski region, the 3 Vallées.
Lying 10km apart, Saint-Martin-de-Belleville is a traditional Alpine village with a long history, while its neighbour and partner Les Menuires is a very modern resort, purpose-build for skiers, that opened in the 1960s and has been growing and improving ever since!
Together the two areas offer 160km of runs, divided into 87 separate slopes, and of course they area seamlessly integrated in to the world's largest ski area, the 3 Vallées, so you can choose a local pass or for the full 600km.
Saint-Martin-de-Belleville
At a very healthy elevation for a traditional village, 1,450 metres, skiers staying in Saint-Martin-de- Belleville are within easy reach of both Les Menuires, but also its other neighbour, Méribel. It takes just a few minutes to get to the top of Tougnette, one of the main links to the wider 3 Vallées.
You might not be keen to ski very far away that other though as Saint-Martin is famed for its gourmet hotspots on the slopes as well as in the village. There's everything from Michelin-starred dining, to local country bistros and re-invented mountain eateries. Good food is always within skiing distance.
Take time to visit the authentic heart of the village when you're not skiing though. You'll see farmhouses of stone and timber, and chalets that have been renovated to offer you a cosy little haven.
There are indeed chalets to accommodate groups of all sizes, like the 35 chalets in the Caseblanche hamlet which ranging from a comfortable 30 m2. to a huge 200m2. If you prefer a hotels, the new 5- star M Lodge stands right at the foot of the slopes, plunging guests straight into a cosy, welcoming atmosphere.
Located right at the heart of the 3 Vallées, perfectly placed to hit the slopes. All of the village neighbourhoods are ski-in, ski-out, with 90 percent of the accommodation right on the slopes, so the vast 3 Vallées is right at your ski tips as you go out the door!
You won't have to go far though as some of the least-used off-piste terrain in the whole 3 Valleées is right here, including the three ungroomed 'Liberty ride' zones at La Masse, La Riondaz and Les Pylônes, providing a feeling of secure off-piste skiing.
Les Menuires is great for families too. They can dive into a wealth of special play areas and activities designed just for them. Brits are the biggest foreign market, which is why English is widely spoken, from kids' ski lessons to the restaurants and into the village's sports and entertainment spaces.
With its base starting at 1800m and climbing higher, Les Menuires is snow sire all season and also has a repitation for some of the most affordable accommodation in the 3 Vallées.
Both villages are easy to reach by train via Moûtiers station, on the direct Eurostar train from the UK if you book a Travelski Express rail holiday package or via Paris if you travel independently.
VAL THORENS
The highest resort in Europe at 2,300m
Val Thorens is located high in the world's largest ski region, Les 3 Vallées.
Celebrating its 50th birthday this season, Val Thorens has grown into one of the world's most popular ski resorts.
Part of its success is due to its high-quality snow conditions, with one of the longest ski seasons in France, and the snow staying better for longer. A lot of that is down to its altitude and slopes stretching up above 3,200m, with 99% of them above a very snow-sure 2,000m altitude.
Back when it opened, Val Thorens was known just as a resort where people went to ski, but it has grown to become one of the most vibrant destinations in the French Alps with loads to do off the slopes, a buzzing après-ski scene. This winter, the new multi-million Le Board complex opens in the heart of the resort to offer still more. There's also a busy events calendar right from the Grand Première opening weekend in mid-November to the Grand Dernière, last-in-France, season-closing weekend in mid-May six months later.
LA PLAGNE
Loving La Plagne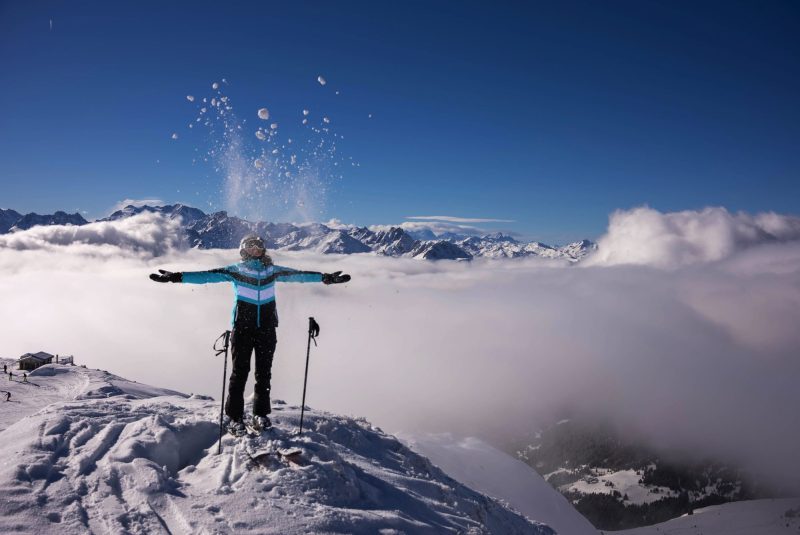 La Plagne is one of the world's most popular ski resorts and one that most skiers know, even if some have not been there yet.
Its popularity depends on many things, but first off it's big! Part of the Paradiski region with 425km of pistes, it's within one of the three largest ski areas in the world, and one of the few offering more than 2,000m of lift-served vertical.
There are ski runs for every taste and a great deal of snow certainty with the highest part of the area at Bellecôte above 3,100m and the majority of the runs above 2,000m altitude.
The next attraction is the great range of accommodation choices, with a constellation of 11 villages located between altitude to choose from, ranging from traditional villages to high- altitude purpose-built centres, each with its own style and charm.
La Plagne has hundreds of miles of piste designed for regular skiers, 85% of them graded blue or red. But 15% of a huge area is still a lot of black runs, and the off-piste terrain is world-famous in advanced skiing circles.
La Plagne's success also relies on its popularity with families, who love the slopeside access from most of its affordable apartment accommodations. Most village centres are compact, car-free and offer excellent nursery slopes, ski and non-ski kindergartens and great ski schools.
Another part of La Plagne's appeal is that there's plenty to do off the slopes. Besides fabulous restaurants, cafes, bars and some great spa centres, there are big attractions like the famous bobsleigh run. You can descend this in a variety of ways including a self-guiding "bob raft". The Colorado Luge is a second high-speed sledging option down a nearly mile- long canyon.
There's also airboarding, which is a kind of inflatable bodyboard, cani-raquettes – snowshoeing with a dog – or ice climbing on the resort's 24m-high artificial ice climbing tower, and plenty more besides.
It's good to know that La Plagne has had a long-standing focus on sustainability with its lifts powered by green electricity for many years and now its "piste-basher" slope-grooming tractors powered by bio-diesel.
Easy to reach by train, with direct services from London St Pancras as part of the Travelski Express ski-holidays-by-rail charter train service, or for self-drive holidays, you can also fly to Geneva, Grenoble or Lyon, each within a three-hour transfer.
With hundreds of slopes, over a dozen villages to choose from and tons to do on and off the slopes, it's really no surprise that La Plagne is so popular.
MORZINE
A long-time favourite with Brits, who fall in love with its ambience and many wooden chalets, Morzine is a village resort that's been around for centuries and developed with the rise in winter sports.
About as far from a purpose-built resort as you can get, Morzine is proud of its Haute-Savoyard culture and strong community, and you'll find hotels that are on their third or fourth generation of ownership. These are among the many family-run businesses like cheesemakers, chocolatiers and bakers that take pride in the welcome they offer to their clients.
But there's no compromise on the skiing! Morzine lies at the heart of the vast Portes du Soleil, a network of 600km of slopes, divided into 308 separate pistes served by 209 lifts and linking up a dozen resorts, including several over the Swiss border with slopes of all skiing along with freeride zones and terrain parks.
Preserving the environment is unsurprisingly important to Morzine's residents, who have set up a non-profit group, Montagne Verte, to coordinate many actions, including a second-hand shop to encourage reuse and a discount card for those arriving by train who can save money with local businesses.
Morzine offers a huge range of activities and entertainment beyond skiing including a packed free programme of activities. Non-skiers have a bustling village centre to explore, a weekly market, riverside walks, the chance to see eagles on an informative animal walk at Nyon and many other activities including snowshoeing or sledging to enjoy.
At only 30 minutes from the closest train station, or 90 minutes from Geneva airport, Morzine is quick and easy to get to as well.
TIGNES
Terrain For Everyone
With France's longest ski season, one of the world's biggest ski areas, a huge lift-served vertical, a choice of different resort villages to base yourself in and much of the accommodation ski-in, ski-out too, Tignes ticks all the boxes.
Tignes has terrain for everyone from beginners to experts and has a reputation for its challenging runs, but this winter there's a particular focus on families with children under the age of 8 skiing free all season right across the Tignes-Val d'Isère ski area. There are also savings for older children right up to age 18 – all much more generous than the French norm.
There are nine free lifts for beginners next to four Tignes villages, and this winter the Plateau du Marais boasts a new six-seater chairlift, the Aiguille Rouge, while a panoramic viewing platform has been created perched at 2,415m. The new lift slows down to pick up and drop off skiers making it easy to ride.
At the other end of the spectrum, young adults will love Le Strike, a large 1,200m2 area, entirely dedicated to music with four bars, live bands and resident DJs. It's open Tuesday to Saturday until to 3am with free admission.
Experience the new premium place to stay in Tignes at YNYCIO. In the heart of Tignes Val Claret, YNYCIO is the premium apartment which is designed for 2 to 8 people and offer a soothing, zen-like, gentle and rejuvenating atmosphere.
Val d'Isère
Val d'Isère is one of the world's most famous and most loved ski destinations with its many fans returning year after year.
A mountain village that has become an international holiday destination, Val d'Isère can be explored from all angles. There's the incredible ski area itself, the world-class competitions run on its iconic race courses, the exciting après-ski scene, as well as the cultural attractions, the foodie scene, the spa culture and even business tourism.
Located at 1,850m, it's snow-sure from the top of the mountain to the bottom throughout its long season with its lifts climbing to nearly 3,500m and 300km of runs shared with neighbouring Tignes.
But Val d'Isère is about more than impressive stats – this is a chic resort with great après-ski (it is the home of the famed La Folie Douce on-slope cabaret bar and restaurant, now spread to several leading French ski areas), fabulous foodie treats, world-famous freeriding terrain and challenging World Cup descents.
It also cares about the environment, receiving ISO 14001 eco certification as far back as 2007 and now Green Globe certified. Practical actions include lifts powered by hydroelectricity and from this winter its 39 piste-bashers by HVOcreated from waste fat and used vegetable oil – but no palm oil, and several of the resort's shttle-buses now fully electric powdered, alongside 101 other initiatives.
Inghams (inghams.co.uk) offer a wide range of hotel, chalet and apartment holidays in Val d'Isère.
From this winter, the resort is offering free lift passes to children under eight years old.