Snowsport England are 'Inspiring Participation in Snowsport at Every Level'
Snowsport England has launched its ten-year vision 'Inspiring Snowsport', which celebrates the passion and diversity of the Snowsport community and aims to grow and support the sport in England. The strategy, supported by Sport England, is based on creative thinking, new ways of resourcing and engaging the sport, and developing talent. It also aligns with Sport England's strategy of 'Uniting The Movement'.
"We are delighted to see "Inspiring Snowsport" and look forward to working with Snowsport England as they deliver and expand on their goals. As a system partner of Sport England, Snowsport England receives funding to develop the governance, system and talent aspects of the organisation. This enables them to focus more on the areas that matter for our strategy Uniting the Movement – especially diversifying the sport and reaching new audiences."
Tim Hollingsworth – CEO Sport England
The strategy has a long-term vision that identifies the main opportunities and challenges for the future, rather than a traditional four-year plan. This allows more time for strategies and programmes to take effect and grow.
The strategy is committed to increasing participation among women and girls as its first EDI (Equality, Diversity & Inclusion) target, diversifying the workforce and changing the image of the sport across the country. It also plans to address other objectives to make the sport more accessible and inclusive.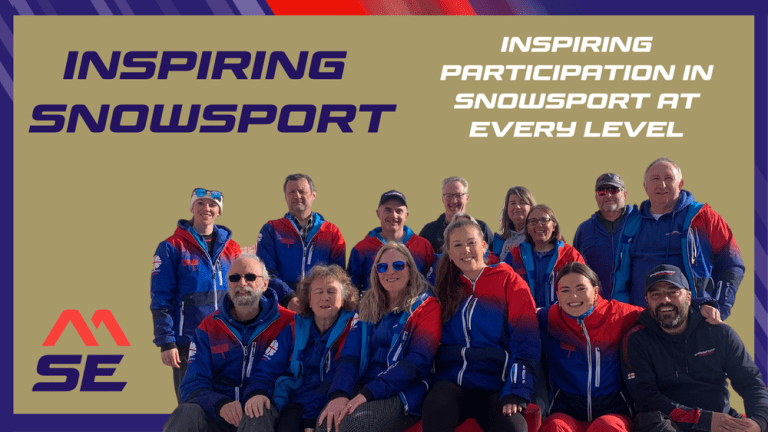 The strategy focuses on three key areas: Leadership, Participation and Talent. Snowsport England wants to ensure that Snowsport is a safe and welcoming place for everyone to enjoy and develop their skills.
Snowsport England recognises that the future of the sport depends on collaboration between all stakeholders in the sport, from clubs and organisations, to Governing Bodies and corporate partners. If you want to learn more about how Snowsport England will lead our sport for the next ten years, you can read the full strategy here.
#InspiringSnowsport #SnowsportEngland
We have a regular Podcast called The White Out where we review the latest gear, talk about the latest snow forecast and updates on where is best to ski now, as well interviews with absolute ski legends AND we spotlight a resort every week and so much more. You can check out our regular podcast here Apple | Spotify | Podcasts or search The White Out on your chosen podcast directory.