There's nothing like your first time on the slopes. The amazing sensation of gliding across the snow, the sense of achievement when you link your first turns, the incredible mountain views that you look on while you enjoy the fresh mountain air – there's truly nothing like it.
When you're young, learning is particularly fun (and often substantially easier – according to who you ask!). But only if you have the right instruction.
There's nothing worse than trying to share your passion for the mountains with your youngsters only for them to return cold, tired and frustrated after a sub-standard day of lessons. Finding a good ski school is essential, as is choosing a resort with optimal conditions for learning to ski or snowboard.
In Obertauern, one of Austria's most snow-sure resorts, you can be sure you'll be in the prime place for your first foray down the slopes. With an expansive children's winter-sports programme named after the official mascot, Bobby, the white snow hare, Obertauern is one of our favourite spots for a first family ski holiday.
Obertauern is a fantastic spot to learn winter sports, thanks to its plentiful and easily accessible beginner slopes. Fanning out from the centre of the resort, these slopes provide a safe, enjoyable spot for first-time skiers of all ages and abilities.
The area's several ski schools are top notch, with their own training areas for introducing children to the magic of skiing and snowboarding. Think dedicated instructors, magic carpets and even a mini skidoo course at one ski school! Kids are sure to enjoy themselves here and will have the perfect opportunity to show off what they have learnt with a race at the end of the week.
To really give kids a treat, head to the foot of the Schaidbergbahn, where an amazing Fairytale Park contains a kids' igloo and a spooky haunted ski house! It's not often you find things like this on the slopes, which children are sure to love.
Once kids are confident on their skis, be sure to take on the two junior "Tauern rounds" (linked circuits of groomed runs), which are specially tailored to the needs of children and beginners. Counterparts to the hugely popular "grown-up" "Tauern rounds", smaller children can enjoy the "Bobby round", while more advanced skiers and teenagers will head to "My Track".
The routes are designed so that youngsters can work on their skiing without the need for parents or ski instructors. It's the perfect spot for any youngsters that might be wanting to take their first few runs without Mum or Dad, as you know they are on safe, child-friendly slopes.
On both rounds, a fun park, a timed track, a ghost train, a kids' igloo and a wave track are sure to keep energy levels up and smiles plastered on faces. Be prepared for children to take on these runs again and again – each time there will be something new to discover!
For more advanced youngsters who are already comfortable on their skis, Obertauern has an additional 60km of easy progressive slopes, perfect for developing those budding skills!
BOBBY'S SNOW ADVENTURE
For the ultimate learning adventure, youngsters can join Bobby, the white snow hare, for a week they're sure never to forget. Obertauern offers special "Bobby's Snow Adventure" deals at very family-friendly prices, so you can book all your child's ski time in one place!
The full package, Bobby's Snow Adventure, is the perfect choice for children on their first winter holiday.
For just €225 (around £190) per child, the package includes a skiing course for five full days or a snowboarding course for five half days, a ski pass for the duration of the course, rental equipment for six days, free accommodation (in the parents' room) AND transfer to and from Salzburg Airport! There's even a free kids' entertainment programme and the option of booking lunch supervision, so ski-loving parents can spend the day exploring all 100km of the Obertauern ski area, without having to rush back for lunch.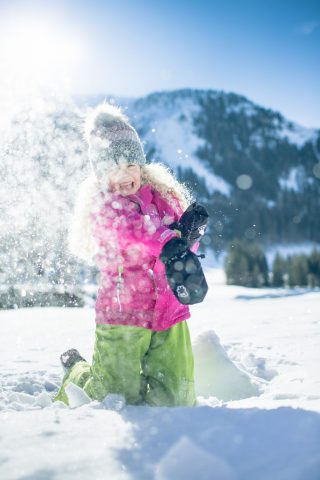 For children aged six to 14, the more advanced Snow Adventure deal includes the above skiing and snowboarding lessons, rental equipment and a 15% discount on airport transfer, for just €305 (around £260). Accommodation is booked separately, and establishments participating in Bobby's Snow Adventure offer very attractive package deals for guests of that particular age group. Bobby's Snow Adventure partner hotels can be found at obertauern.com.
For non-skiing children (we know it's not always possible to get them on the slopes as early as you might like!) the area has a fantastic kindergarten – the Kinderland Obertauern – where well-trained personnel are on hand to ensure your little one enjoys their time in the mountains!
This means that parents can have a fun-filled, stress-free holiday, whether enjoying the adrenaline rush of winter sports or simply relaxing in the area's many wellness facilities. Anyone who said a first family ski holiday has to be stressful obviously hasn't been to Obertauern yet!