Four years after what became known as the "Tropical Winter Olympic Games" in Sochi, the wider world will be focused on ice and snowsports once again as the Winter Olympics and Paralympics return, moving even further east, this time to South Korea.
As with Sochi, snow cover can be problematic in South Korea, but the country does have a reputation for consistent sub-zero temperatures in its ski regions, so usually, although heavy snow is unusual, the snow that does fall tends to stay on the ground. The organisers have also invested large amounts on snowmaking in a belts and braces approach.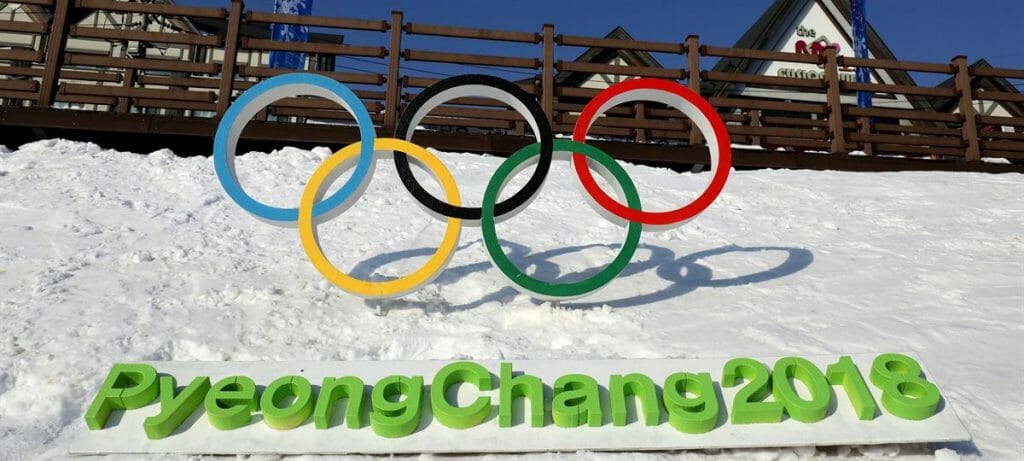 Another problem for South Korea is that it doesn't have many big mountains, and didn't have a lift-served ski slope with big enough vertical to accommodate the required descent of the blue-ribbon Men's Alpine Downhill race. The problem might have been addressed by building a bit of extra height on top of the existing biggest vert, but in the event the South Koreans circumvented the problem by building a completely new run through national parkland – a very unpopular move with environmental groups.
The Pyeongchang Olympic Stadium will host the opening and closing ceremonies, but downhill and freestyle ski and snowboarding events will take place at four separate venues. The Alpensia Ski Jumping Centre will host the snowboarding Big Air competition; the Yongpyong Alpine Centre will stage alpine skiing's slalom and giant slalom competition; the Bokwang Snow Park is the venue for other freestyle skiing and snowboard competitions and that purpose-built Jeongseon Alpine Centre will stage Downhill, Super-G and combined alpine skiing contests.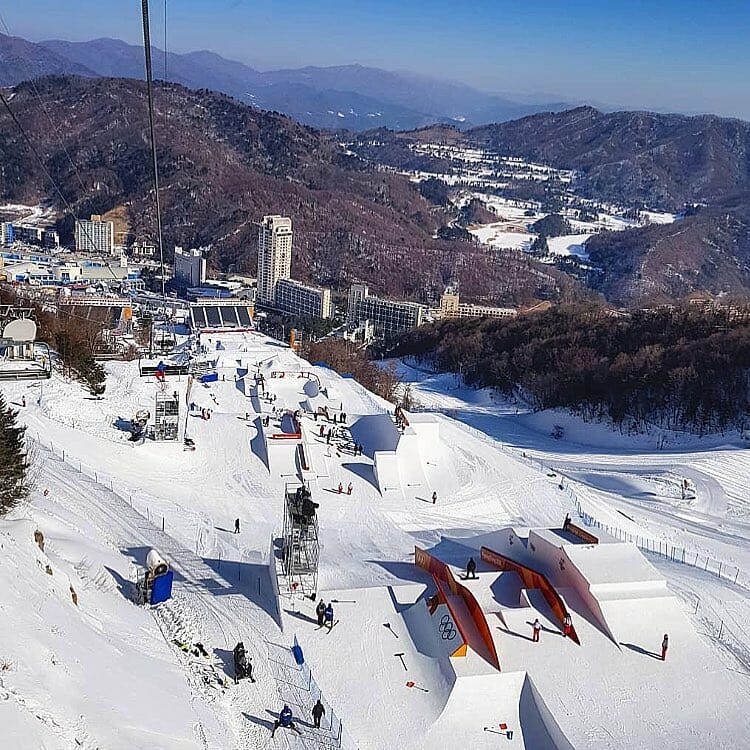 At the last Winter Olympics the main talk was about the vast amount of money lavished on the event by the Russians – variously estimated at up to $50 billion dollars and believed to be the most expensive Games, summer or winter, in history. The South Koreans have been more modest in their spending, although they clearly haven't scrimped on new infrastructure, which, besides the new alpine ski racing centre, includes a new high-speed train link from capital Seoul which takes little more than an hour to reach Olympic venues. The big story that has overshadowed the build-up to the Games has of course been the antics of northern neighbour, North Korea.
New Events
The 2018 Winter Olympics will feature 102 events in 15 sports. These include four new disciplines not previously featured in an Olympic Games, including one each in skiing and boarding. They are Big Air snowboarding (which will replace the parallel slalom) and mixed-team alpine skiing.
The Paralympics will feature 80 events including 30 alpine skiing competitions and 10 snowboarding contests.
When Are The Games On and Where Can You Watch Them?
The 23rd Winter Olympics will take place from 9 to 25 February 2018 and the 12th Winter Paralympics will follow at the same venues from 9 to 18 March 2018.
South Korea is nine hours ahead of the UK, so afternoon events will appear in the early morning and evening competitions in the late morning and early afternoon. View our guide of what's on and when here.
The BBC will have extensive coverage of the Olympics, as will Eurosport who have made a big splash about their coup in securing recently retired American skiing great Bode Miller to join their commentary team.
Channel 4 will be the main broadcaster for the Winter Paralympics.
InTheSnow.com and our social media channels will also deliver the big ski and snowboarding news stories from the Games.
Team GB – Who to Watch in Ski and Snowboarding
Britain has previously won two bronze medals in snowsports at the Olympics: one for Alain Baxter in the slalom at the 2002 Games in Utah, which was unfortunately unfairly taken from him and has not yet been returned despite enquiries finding him innocent of drug cheating, and the other for Jenny Jones in snowboard slopestyle at the Sochi Games.
Britain's Winter Paralympians have won more medals to date, including five in skiing at the Sochi Games with gold for Kelly Gallagher and her guide Charlotte Evans in the Super-G, and a remarkable three silvers and a bronze for Jade Etherington and her guide Caroline Powell across skiing disciplines.
For the 2018 Olympics and Paralympics some well-known faces will be back, but there are also high hopes for members new to the team since the 2014 games.
At the time of going to press we know that there'll be around 60 Team GB competitors across all disciplines for the Olympics, and 15–20 for the Paralympics, but the teams have not been announced. Here are some of the more high-profile athletes at present expected to compete and have the greatest success, although who knows, it could be one of the lesser-known competitors that makes the podium.
Slalom specialist Dave "The Rocket" Ryding scored Team GB's best alpine skiing result for 35 years with a silver at the Hahnenkamm in Austria a year ago. Since then he has scored numerous top 10 results and came agonisingly close to a first gold in his first event of the season in Levi, Finland, when he fell when leading in the second run just short of the finish line.
Snowboarder Katie Ormerod (20) became the first British woman to win a Big Air World Cup competition in Moscow last season and built on her success by winning silver in Milan this season. Other claims to fame include becoming the youngest female snowboarder to land a double backflip and being the first woman to successfully complete a backside double cork 1080.
The upcoming star of Britain's Winter Paralympics Team, Millie, who lost her sight at age six and only has 8% peripheral vision in one eye, won eleven medals on the World Cup circuit last season, including seven golds, before she even took her A levels.
James "Woodsy" Woods has become the UK's most successful winter-sports athlete competing in ski slopestyle. With an increasingly impressive trophy cabinet built up over the past 10 years now, Woods' most recent achievements include an X Games gold and winning gold again in the Cardrona World Cup competition in New Zealand at the start of the 2017/18 season.
Aimee Fuller's many achievements on snow include making the semi-finals in the slopestyle contest at the Sochi Olympics and being the first woman to land a double backflip and cab double 900.
Britain's only gold-medal-winning winter Olympian or Paralympian aims to be back for Pyeongchang and to achieve even more with medals in multiple events.
Emily Sarsfield is Britain's No.1 female ski-cross athlete and at 34 years old, is the oldest of the team headed to PyeongChang. Alongside her 
8 national titles, Sarsfield 
has been a regular fixture on the 
FIS Ski Cross World Cup circuit for many years, regularly finishing within the top 15 since her return from injury in 2016. This is her first Winter Games after injury ruled her out of Vancouver 2010 and she narrowly missed out on qualification in 2014, so we are excited to see what she has in store for PyeongChang! 
Billy Morgan competes in both Slopestyle and Big Air snowboarding events, the latter being newly included in the Olympics this year. Beginning as a gymnast, Morgan began snowboarding on his local dry slope in Southampton at the age of 14 and did not board on snow until he was 18! In 2013, he gained his first World Cup podium, bronze at Sierra Nevada, and more recently he became the first boarder to land an 1800 triple cork and also took bronze in the Big Air event at the X Games in Oslo in 2016.
In 2014 Jamie represented Team GB at the Sochi 2014 Winter Olympics in Russia. Making it to the finals, Jamie successfully finished 6th, missing out on a podium finish by 1 point. In 2016, Jamie became the first British male to win a Snowboard World Cup at the Snow Jam in the Czech Republic.
Katie grew up honing her skills on her local dry ski slope in Sheffield as well as the Snozone indoor snow slope in Castleford. In 2013, Summerhayes finished second in the FIS World Cup Slopestyle competition, becoming the first British female skier in 19 years to win a medal in a World Cup event.