One of the great pleasures of skiing in Switzerland are great train connections. The closest ski resorts to Zurich by train are easy to reach.
Walk from arrivals in Zurich Airport straight to the station in just a few moments. The closest ski resorts to Zurich by train can then be quickly and easily accessed.
With punctual, comfortable trains it's a pleasure to travel to the closest ski resorts to Zurich by train.
6 Of The Closest Ski Resorts To Zurich By Train
60 Minutes to Sattel-Hochstuckli, one of the closest small-sized ski areas to Zurich by train.
65 Minutes to Flumserberg, one of the closest medium-sized ski areas to Zurich by train.
110 Minutes to Lenzerheide, getting to the skiing area by train from Zurich Airport
130 Minutes to Engelberg, getting there by train from Zurich Airport
130 Minutes to Flims, getting there by train from Zurich Airport
140 Minutes to Laax, getting to the slopes by train from Zurich Airport
140 Minutes to Arosa, getting to the ski area by train from Zurich Airport
150 Minutes to Grindelwald, getting there by train from Zurich Airport.
Sattel-Hochstuckli
If you're looking for one of the closest ski fixes to Zurich, and don't mind if the slopes are not too extensive so long as you can make some turns on snow, little Sattel-Hochstuckli could be perfect for you! It has just six lifts, eight runs and 14km of piste in total in its skiing area, but you can be there in about an hour from the city using public transport. Besides the skiing one unusual attraction is the 374 metre long Raiffeisen Skywalk", as pedestrian bridge that hangs 58 metres above the ground. There's also a gondola with revolving cabins, the Stuckli Rondo.
Flumserberg
Flumserberg may not be a ski area name you are familiar with, but it is one of the closest and easiest to reach from Zurich. There are 65km (more than 40 miles) of ski runs here, which is plenty for most people to enjoy for a weekend. These include runs for everyone from complete novices to black slopes for expert skiers and boarders. For a bit of extra fun there's also a three- kilometre long toboggan run to enjoy. The slopes are also illuminated for night skiing some evenings. After the quick train ride from Zurich a modern gondola lifts you straight up the mountain side.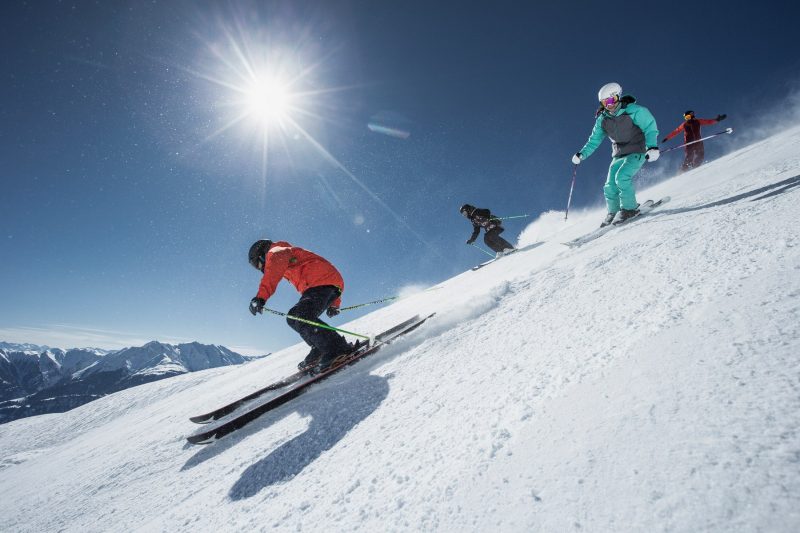 Laax
Laax has made it to become one of the top Swiss resorts of the 21st century. First of all it built a reputation as one of the country's coolest resorts. There's a strong emphasis on snowboarding and freestyle. Then it built on its existing snowsure reputation, there's glacier skiing up top. And it stayed ahead of the crowd on the environment with its greenstyle initiative. It was even one of the first resorts to introduce 5G. Plus there are hundreds of kilometres of ski slopes.
Laax is one of the closest major resorts to Zurich, if you take a transfer. It takes a little longer by rail travelling via Chur, where you can switch to a bus.
Lenzerheide
The connection of the slopes of Lenzerheide ski area to neighbouring Arosa's created one of Switzerland's best ski areas. Two cool, low slung cable-cars cross the valley between the two famous resorts. The lifts are so hi-tec they can both travel the same direction at the same time. They don't counter-balance each other like normal lifts. Lenzerheide however is the bigger sector of the two areas and is the quickest to reach. You do need to switch to a bus for the final connection from Chur though. This will take you up the mountain to Lenzerheide.
Engelberg
Engelberg is often marketed as one of the closest resort to Zurich Airport and a great choice for weekend breaks. The train service is great, usually requiring just one or sometimes two train connections but if you want to be faster still there's often a direct shuttle bus from the airport which can be quicker as it is 100km due south.
Engelberg is a world class resort with 2,000 metres of skiable vertical and a glacier that offers snowsure skiing conditions from early autumn to late spring. It often has one of the deepest snow bases in Europe and wonderful slopes for all standards.
Taking the train to Arosa from Zurich is rather special. That's not just because Arosa is a fabulous ski resort but the train ride is one of the world's greats. The Chur–Arosa railway, built in 1914, crosses some spectacular bridges. Fortunately it winds around so much on its 25km ascent you can see them as you approach. Some viaducts are so dramatic they've been used in Hollywood movies. Just make sure you're travelling at least one direction in the daylight.
The spa town of Arosa is a wonderful resort in all respects. Choc full o0f enticing restaurants, shops and great places to stay, the skiing is fabulous too. A recently built link to neighbouring Lenzerheide makes for one of the biggest and best Swiss ski areas.