Here at InTheSnow, we're always counting down the days to winter in the mountains. However, we can also admit that summer in the mountains is something really special. From summer skiing on one of Europe's high altitude glaciers to mountain biking, climbing, white water rafting and hiking, there's a whole host of fun available for active holidaymakers. Plus, travelling to the mountains over summer is surprisingly easy and affordable, particularly when compared to winter trips. So, if you can reach the mountains in the next few months, or if you're already thinking ahead to next year, which are the best ski resorts to visit in summer?
Whether you're looking for the best resorts for summer skiing or simply the best for non-skiing mountain activities, we've chosen our top resorts below. If you've never experienced the spectacular scenery, green pastures, colourful flowers and thriving wildlife of the mountains in summer, it's something we would definitely recommend.
Article below from 2019 – elements may have changed due to the current pandemic. 
The Best Ski Resorts to Visit in Summer (Skiing)
If, like us, you simply can't bear the thought of more than a few months without the snow, there are a few resorts where you can get your skiing fix through the summer months, as well as a whole host of other mountain activities.
Wondering how this will be affected by COVID-19? Read about summer skiing in 'the new normal' here.
Tignes & Val d'Isere
Arguably one of Europe's most famous ski areas, Tignes & Val d'Isere are great places to head to get your skiing fix over the summer. Summer skiing on the Grand Motte glacier offers 20km of downhill pistes, a snowpark and a number of cross-country skiing routes. Furthermore, the Panoramic restaurant offers an incredible view of the surrounding mountains for those that may not fancy hitting the slopes and would rather top up their tans or simply stop for a meal with a view. Furthermore, Val d'Isere is this year opening its winter slopes for summer skiing for the first time in the resorts' history for a few weeks before the Pissaillas Glacier, Val d'Isere's regular summer ski area, comes into play.
This area also has a lot to offer off the slopes in the summer. This way, you can make the most of the good snow in the morning and still have a lot to keep you entertained in the afternoon! In Tignes, 5 free lifts give access to the mountain bike area, which has many downhill trails of varying difficulty. Trails are graded like ski runs; green, blue red and black, increasing in intensity and difficulty. There are also enduro trails as well as cross-country routes, a dual slalom and even a mountain bike airbag for the real adrenaline junkies out there! Other activities on offer vary from climbing and hiking, to archery, golf, horseriding, fishing, trampolining and waterballs.
Tignes in the summer… Why not! ☀️???‍♀️⛷?‍♂️??Find out all you can do in Tignes in the ☀️ http://bit.ly/TignesInSummer

Posted by Tignes on Wednesday, 9 May 2018
For anyone wanting to work on their freestyle skills, Tignes' 'Acroland' is something you cannot miss. On the shores of the lake, you can access a large hot jumping slide as well as a lake jumping ramp. Either slide down on your belly or back, finishing up with an acrobatic jump into the lake. Or, take on the 35-metre ramp, where you can use either skis, BMX or inline skates to attempt more impressive tricks. This is where the freestyle elite train and is a really great place to visit for anyone interested in developing their freestyle abilities.
Hintertux Glacier
The Hintertux Glacier offers reliable, snow-sure skiing 365 days of the year – Austria's only year round ski resort. 20km of well groomed pistes and high altitude (between 1500 and 3250m) make it a great choice for dependable summer skiing. With slopes for all levels of skiers, as well as an entertaining fun slope, it's definitely one of our top choices for those who can't bear the thought of six months without skiing!
Off the slopes, the Hintertux area is also a great destination for hikers. There's something for all ages and abilities, from gentle Alpine pasture trails to more challenging longer routes or guided summit ascents of the higher peaks, all of which offer spectacular views of the surrounding area.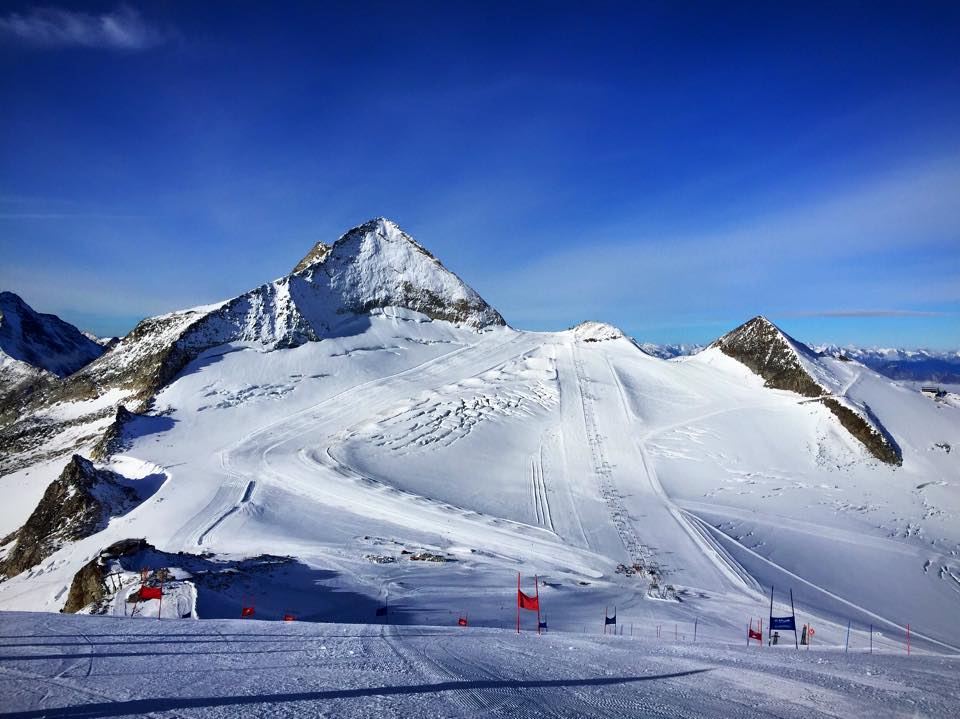 Even in the warmer months, Nature's Ice Palace at the Hintertux Glacier is a unique experience we would definitely recommend. A world beneath the ski slopes, Nature's Ice Palace is a stunning glacial crevasse with frozen waterfalls, giant stalactites and a large glacial lake. Not only can you explore the cave on foot, you can also take boat trips on the water, try stand-up paddle boarding, kayaking or even give ice swimming a go, all truly unique and exciting ways to explore this breathtaking setting.
If the weather doesn't hold out, pay the Spannagel Cave a visit. Europe's highest altitude publicly accessible cave, it is a fantastic adventure for children and adults alike. Measuring around 12.5km in length, it is the largest rock cave system in the Central Alps, Take a guided tour to really get the most of the experience.
Zermatt
Covered in snow or basking in the sunshine, Zermatt is the ultimate, picture perfect Alpine village, regardless of the season. If you're interested in summer skiing, hiking or mountain biking, Zermatt is somewhere you can enjoy the best of all these, in the shadow of one of the world's most iconic mountain peaks.
From trekking to the glaciers, gentle hikes to gorgeous mountain lakes, or perusing the latest fashions in the high end shops in town, there's so much to do here. Whether it's mountain bikes, dirt scooters, kick bikes or mountain carts, there are many ways to get in your need for speed.
Up on the Theodul Glacier, conditions remain good throughout the sunny months, making for some great skiing and snowboarding opportunities throughout those summer mornings. Zermatt is Europe's highest summer ski resort, with around 21km of piste on offer and one of the highest snow parks in the Alps. With efficient and well serviced lifts whisking you up to the dependable snow-covered heights of 3883 metres, you will be sharing the slopes with skiing stars from teams across the world who are also making the most of the conditions. For freestyle fans, he summer snowpark contains slopestyle features for beginners and more advanced riders, as well as a pro line, a rail area, and a 'mini shred' area.
As with most summer skiing areas, the snow is best in the morning, so you have the afternoons free to enjoy all the other summer activities Zermatt has to offer, whether you simply want to work on your sun tan or want to get your heart rate up with hiking, climbing or cycling. There's more than enough activity on offer to work up an appetite, which is ideal in an area that offers a huge range of culinary wonders, including 16 restaurants listed in the 2018 Guide Michelin for Switzerland.
For those younger skiing fans who may have a love for all things cable car or gondola, how about giving them an experience they will never forget, with the opportunity to sit in the cable car attendant's seat and play gondola operator? They will be sure to enjoy this once-in-a-lifetime experience and will treasure the certificate and gift they receive at the end.
The Best Ski Resorts to Visit in Summer (Non-Skiing)
St. Anton am Arlberg
Though it's one of the most famous ski resorts in Europe, the village of St. Anton has retained its original Tyrolean charm and the surrounding peaks offer many beautiful locations to discover. Why not swap your skis for wheels and explore the 350km of cycling routes, from challenging race tracks to gentle scenic passes. In 2017, the 'Eldorado' bike area was added to give that little bit extra for adrenaline seekers and this summer, St. Anton is also hosting the first ever festival, 'E-Bike Fest' from 22-24 June 2018. With specially designed test tracks, a driving safety area and local guided e-bike tours, it's sure to be a fantastic event.
Or, keen cyclists can also participate in the Arlberg Bike Marathon, taking place on 18th August 2018. Covering 40km and 1,622 metres in altitude, this race is also the final stage of the 'Arlberg Eagle', the legendary mountain triathlon. Held over five months, this triathlon combines skiing, running and biking in an incredibly challenging and unique mountain competition.
If you'd rather stay on your feet, St. Anton offers opportunities for both advanced mountaineers as well as less experienced hikers, with 300km of hiking trails. The region's cable cars open up a whole new world of opportunity on the village's surrounding peaks, including the region's highest peak at 2,811 metres, the Valluga. There's a beautiful hike down to Lake Verwall, where the emerald green and blue waters of the lake are truly spectacular. Here, a high rope garden and playground have undergone extensive refurbishment for the coming year, with a barbecue and picnic area perfect for groups. Further up the mountain, the WonderWalking trail is a great hit with families; a unique exploration of the local area, the nature and the wildlife.
To give yourself a real challenge, you can also take on the 'Eagle Walk'. This is a 33 stage, 413-km trail with a total elevation gain of 31,000 metres through the stunning Arlberg region. You don't have to complete the whole thing, but it offers a great way to explore the area.
For a bit of relaxation after all this activity, from 30th August to 2nd September 2018, St. Anton plays host to the 3rd Mountain Yoga Festival, with a packed programme of yoga classes, meditation and workshops from the world's top yoga experts. Whether high up on the mountain or in spiritual places of energy down the valley, yoga fans can experience the incredible power of the mountains.
There's a lot of climbing available on the Arlberg's many mountain faces, from free climbing to bouldering and the St. Anton via Ferrate, renowned as one of the most challenging yet beautiful in the Alps. Even when the weather may close in, St. Anton boasts the Arl-rock sports and climbing centre, with 1000sq metres of climbing surfaces and indoor activities including bowling, tennis, volleyball and table tennis. There's also a wellness centre for relaxation with a view of the peaks.
Alpe d'Huez
For avid Tour de France fans, summer Alpe d'Huez is something you simply cannot miss. The famous 21-bend climb up to Alpe d'Huez is set to make it's 30th Tour de France appearance this year. This can be tackled throughout the summer by cyclists of varying ability, but of course it is fitness-dependent… it's a pretty gruelling climb, even for the professionals!
For anyone that doesn't quite fancy such a challenge, there are plenty of other cycling routes in the area, with more gentle options for those who simply want to cruise and enjoy the spectacular mountain scenery. The nearby Ecrins National Park is a definite highlight of the area, with a vast amount of wildlife and outdoor sports opportunities. Visitors of all ages can enjoy this area, with activities available to suit adrenaline junkies to nature watchers, hardcore climbers to family ramblers.
Alternatively, you can take to the water, with many canoeing and kayaking opportunities, as well as the adrenaline-inducing fun of canyoning! Plunging into the beautiful mountain streams with abseil descents and natural water slides, you will find yourself enjoying the rivers almost as much as you would be enjoying the slopes! (Almost, of course, as nothing can quite replace the joys of skiing).
There are also many mountain lakes, rivers and streams in the Alpe d'Huez area that permit fishing. From the river Sarenne to the Lac des Bergers, you can expect to find fish including rainbow trout and brook trout. If you're travelling as a family, Lac de Bergers actually offers a dedicated children's fishing area, easily accessible and a fun location to head for a day with the family. Licenses are required for these sites, so be sure to enquire locally before heading out to fish.
If you want to follow the Tour de France somewhere a bit different this year, consider the resort of La Rosiere, where they are hosting the Tour for the first time this summer!
The Dolomites (Val Gardena, Arabba, Cortina d'Ampezzo)
From Superski in the winter, to Supersummer through the warmer months, the Dolomites really do have a huge amount to offer adventurous travellers. Biking and hiking opportunities abound here amidst some of the most breath-taking alpine scenery you can imagine within the UNESCO World Heritage Site of the Dolomites. The charm of the Dolomites is really unique, with a lovely traditional alpine feel wherever you go.
It's the perfect place to try your hand at the Via Ferrata – protected, safe climbing paths that run throughout the mountains. They combine the disciplines of hiking and climbing, with fixed anchors such as iron bars, ladders and bridges making difficult ascents much more accessible to less experienced climbers. It allows you access to areas that you may have never thought possible to reach, giving you the opportunity to experience the true mountain environment and all its magnificent views in safety. With around 600 'Via Ferrata' routes in the Dolomites, there are routes for all abilities, with more than enough to keep you entertained.
Many 'Via Ferrata' have roots within the area's military history, particularly in the Dolomites and this can really be experienced throughout the summer months. The rich history of the region throughout the First World War means that many hiking trails take you past the trenches and positions of importance, demonstrating the harsh living conditions of the soldiers and the areas in which they lived. An open-air museum, the Creste del Costabella is accessible via a chair-lift and a short hike and gives you a more in depth look at the history of this war.
For best access to the best the Dolomites has to offer, stay in the charming resorts of Arabba or Cortina d'Ampezzo, both renowned for their beauty and hospitality. Here, keen cyclists can also follow in the steps of the 2018 Giro d'Italia, as this year Stage 15 is running through the centre of Cortina itself. Plus, can anything beat the Italian cuisine?! In an incredible summer destination with many activities available to get that stomach rumbling, you can't wish for anything more than some of the best pizza, pasta and wine in the world!
Courchevel
The big news from Courchevel this summer is that ALL lifts are free throughout the summer season, from the 7th of July to the 31st of August. This means easier and cheaper access than ever to the area's spectacular hiking trails, downhill mountain bike tracks and the incredible panoramic views over Mont Blanc from the Saulire summit (2,738m).
Of course, here at InTheSnow, we're all about the skiing and there are some really interesting events taking place this summer in Courchevel, including the Summer Ski Jumping World Cup and the Red Bull 400. On the 21st of July, the Red Bull 400, the steepest race in the world is back for a second time on the Olympic ski jump in Courchevel Le Praz. Last year, over 700 people took up the challenge: a 400-metre race up a 36 degree slope with a 140-metre vertical climb. It's an incredible challenge of endurance and speed and is the only stage in France!
Then, over August 10-11, the 28th edition of the Summer Ski Jumping World Cup will be taking place, welcoming the discipline's global elite for this key stage on the FIS Grand Prix summer Ski Jumping circuit. Audiences will also be treated to an incredible aerobatics display in the skies over Courchevel, as the French Acrobatic Patrol, the French Air Force Aerial Aerobatics team and a Rafale will be in attendance, performing unmissable stunts.
New this year, you can also experience the Olympic ski jump for yourself, travelling down the landing slope not on skis, but on an inflatable toboggan… fun for all!
In terms of holiday activities, Courchevel boasts 13 MTB enduro routes, 1 e-bike route and  5 entry-level bike rides so there's something for holidaymakers of all active ability. Courchevel also has one of the most entertaining and unique mountain resort offerings, the famous Aquamotion leisure centre. The largest mountain aquatic centre in Europe, families can spend hours enjoying Aquamotion. It boasts an indoor surf machine, indoor and outdoor lagoons, a giant waterslide, wild river, baby pool, outdoor play areas with inflatables, table-tennis, beach volleyball, climbing walls… the list goes on and on.
Les Arcs
For something a bit different this summer, Les Arcs offers the traditional activities of biking, hiking and golfing, alongside more quirky experiences of picking and brewing your own botanicals and discovering the best cup of coffee in the mountains… Whatever appeals to you – Les Arcs delivers.
With their new 'Hero' pass, you can personalise your outdoor activities for the best possible price. The Hero Pass is a multi activity pass that lets you curate your adventure from a range of 30 activities in the 500 hectare playground of Les Arcs. The Hero Pass is available for both children and adults and are sure to provide a lot of fun for all ages. This summer, Les Arcs are also running 'Hero Camps' offer supervised activities with dedicated coaches for those who want to add that little extra adventure to their holiday.
However, as with many of the French resorts, it's impossible to discuss summer without mentioning the 'T' word, particularly in Les Arcs Bourg St Maurice where they are hosting not one but two stages of the 2018 Tour de France. The 11th and 12th stages of the event will pass through the area on the 18/19 July and to celebrate this Les Arcs are hosting the 'Fête du Tour' event.
This event will take place on Saturday, 2 June 2018 and will follow the same route that the Tour will take just a few weeks later. The race is open to the public and all levels of cyclists will be joining in the procession. With traditional bikes, amateur bikes and E-bikes (electric bikes) available, those of all abilities and fitness levels are able to experience the event. In the afternoon there will be family ride, with a fun course around the town, a quiz and prizes. There is also a children's course and a flatter, less strenuous 'Green Route'.
Above Image Credits – Les Arcs via Facebook
With some incredible hikes, two highly technical golf courses and a range of watersports activities on the river Isère, there's more than enough here to fill your days. However, if you did want to try something more unique, Les Arcs also offers the opoprtunity to gather your own medicinal plants on the mountain and lessons in how to make your own personalised products from these. Furthermore, coffee lovers can experience Bourg Saint Maurice's unique coffee tastings.
And, for the more sustainably minded amongst us, you can try 'plogging' – the art of jogging whilst picking up litter, cleaning up the mountain at the same time as enjoying it.