Anyone who does particular well from Santa this year (and let's face it, we all deserve to), might be interested in signing up for a €1m ski holiday now being offered by heliski experts Elemental Adventure.
This very special heliski experience will see you cruise around the north eastern coast of Russia on board a brand-new, purpose-built, super-luxurious, ice-breaking private-yacht commissioned by a Russian billionaire, then flying from it into the stunning mountain scenery of Kamchatka and the Kuril Islands, a chain of volcanic islands, with 150+ volcanoes (39 active) stretching over 1,000km, for some untouched first powder descents.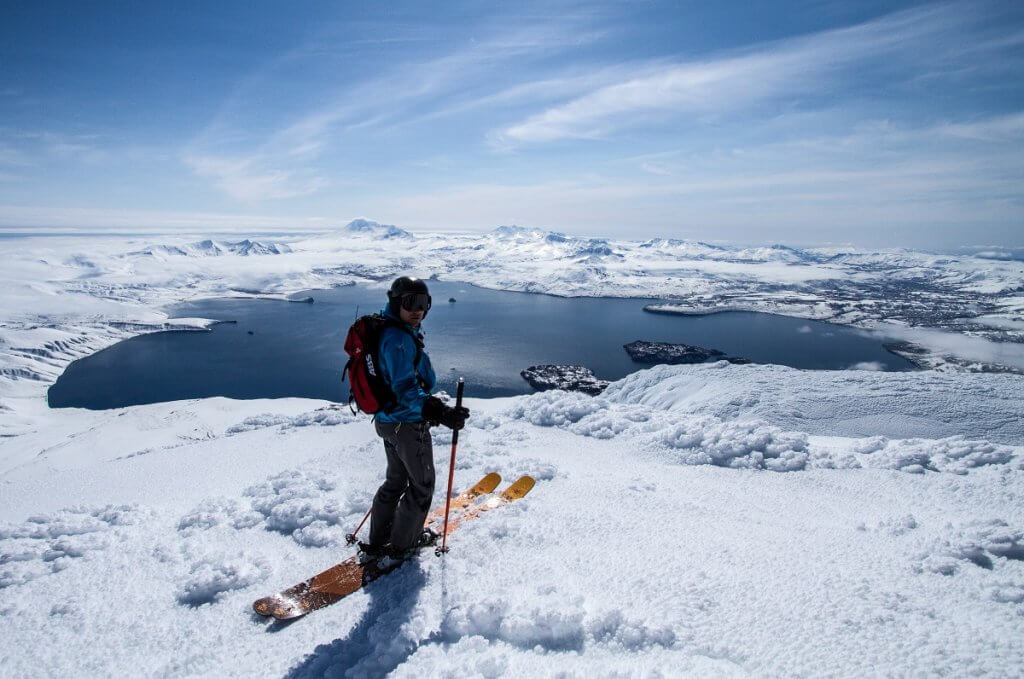 Taking place from March to May 2021 and again in spring 2022 the holidays take place on board the Expedition Yacht 77 La Datcha (77m, 252ft). The world's first purpose-built icebreaker superyacht, La Datcha is compliant with the International Maritime Organisation's Polar Code, and houses two on-board helicopters in a below-deck hangar. The holiday base is also designed to be coronavirus safe.
London-based Russian billionaire owner Oleg Tinkov, a passionate skier and adventurer, has co-designed the six-deck superyacht, with Dutch shipbuilder Damen Yachting, as part of the SeaXplorer series, to take the tired old concept of yacht based heliskiing to a whole new level.
"The Earth is so big and our life is so short, we have to explore as much as we can," says Mr Tinkov, the son of a coal miner, who is fighting a personal battle with leukaemia.
The Itinerary has a strong focus on accessing 'off the charts' world-first ski terrain in The Kamchatka Peninsula and The Kuril Islands in 2021 but the yacht will also be heading to Chukotka, Alaska, the Arctic and, in 2022, Antarctica with private charters also available through Elemental Adventure.
"La Datcha is 007-Bond-like in that it has all the toys on-board, alongside the luxury of a 'floating chalet', and offers a CV-19 safety bubble," SAID James Morland, the founder and owner of Elemental Adventure, adding "It is extremely exciting because she gives us the floating platform to explore even further afield and pioneer new ski areas. Having the backup helicopter is crucial to operating with total autonomy and safety in remote areas."
The package, which costs "from €1m" includes 7 nights' accommodation for up to 12 guests. Catering includes breakfast, lunches, snacks and evening meals prepared by gourmet chef as well as all non-alcoholic beverages, beer and a selection of house wines. La Datcha has a staff of 25, includes private chef, heliski guides, pilots and a submersible pilot.
The party gets the use of two commercially certified on-board helicopters and a set amount of flying time complete with the service of internationally certified mountain guides and inclusive skis and avalanche safety equipment.
Besides the two Airbus choppers there's also an on-board three-person expedition submersive and pilot for a bit of underwater exploration too.
There are also jet-skis, snowmobiles, polar kayaks, snow bikes, diving equipment and fishing gear available for guest use in the yacht's "toy store".
There's also a full spa complete with steam bath, hammam, sauna, massage, gym, indoor/ on-deck jacuzzi and of course a glass-encased elevator.
Other on-board amenities include wi-fi, video on demand system and cinema. There's also an observation deck to view narwhals, beluga wales and walruses.
Guests also get a full Russian visa support service and a meet and greet in Petropavlovsk Kamchatka and transfer to the yacht.
Elemental Adventure was founded by "obsessed" British skier James Morland in 1999. The product of a passion for skiing and adventure in remote wilderness areas, its offering focuses on unique and immersive ski experiences which are about as far-removed from the tourist track as you can get. The company have specialised in yacht based heliskiing since 2003, with trips to Kamchatka since 2005.
"We have been running trips to Russia since 2001 – to The Caucasus, Kamchatka, Siberia – and in 2016 I was lucky to be part of a pioneering ski of the Kuril islands where we made many first descents including the first heli-drop on Onekotan island," says James.
"Skiing a run in perfect powder is an amazing feeling but if you take that run and put it on a smoking volcanic island in the middle of the ocean where you can make hundreds of turns all the way down to the beach, it takes skiing to an entirely different level…And that's really what everything we do is about – taking it to the next level," says James, 46, an experienced heliski guide and yacht skipper, speaking from his Chamonix base.
"This offering is timely as we have seen enquiries for yacht-based adventures rise in recent years, particularly since the epidemic. La Datcha is set up with two master suites, a spa, cinema, chef, and all the toys, so offers a luxury floating 'ski bubble' for two families – for skiers and non-skiers."