What do you look for in your perfect ski holiday destination?  You want value of course, but, whatever you're paying, you want to be sure that there'll be snow. Somewhere with fast, comfortable lifts would be nice, as well as nice slopeside accommodation so it's only a few steps from your bed to the slopes in the morning, and vice versa. Lots of exciting terrain, bags of character, great views and a short airport transfer would be the icing on the cake for most of us.
Trying to find a resort that ticks all the boxes is always a challenge though. You get high snow-sure resorts that are soulless and a long way from the airport, or you get a traditional village oozing charm but where you risk the ski slopes being green grass when you visit, as they're just too low.
But it is possible to find that skiing El Dorado, as the Austrian resort of Obertauern manages to tick all the boxes. Located only 90 minutes from Salzburg Airport, it's so snow-sure that it is open from November to May.
Snow REALLY Guaranteed
An increasing number of ski areas are offering, or at least claiming, guaranteed snow, thanks to their snowmaking systems. At 1,740m up at the base of the ski slopes though, Obertauern has hard data from over 100 years of snow measurements that it has by far the deepest natural average snow depth in Austria.
Ski-tourism researcher Günther Aigner studied about 100 years' worth of snow depth measurements gathered by Austrian State Hydrographic Services; comparing data from the past 30 years, he determined that the snowiest spot in Austria by some distance was Obertauern, with a mean maximum snow depth of 264cm, well ahead of the second-placed ski area at 197cm – a whole 25% less.
Surprisingly, Aigner's research also found that, despite climate change, snow depths in Obertauern have not changed much in 108 years, and there's no indication that the snowfall in Obertauern might decrease over time.
Obertauern is sometimes referred to as "Austria's only purpose-built resort" (although you wouldn't realise that if you weren't told) because it grew up as the popularity of skiing grew from the 1940s, and even then local people realised just how reliable the snow cover was in the high Tauern Pass where it is located.
The first lifts were installed from the edge of the road through the valley and the first hotels were built. Over the past 75 years or so, many more have followed, and Obertauern has become a world-class ski resort. But it has stayed true to the values that made it so popular in the first place, with door-step skiing and reliable snow cover still its top attractions.
On the Slopes
The snow-sure ski slopes of Obertauern extend to a huge 100km of runs, with something to suit all standards and tastes. Beginners have some excellent nursery slopes around the valley – again, the high altitude of the village means that resort-level snow isn't a problem, so no need to struggle up the mountain on a lift to reach the slopes on day one here.
Intermediate-level recreational skiers are really spoiled for choice, with plenty of fast blue and red cruisers to whizz around the slopes on and a superb high-speed chairlift network so you are back at the top in no time, clocking up the kilometres. For a special treat, there's the option to access the slopes before everyone else with an 8.30am start possible on the freshly groomed runs each Wednesday morning.
For advanced skiers, there are some great challenging runs too and a reputation for off-piste freeride opportunities as well. The groomed runs include the infamous Gamsleiten 2 run, a testing black piste that features downhill gradients of up to 45 degrees and huge moguls. Ski touring is another option offered by the ski schools, including special groups for first-timers.
To make getting around easy for new arrivals, there are a number of signposted routes around the mountain you can follow. The Tauernrunde circuit is one of the most popular, while the S7 (Super Seven) route is a tour of the seven highest points of the area.
Whatever level you're at, getting on the slopes is easy, with lifts ascending from at least nine points along the valley floor, so there's no start-of-day bottleneck as everyone tries to board one key access lift at the same time, as at many resorts.
Cosy Huts
There are more than 40 restaurants and mountain huts on the slopes above and in Obertauern, so there are plenty of places to sit down and enjoy a great lunchtime meal with spectacular views or to stop off at the end of the day for some après-ski drinks and perhaps a little boogie while the music plays loudly all around you.
There are a great range of establishments, from small, cosy, traditional family-run huts serving up home-cooked cuisine using locally sourced ingredients and cooked to recipes handed down through families for generations to big party bars where you can kick back and dance the afternoon and evening away, so long as you have the energy!
Freeride or Freestyle?
Freeriding is very popular at Obertauern – not surprisingly when you consider that its altitude means that the snow conditions are usually lighter powder than elsewhere. There's plenty of great terrain just a few minutes' walk from the groomed slopes, but it's well worth hiring a guide to ensure that you find the best on the day of your visit and ski it with maximum safety. The resort has lots of information and services for freeriders: look out for the freeride Checkpoint information boards showing the current avalanche danger level and other key pieces of information.
For freestylers, The Spot is one of the great terrain parks of the Alps. A full 3km long and chock-full of around 40 features divided into three lanes of varying difficulty, it's accessed via the Kehrkopf chair. And if you've not had enough of snowsports during the day, night skiing is offered until 10pm weekly from the Edelweissbahn, with 1.5km of slopes open.
Speed and Comfort from Hotel to Snow
One aspect of your ski holiday where Obertauern really excels is the quality of its ski lifts. Almost all of the resort's hotels are located steps from a lift, and the vast majority of the villages two dozen or so lifts are fast four-, six- or eight-seater chairlifts to whisk you straight up the slopes.
This essentially means more of your holiday spent doing what you came to the mountains to do – ski! You'll reach the lift quicker, the capacity is so good that any possible queues are quickly gobbled up even at peak times and you're whisked up the slopes more speedily, so there's time to get more laps in.
New for the coming 2018/19 season is Obertauern's latest lift, the Plattenkarbahn, which will feature a combination of eight-seat chairs and 10-seat gondola cabins on one cable. In a world first, it will feature warm wool-covered seating.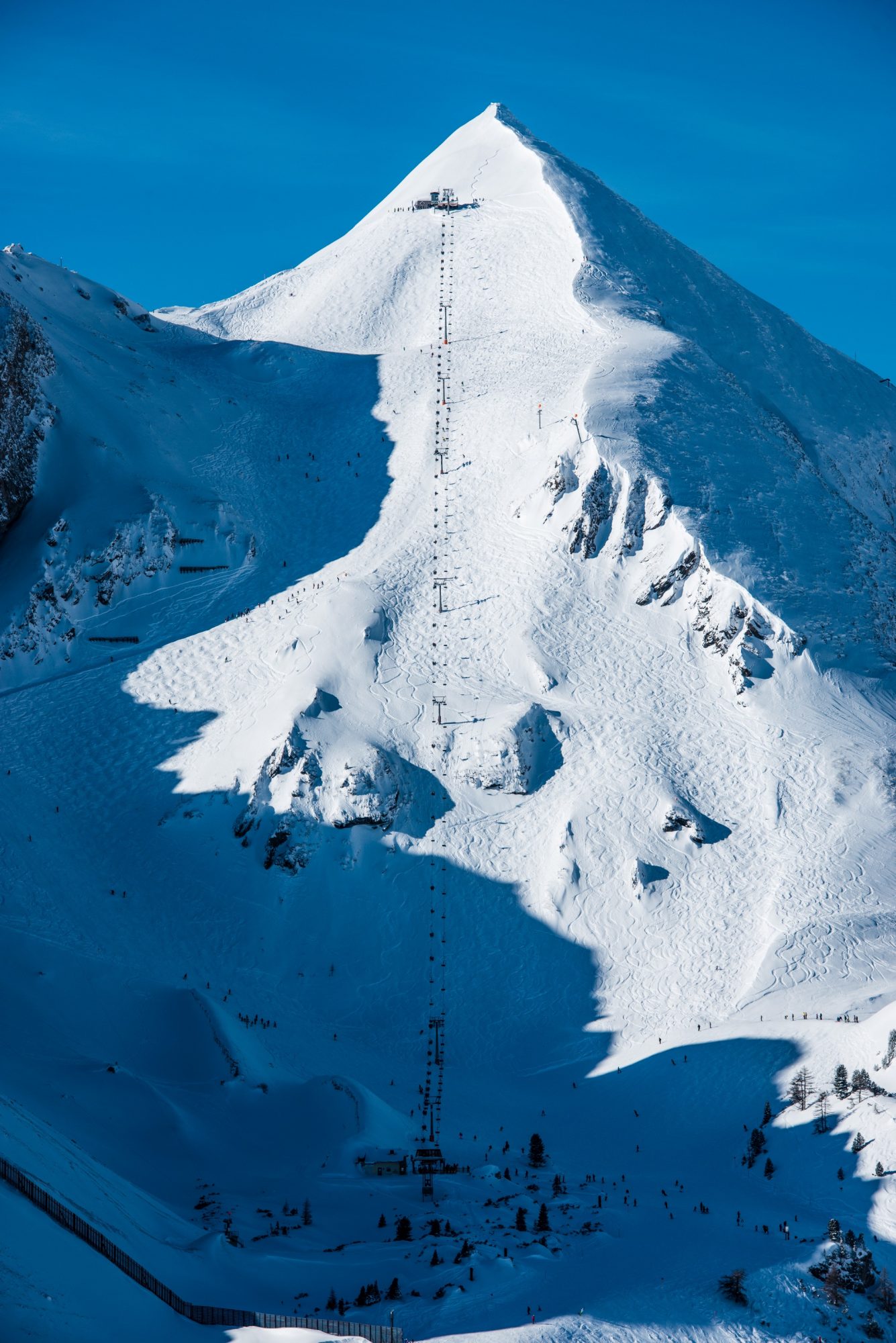 Family Fun
Families are made especially welcome in Obertauern, with special nursery facilities, children's menus and many other family-friendly facilities in the resort's hotels. One of the resort's big advantages for families is that everything is close at hand and easy to see from wherever you are at the resort base, so it all feels, and is, easily manageable.
On the slopes, there's a choice of great ski schools offering kids' lessons and several special areas reserved just for youngsters. They include the wonderful Bibo Bear family ski park.
An exciting recent development for families on the slopes of Obertauern is two brand-new marked routes around the ski area known as the "Tauern rounds for kids". These are based on existing routes that have been popular for years in the area, but the new routes have been especially tailored to the ability and stamina of children and teens.
Smaller children will love the new "Bobby round", named after Obertauern's local mascot Bobby, while more-advanced kids and teens will be hitting "My Track". On both of the rounds, a fun park, a timed race track, a ghost train and a wave-riding track encourage the young guests to share their Obertauern experiences under the hashtag #LOVEOBERTAUERN.
Bobby's Ski Adventure is available in the spring as the weather warms up, with special tours for children up to the age of five and for those aged 6–14 to experience the natural wonders of the region.
One unusual attraction is the scarily fun Geisterbahn Fairytale Park – a recent addition to the ski area's long list of attractions located at the Schaidbergbahn. This features a 30m long wooden tunnel where a lot of (nicely carved) scary figures await, and there's also an igloo to visit.
In the ski-hire shops, children aged up to 10 years old receive free rentals when their accompanying adult hires their gear, and it's also possible to rent any equipment your child may need – from a buggy to skiwear – in resort at a very reasonable price. Babysitting services are also available if needed.
Whatever type of winter holidaymaker you are, Obertauern offers you the complete package.
---
Getting There
Obertauern is 90km from Salzburg Airport – about an hour's drive and easy to reach. Salzburg is a smaller, pleasant airport to travel though.
It's easy to book everything direct, but if you prefer to have your ski holiday to Obertauern packaged for you, a number of leading UK ski holiday operators offer packages to Obertauern, including the biggest: Crystal and Inghams.
For more information, head to Obertauern.com
---