A resort designed from the start to offer affordable accommodation to less well-heeled skiers turns 60 this season.
The original concept behind Les Menuires, to build a resort that normal families could afford a ski holiday in, and up at a snow sure 1850 metres altitude, looks ever more far-sighted as skiing costs and snowlines rise.
Even the concrete construction of the original buildings at the resort, once derided by purists in traditional Alpine architecture, is now regarded as a classic of the era, winning design awards and preservation orders. Again in keeping with the 21st century focus on recycling, the buildings have been upgraded with two former functional apartments remodelled into one comfortable unit in many cases.
"The other hot topic when it comes to Les Menuires is, of course, its architecture. Today, you still either love it… or hate it. The fact remains that this resort, long derided and likened to an 'HLM (low-income housing complex) in the snow', described as 'evidence of the momentary insanity of brilliant but bored architects', by Mille Routes, in December 1973, is now considered, 60 years on, as a paragon of modernist architecture with large structures far more environmentally friendly than the numerous faux-Swiss chalets lined up in some valleys," a resort statement claims.
Located in the middle of the world's largest ski area, the 3 Valleys, ease and convenience have always been a 'designed in' priority with all accommodation offering ski-in/ski-out access.
(above and below, the early years, credit: Mairie les Belleville)
For the anniversary season, free guided tours entitled, 'Les Menuires en pleine lumière' (Les Menuires in the spotlight), will be organised during peak holiday periods by the FACIM (French foundation for international cultural actions in the mountains).
In addition, the Nantes-born illustrator Docteur Paper has created an exclusive artwork in celebration of 60 years of history and architecture which 23-24 season visitors will be able to take home as a keepsake featured on a selection of limited-edition goodies.
To mark the occasion, sixty numbered posters will be distributed to visitors who, like Les Menuires, were born in 1964!
In addition, those born in 1964 can take part in the resort's new March madness in La Masse event, free of charge.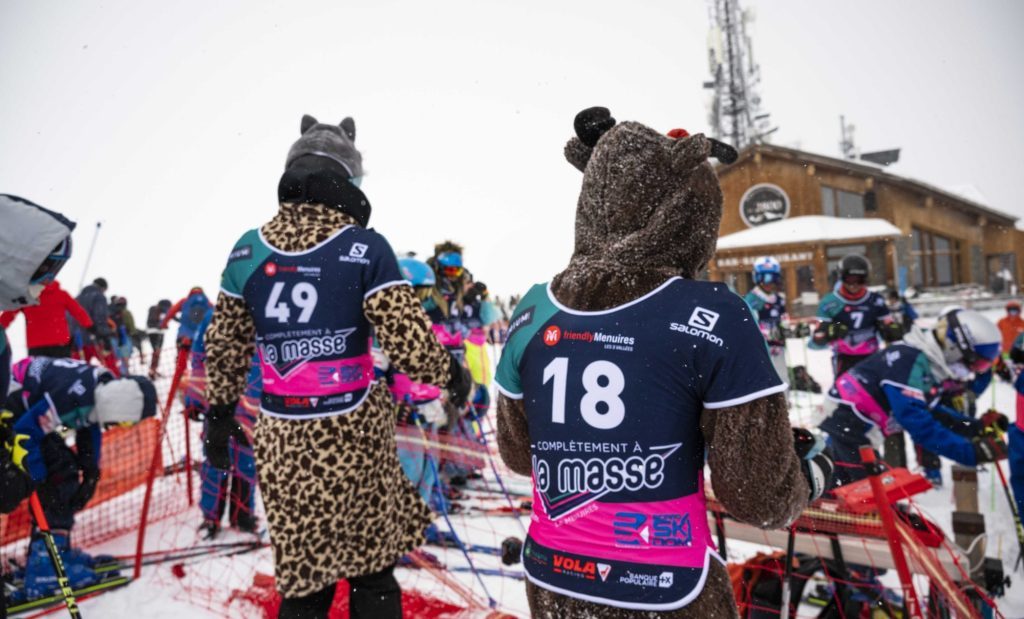 Launched last spring, this year's second edition of Madness in La Masse will take place on 23rd March 2024. Open to all, this day aims to gather sliding sports enthusiasts and non-ski visitors looking for a fun activity.
The day kicks off with a morning of competition, alone or as part of a team, with the La Masse area hosting a "tricky descent" lined with obstacles and activities all along the way. Then in the afternoon there's a giant barbecue, toboggan race, water slide and concert taking place by the Stade and the Croisette.
Younger competitors have the chance to win their weight in sweets, while their parents earn their share of 'Brava Vela', the local beer.
"It's going to be madness in La Masse!" a resort spokesperson said.