An incredible structure that houses a giant indoor snow centre, with a water park on its roof, has opened in the Chinese province of Hunan.
"Xiangjiang Joy City Snow World" has been under construction in a former quarry for six years with The Discovery Channel rating the project, undertaken by China Construction Fifth Engineering Division Corp (CCFED), as amongst the nine most difficult underway in the world in the past decade.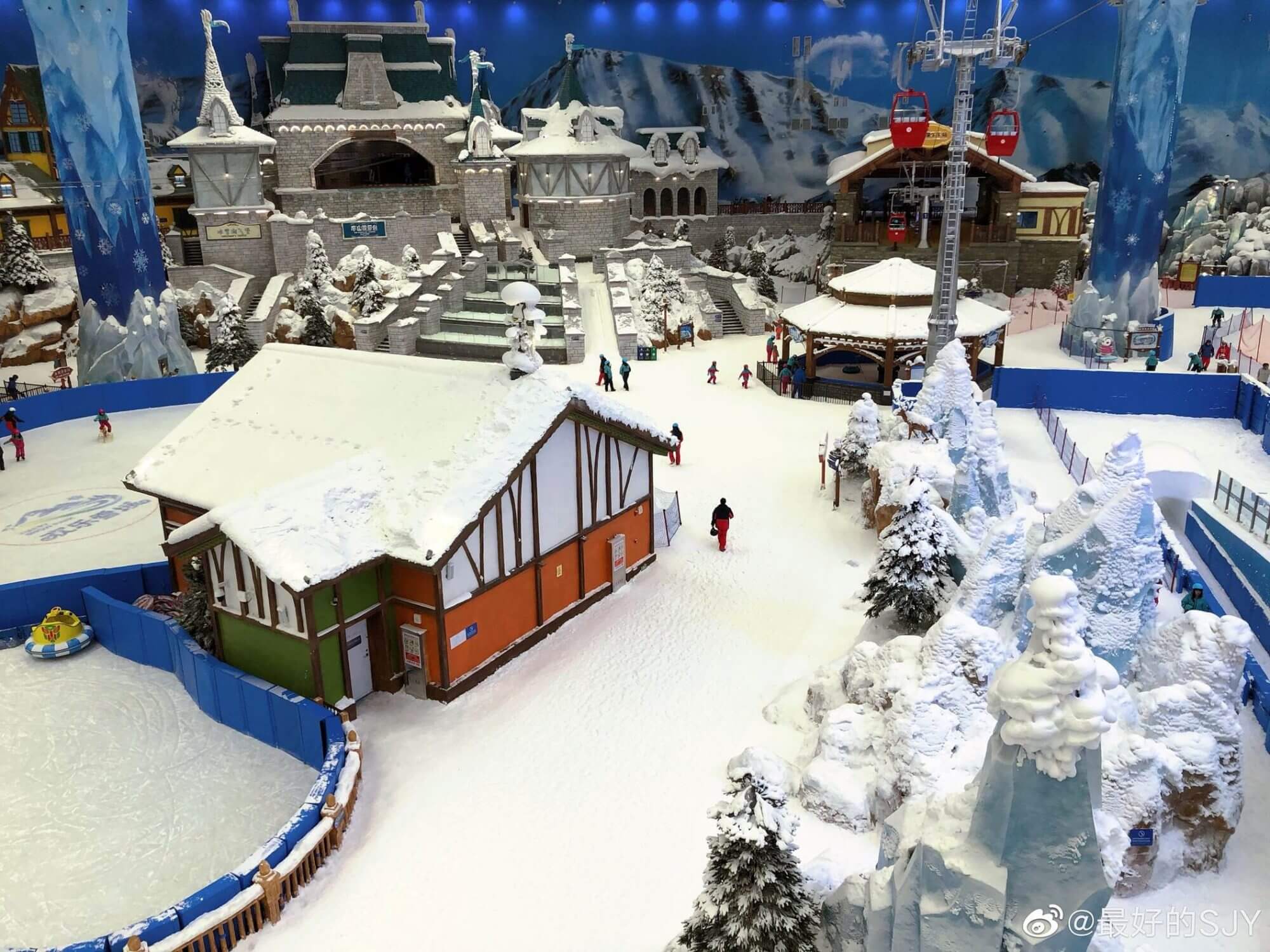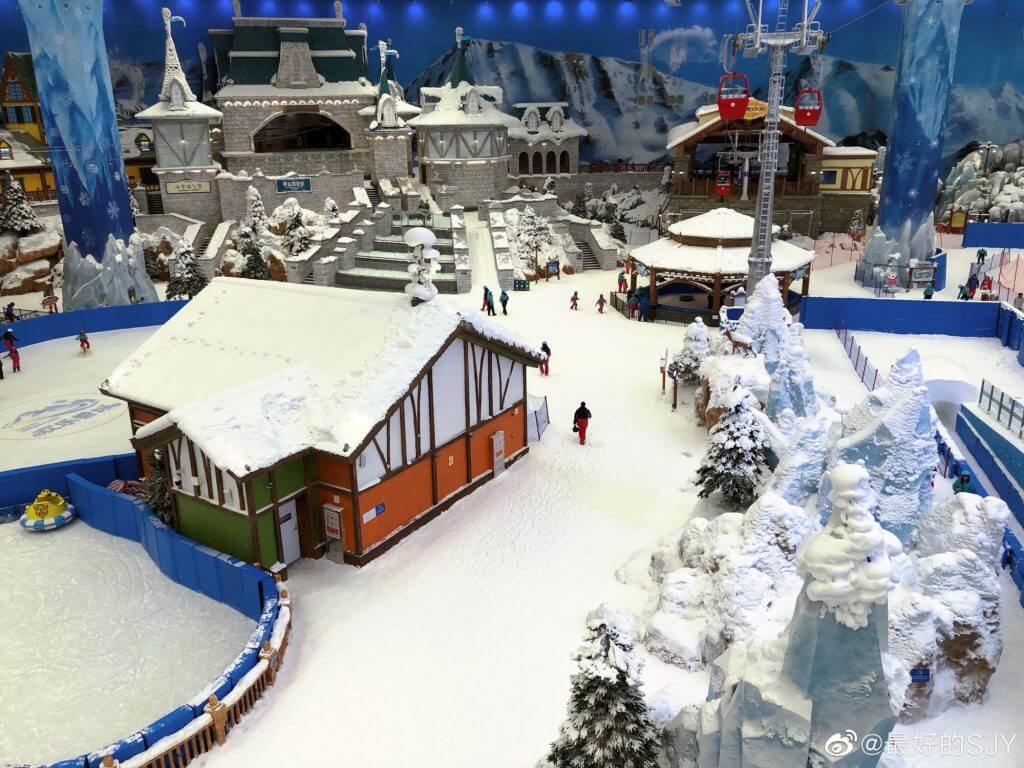 The TV station ran a special documentary on the construction a few years ago, which involved suspending exceptionally heavy steel and concrete structures off the edge of the quarry rim. The quarry is reported to be over 300 metres long, 200 metres wide and 100 metres deep.
Construction teams have had to work with a steep rock face, complex geological features such as lava flows and build an extremely heavy steel structure within the deep pit, weighing an estimated overall weight of 200,000 tonnes. This is suspended in the middle of the pit by using 48 pillars, each with a diameter of 4.3 meters (over 14 feet) to support the weight.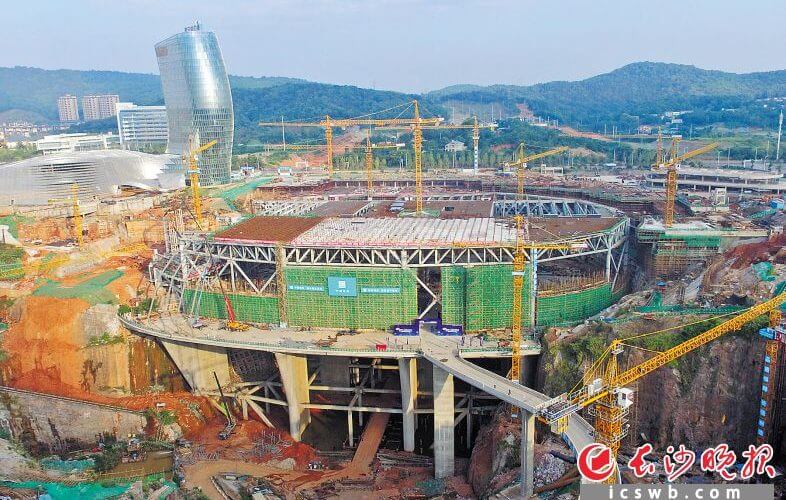 (under construction in 2018)
"Xiangjiang Joy City Snow World" has a 30,000 square metre indoor snow park – placing it joint sixth in the world in terms of size of more than 110 indoor snow centres that are now open on six continents, according to website IndoorSnowNews.com
The website says that China now operates four of the seven largest indoor snow centres, including the world's three largest. All four have opened in the past three years and three in the last 12 months. The third largest, Chengdu Sunac Snow World, only opened last month.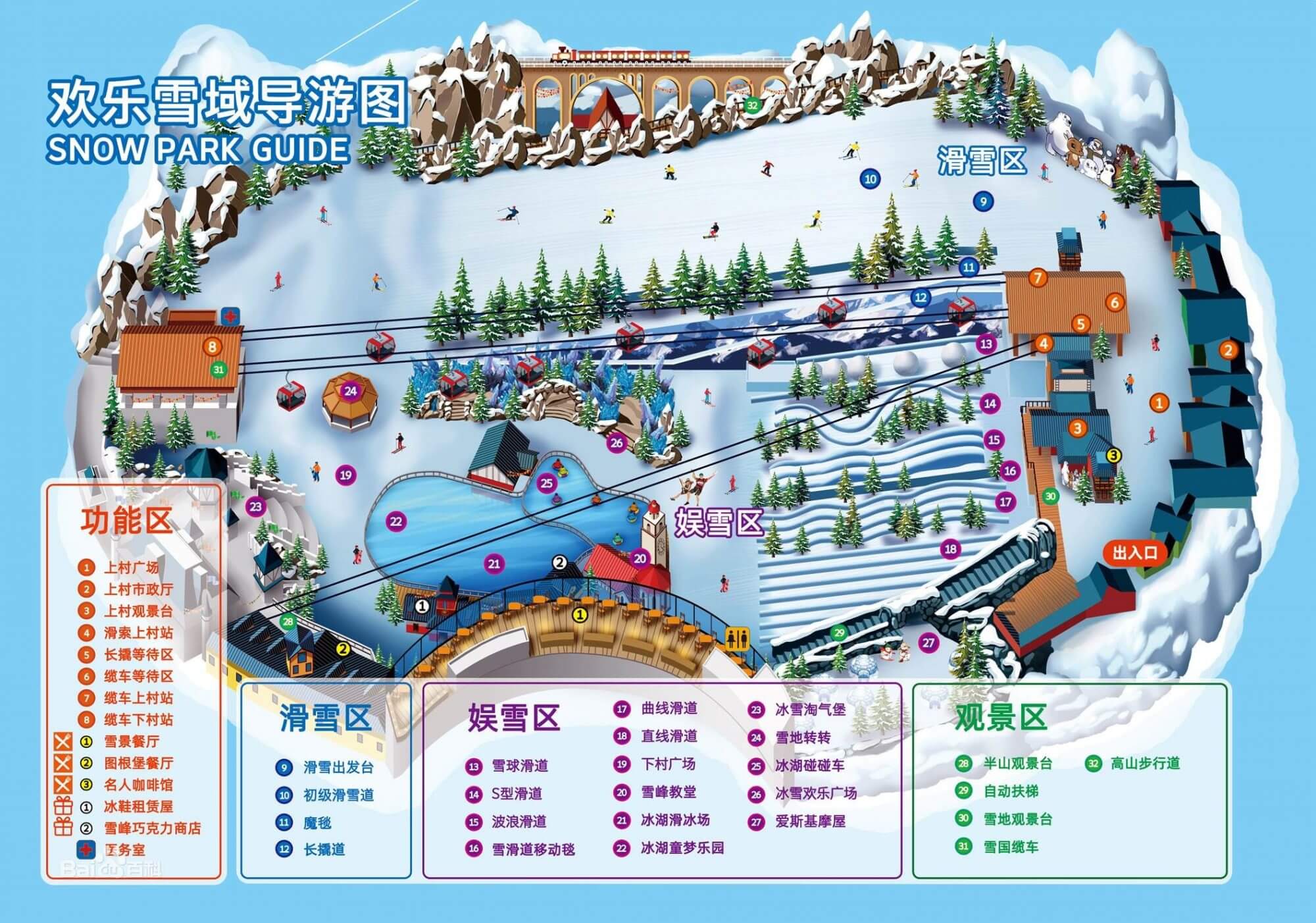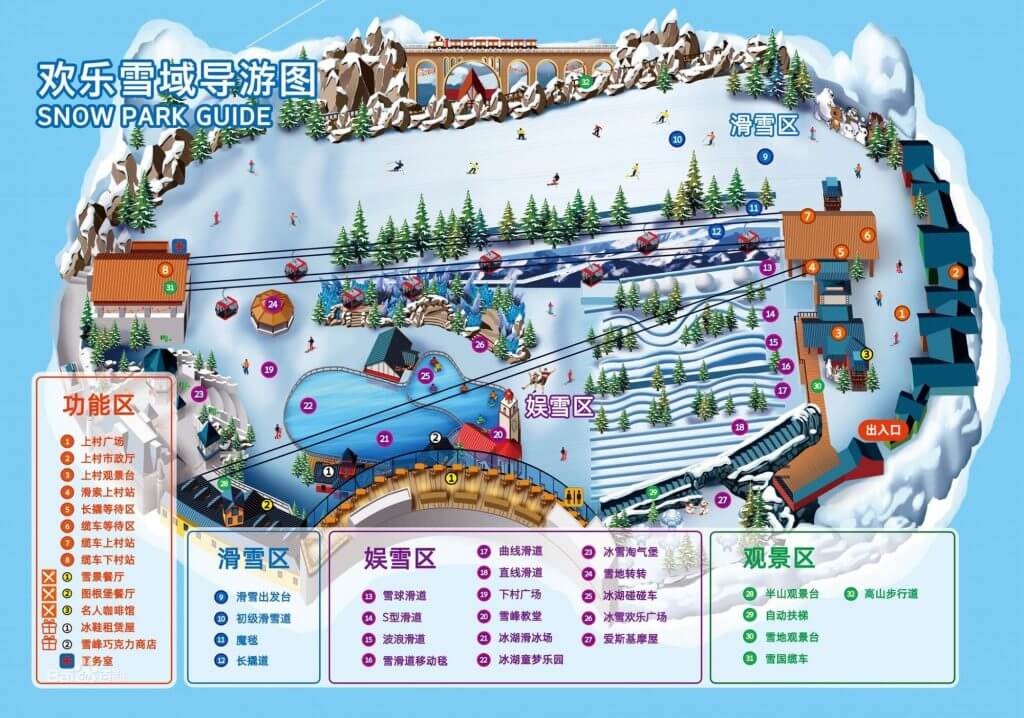 The 150,000-square-metre resort was designed by Austrian architectural firm Coophimmelb(l)au. The indoor snow park was designed in 2014 by CTC Ice & Snow, a Canadian company who have been operating in China for 20 years. According to the company the complex is themed on the Alps, with a snow playground designed to ensure a whole recreational experience in a multi-functional facility that hosts activities like skiing, skating, snow sliding and ultimate challenge.
The ski hall was built within the quarry, 36 metres below ground level. The ski area covers 5,672 sqm (130*60, average 13 degree). Here is also a 1,200sqm ice lake and a large snow play area with 13 slides. Uplift includes an indoor gondola.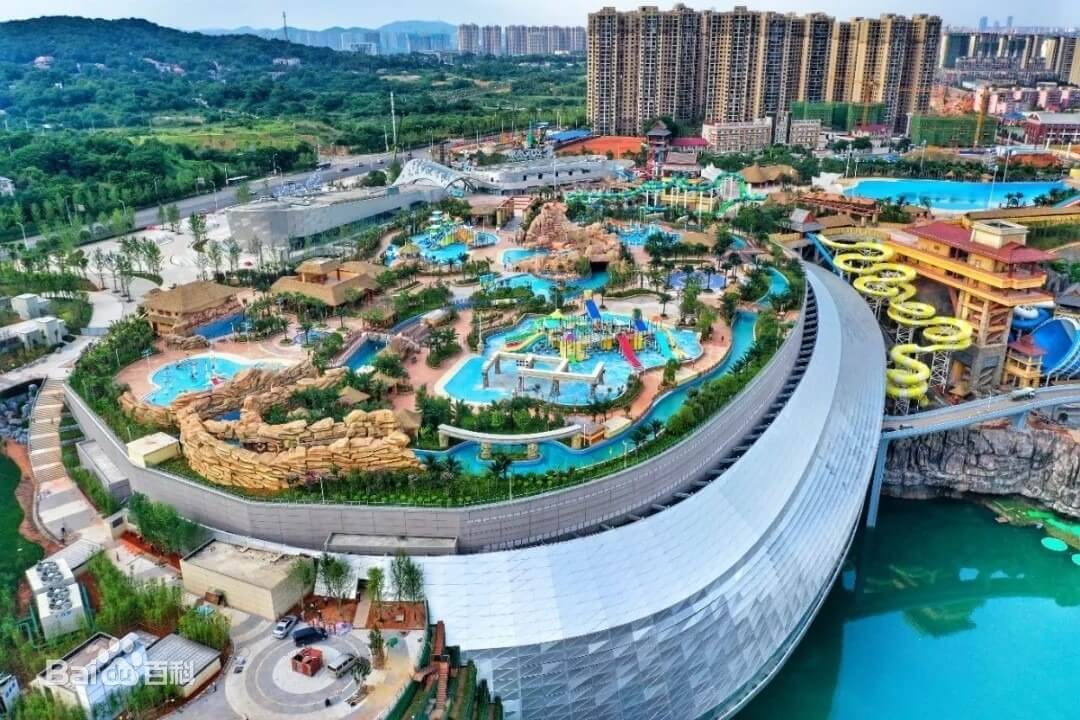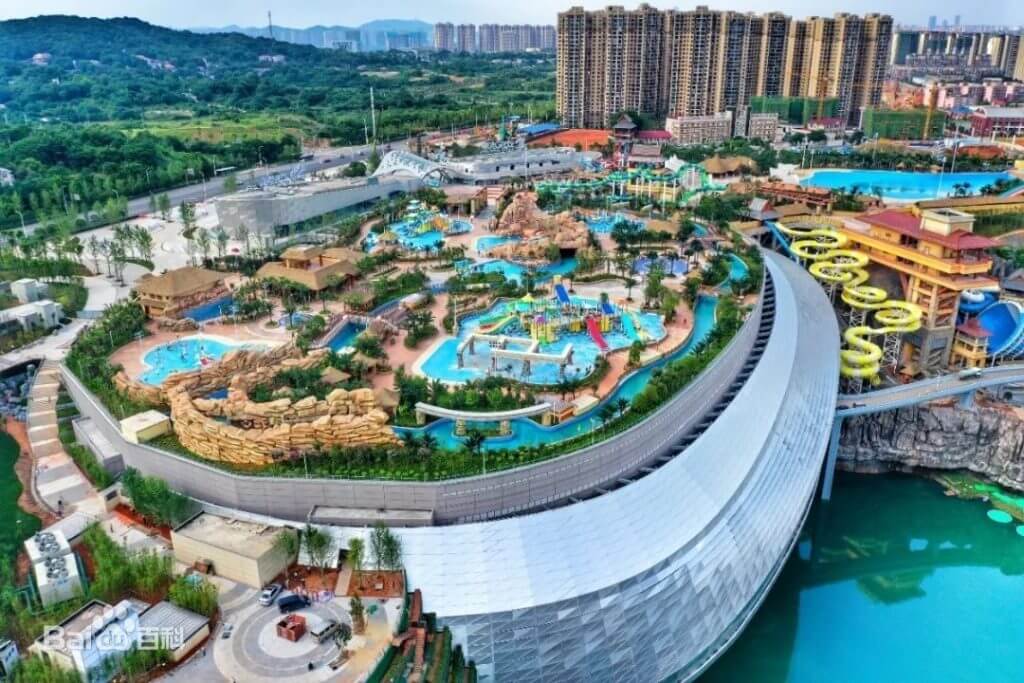 The ski run, leaning against the slope of the mountain, which is 130m long and 60m wide with an average 13 degree pitch is at the heart of the resort. Other areas include an indoor mountain covered in snow, a penguin zone and a winter village. There will also be plenty of snow activities available including a snow maze, snow castle, snow sliding and penguin performance. Maximum capacity is 2000 people. Early reports indicated the complex would feature a 100m high tower and 65m waterfall but its unclear if these have made it to the completed project..
The City of Joy is reported to have cost around 12 billion yuan ($1.7 billion) to build, although 75% of this cost was apparently used to pay fees for house demolition and the resettlement of residents. It is expected to create more than 8,000 direct job positions and 50,000 indirect jobs generating an annual income of about 3 billion yuan. It was originally hoped it would open in 2016, then 2019 before it finally opened in summer 2020.
Hunan is China's 10th largest province with a population of nearly 70 million. It is hoped that Xiangjiang Joy City Snow World will attract 15 million visitors annually from Hunan and neighbouring provinces.