Andorra still labours under an image as Western Europe's 'cheap and cheerful' ski destination.  You don't have to spend so much on your ski holiday here, but you shouldn't expect a great deal either in terms of the skiing or the accommodation. It's a reputation that is really now 30 years out of date.
Simply put, the Andorrans took all the money they made from their popularity in the 1970s and 1980s and invested it wisely in state-of-the-art infrastructure on the mountains, and nice resort facilities at the base.  High speed chairlifts and gondolas inter-linked once competing ski areas to create the biggest and most modern ski areas in the Pyrenees.
Indeed the Grandvalira area which encompasses the skiing above the villages of Pas de la Casa, Soldeu and El Tarter amongst others is one of the world's 30 biggest areas with more than 210km of runs stretching over the border in to France.
We were on a family ski holiday with our two children aged 5 and 9 who had only skied once before.  So we were a mixed group in age and ability and it was our first time in Andorra.
During my stay I spoke to some of the people who worked and live in the resort and they all said how much they thought Andorra was under rated in the UK market for what you get and said it was a very scenic and relaxing place to live and work.
The Skiing
The Grandvalira area has terrain for all levels of skiers and boarder and is another area where Andorra is under rated by some who think its lacks challenge. As well as the very well-groomed and maintained piste there is also a good range of off piste skiing to be had here and last winter the Pyrenees had more consistent snowfall and much more of it than many parts of the Alps.
This is an excellent location if you are a beginner or an intermediate skier looking to improve your technique as there are a great selection of blue and some green runs that are wide, and not too technical.
The ski school for the kids was situated at the top of the first gondola out of Soldeu and we found it offered excellent classes for all ages and abilities with friendly and competent English speaking teachers.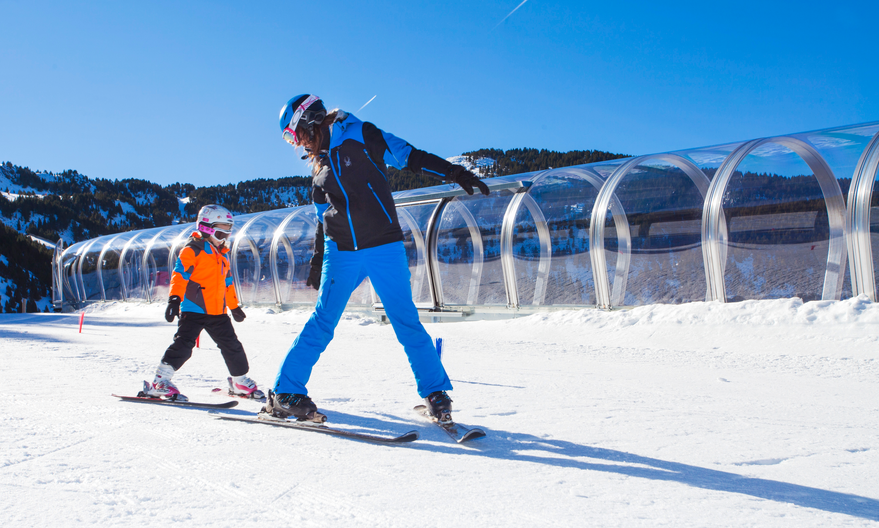 After a couple of day's basic tuition in the ski garden, the kids were taken out onto the blue runs to further improve their technique. There were also some fun areas especially aimed at the younger kids such as a ski circus and play areas.
Overall the skiing as well was tremendous. Everything was well maintained, groomed well and not over crowded with a good range of skiing at all levels both on and off piste.
These days Soldeu hosts several European and world class ski and board competitions each season and playing host to large events such as this is testament to the massive investment in infrastructure that has been taking place for many years.
Where to Stay
The Sport Hotel and Spa in Soldeu consist of three separate hotel options within the one complex, each packaged differently to accommodate visitors with different requirements and holiday budgets.
The complex includes the up-market Sport Hotel Hermitage which provides the luxury and tranquillity of a 5 star hotel and spa where every need can be catered for and non-skiers too will have plenty to do.
A second option is the Sport Hotel, a 4 star, actually situated across the road from the other buildings but linked to them by walking through a passage that runs under the road. This hotel option is aimed more at the budget skier looking for a 4 star hotel sitting right on the base of the slopes that won't damage the budget too much.
Finally the Sport Hotel Village is another 4 star hotel aimed at the family market, offering child-centred holidays.  It prides itself on its quality of service and versatility of product offering to accommodate a broad range of visitors and this was our base during our stay.
The suites are extremely spacious, most offering stunning views over the ski slopes and surrounding mountain ranges. There is a very large and well equipped kids club where you can drop children up to 14 years of age and a range of supervised activities as well as games and play equipment is on offer. Having an evening meal prepared at the kids club is also an option whilst they watch a movie.
The hotel was amazing for families…really high quality and very child friendly. There was great entertainment in and out of the hotel and the food was excellent.
The Sport Hotel is situated at the top end of the town. It is just a short walk down to the restaurants, pubs shops and supermarkets available in the town. Right next to the hotel and adjoining the gondala is the Villager pub where they do an apres ski starting at 4.30pm.
Soldeu has a selection of UK style pubs offering live music and entertainment as well as a range of restaurants offering mostly local cuisine along with Italian and Spanish food.
The Good Things Are Still Just as good
As well as those out-of-date ideas that many older skiers may still have about what a holiday in Andorra can deliver, some things, thankfully, haven't changed.
The locals are still very friendly, the ski schools are still led by English speaking teachers, often from Australia, New Zealand and the UK, the dining-out, duty free shopping and apres ski remain very good value and they still get a lot of snow and sunshine.
In fact, Soldeu actually means "Sun God", and certainly lives up to its name sake with an average of 300 sunny days a year.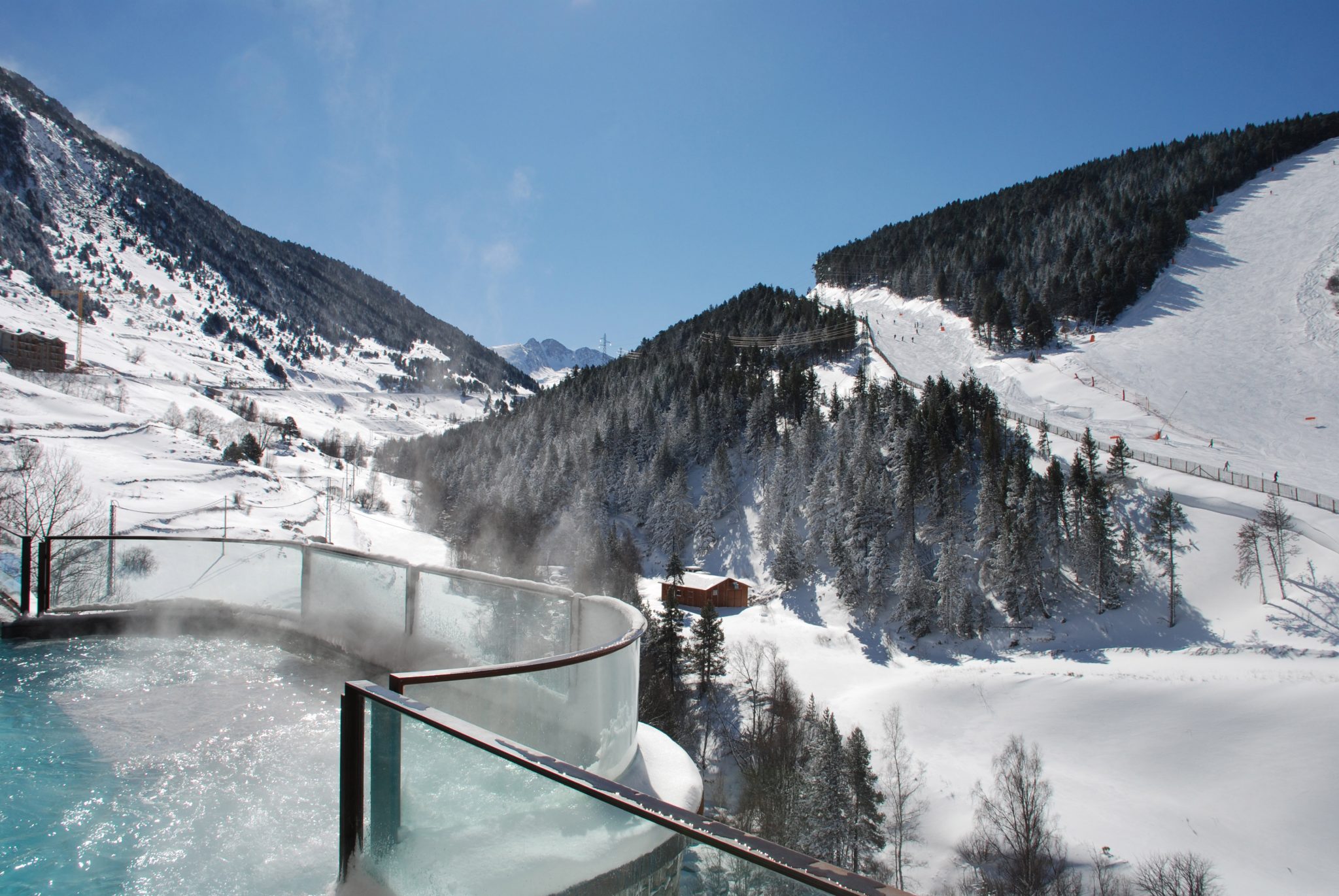 This does nothing to damage the snow conditions though with the north facing slopes gaining reliable regular snow fall throughout the season, with extensive snow making facilities with around 1200 cannons and well groomed slopes helps to maintain good snow.
It's also still quick and easy to get here from all UK airports flying into Toulouse or Barcelona, and then transfer to Andorra through the stunning mountain ranges and glorious scenery.
All things considered, this is an excellent value for money destination for the huge return you get in your holiday.  We came away from our break extremely happy and we can't wait to go back.
Enregistrer
Enregistrer