I've heard the thing with skiing is that you either love it or you hate it. I'm not sure I've ever met anyone in the latter category, but legend tells me these sorts of people do exist somewhere… For this reason, setting out on your first ski trip can be quite daunting. However, with the right preparation, you can make sure you are sure to enjoy your first foray to the mountains as much as possible! So if you're wondering what to pack for your first ski trip, simply take a look through our essential list below:
What to Pack For Your First Ski Trip:
Ski Gear (skis/poles/boots)
Some people think that to go on a ski trip you will need your own skis, boots and poles. Unless, somehow, you know you are going to absolutely love skiing and be doing it for years, there is no need to buy ski gear before your first holiday. Rental shops offer very decent rates for this equipment and if you book in advance, you can often get the latest ski gear for very reasonable prices.
What you do need to bring is good quality, warm clothing.
Base Layers
I cannot stress enough the importance of base layers when it's cold on the slopes, especially if you're a person that tends to feel the cold a lot. You can get good quality base layers for very good prices from stores like Decathlon, and they can make such a huge difference to your enjoyment of your time skiing.
Mid-layers
From t-shirts to fleeces and hoodies, it is good to bring a small selection of mid-layers so that you can judge how to dress according to the daily temperature.
Jacket & Pants
A good ski jacket and pants are essential on the slopes. You need something that will keep you warm, whilst also being breathable and convenient. You are doing a lot of physical exercise all day, so you are unfortunately bound to get a little sweaty if you don't have clothing that has good air flow, so breathability and air vents are very important.
Good to have in a ski jacket is a snow skirt – a belt inside the jacket that buttons up tightly to ensure no snow gets inside your jacket if you happen to fall over. I'm sorry to break it to you, but on your first ski trip, you will probably be falling now and then, so this can be really helpful. Most ski jackets nowadays also have a small pocket in the sleeve for your lift pass, which is extremely convenient when you're out on the slopes.
---
Take a look at reviews of all the latest ski gear and apparel in our extensive Ski Gear Guide
---
With pants, there are many different styles so you can really find a pair that suits you. Just remember to make sure that they can fit over your ski or board boots – this really helps to keep the snow out. Pockets can also be very helpful if you don't like lugging a backpack around but still want to bring a few bits with you for the day. All things to consider!
Socks and Gloves
If you're going to insulate the rest of your body, why neglect the extremities that tend to get coldest the quickest! Proper ski socks not only keep your feet warm, but they can also make notoriously uncomfortable ski boots that little bit more bearable. A side note here – doubling up on normal socks does not do the same job. At all. Get proper ski socks.
With gloves, most people tend to prefer either mittens or gloves. Personally, I'm on the mitt side, I find that they keep my hands much warmer as my fingers share heat. However, others are steadfast in the belief that gloves give you more control and warmth. It's completely down to personal choice so it's worth trying some on and seeing what works for you. The only thing that is important is that you do have something of good quality to protect your fingers.
If you are particularly susceptible to the cold, you can also purchase small hand and feet warmers, which last for hours and keep your extremities toasty as can be.
Snowboots
If the snow in resort is deep, snow boots are also a lifesaver for keeping your feet warm and protected. In addition, some bars in certain resorts don't allow you in after 8pm if you're still wearing ski boots, so a good pair of snow boots could be a great addition for your après activities.
Ski Goggles
If you're going to protect your skin from the sun, the same goes for your eyes! Ski goggles not only protect your eyes from the sun's UV but also enable you to see in snowy or rainy conditions. Goggles can be incredibly expensive to buy in resort and are not normally offered for hire, so it's a good idea to pick up a cheaper pair in the UK before your first ski trip.
---
READ NEXT: The Best Ski Goggles for 2020/21
---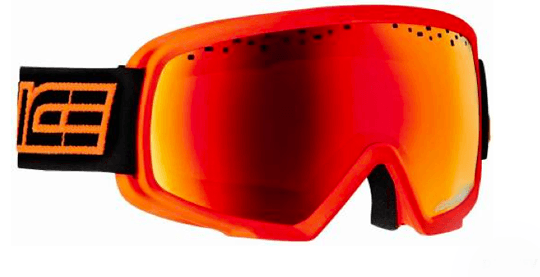 Helmet
I actually cannot stress the importance of wearing a ski helmet enough. Especially as a beginner, you are probably going to take a few tumbles (I'm sorry) and keeping your head protected is so important. Plus, it will keep your ears warm – win win! You can either hire one or purchase one before travelling – you can get some good deals in the UK. Either way, wear one!
Smartphone
Gone are the days when savvy skiers would take walkie talkies out on the mountain. Nowadays most phone companies offer international roaming options or packages, which can be very useful on a your first ski trip. It's very easy to lose people on the slopes (and in the après bars!) so it's handy to have a guaranteed line of communication with others in your group. Not to mention having your phone with you can be helpful for a range of other reasons. It's a great way to get some holiday snaps to show off your skiing skills to all your friends back home. You can also download a range of apps, from ski tracking apps to tuition apps, to resort guides containing GPS piste maps and local info, to really help you get the most of your trip. Just remember to keep your phone safe in a zipped pocket, preferably in a durable, waterproof case, and tempting as it may be to check your messages while you're having a sit down, DO NOT get it out on a chairlift. Or in an après bar for that matter.
Backpack
If you're going to be taking lessons or simply out on the slopes all day, a good backpack can be extremely useful. From extra layers, to snacks and water, you never know what you might need throughout the day so it.
Suncream and SPF lip balm
If you've never been on a ski holiday before, you might think this a weird one, but trust me you will regret not having them if you are lucky enough to have a week of sunshine on the slopes. Between the altitude and the reflection from the snow, the sun can be extremely powerful. If you've ever seen a seasonnaire with a goggle tan line, you will understand this. Keep your skin and lips protected to avoid a lot of pain later on!
Sunglasses/woolly hat
If you do want to make the most of the après scene after a day's skiing, these two can be little lifesavers. Some people don't want to boogie in their helmet and goggles for fear of damaging them or simply not wanting these bulky items on their head. If you do take them off and put them somewhere safe (in a backpack) it can help to have sunglasses and a warm hat, so that regardless of temperature and conditions, you will be protected.
So now we've done all the hard work for you and told you exactly what to pack for your first ski trip, you really have no excuse not to head off to the slopes – trust us, you will love it!!
Enregistrer
Enregistrer