So the warmer months have rolled around again and for many of the keen skiers and snowboarders amongst us, this means itchy feet, cold weather cravings and a summer spent day dreaming about conditions in the Southern hemisphere. However, there are some things you can do this summer to get your skiing fix without heading across the globe.
1. Make the Most of the UK Snowsports Scene
Whether you're a stickler for real snow or you're happy on the dry slope, the UK has a huge amount of indoor and outdoor ski slopes to keep your skis from gathering dust over the summer.
The real snow slopes at The Snow Centre, Chill Factore, and Snozone (to name but a few) are great for family days out and are fantastic spots for beginner skiers of all ages looking to make their first turns on snow and get comfortable with being on their skis before heading to the mountains next winter.
Alternatively, dry slopes also offer a great way to familiarise yourself with your skis or get your ski legs back and with many dotted across the country, you're never too far from a skiing opportunity.
Or, if you're based in London, you can even take on the treadmill-style ski slope at Chel-ski, just off the Kings Road. This may seem like a very strange place to be strapping up your ski boots, but the slope is surprisingly effective, allowing you to get the most out of your time on skis as you can ski for much longer without stopping. You can even take part in a Fit-Ski exercise class… we'd take skiing over spinning as a workout option any day!
It's a concept many struggle to get their heads around at first, but once you've got the hang of it, you'll find yourself wondering why we don't have more spots like Chel-ski as it offers the perfect way to improve your technique and confidence.
Another spot that is sure to be massively popular with adrenaline-hungry skiers and snowboarders this year is Graystone Action Sports. We've previously only seen indoor freestyle opportunity of this level in mountain resorts, such as Laax and Crans Montana, so to have one in Manchester is hugely exciting. It provides an area to learn and practice freestyle skills without the need for snow, in a safe environment and with top quality coaching.
Facilities include a skate plaza, bowl, beginners area, super trampoline, cliff drop, big air to foam & resi, yoga & fitness studio and also a spectators area with Bar and Restaurant. There's even talk of including a bouldering wall, parkour terrain, sprung cheer/gym floor, more trampolines and air bag in the near future. This is definitely a spot you will struggle to drag your kids (and yourself!) out of.
2. Learn Something New! 
Both indoor and outdoor slopes offer an opportunity to keep your ski legs fresh and even learn something new over the summer months, with weekly freestyle sessions and tuition opportunities. Many of GB's top freestyle athletes still spend their time shredding the grassroots scene alongside up and coming stars and those completely new to the sport, so you may even find yourself skiing alongside them.
These sessions are particularly helpful if you're keen to try your hand at freestyle but have always been a bit cautious of the large snow parks and curious spectators in resort. Here, you are amongst like minded people and can benefit from the coaching of a professional instructor, to take you through the basics and guide you in the safest ways to
Younger skiers and snowboarders should definitely look into The Futures Project from GB Park and Pipe, where they can learn new skills and benefit from coaching by Winter Olympians.
3. Hit The Gym
Of course, if you do prefer the traditional gym experience, you can use the summer to work on your skiing strength and form. One of the simplest ways to ensure that you can really make the most of next season is to ensure you are hitting the gym regularly and working on those muscles you will need when skiing.
The Nordic ski machines in the gym are great ways to improve your upper body strength in preparation for any flats you might come up against in the mountains! It's no secret that Nordic skiing is one of the best workouts around and these machines give you all those benefits even when you are far from the mountains. Offering a low impact cardio workout with less impact on your knees and hips, this is a great workout
Check out our skiing fitness gym guides with David Lloyd here or train like an Olympian with ski cross athlete Emily Sarsfield's favourite exercises.
4. Update Your Gear
Why not take this opportunity to update your ski kit? Many stores and brands use the summer months to shift old stock so if there's something you've had your eye on this season, this could be the perfect time to snap up a bargain.
Need a bit of extra advice? Our gear guide is here to take you through all our top picks for next season, while our video reviews from this year's Snowsports Industries of Great Britain Ski Test can provide you with objective feedback of all next season's top skis.
Indeed, why not spend the summer getting up to speed with what's new on the gear front for next season. New products, technologies and materials are constantly being developed and allowing skiers and snowboarders to up their game on the slopes, so this could be the perfect time to find your next kit addition.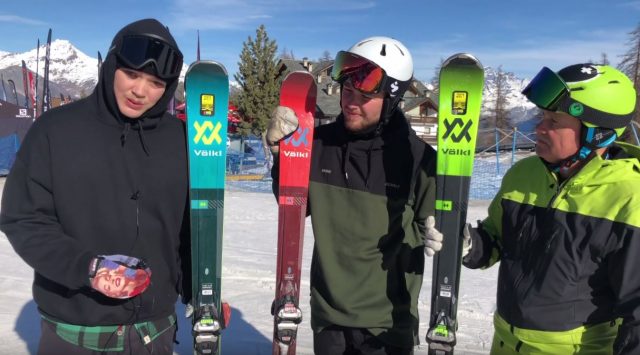 5. Get Excited About Next Year!
What better way to spend the warmer months than making plans for your best winter getaway yet?
If you're having trouble deciding on a destination for next season, our huge resort guide is here to help, with spotlights on some of our favourite areas. Whether you want to experience the wide empty slopes of Sweden, brush up on your cheese knowledge in France or head further afield to the legendary powder fields of Japan or North America, there's no time like the present to get excited about your next ski trip!
In fact, with early booking discounts, increased availability and a better chance of your dream itinerary, the start of summer is one of the best times to think about booking your next trip.
---
5 Killer Reasons To Book Your Next Ski Holiday Now
---
6. Finally, make sure you've watched our new TV programme, The White Out
Ensure that you're fully caught up on all the action from winter 18/19 and prepared for the coming season with our brand new TV show! We'll be releasing regular episodes next winter, so keep your eyes peeled for the first drop in October.