LAAX is renowned as one of the best resorts in the world for freestyle skiing and snowboarding. With the legendary P60 run providing unrivalled entertainment, a huge pro line that delights even the most seasoned athletes and one of the world's largest ever halfpipes, it's clear to see why in the Northern hemisphere winter so many top freestyle skiers and snowboarders are based here. However, there's something else that keeps these athletes coming to LAAX, even when the lifts may not be open; the Freestyle Academy LAAX.
The Freestyle Academy LAAX is Europe's first indoor freestyle hall and is truly a playground for all ages. Whether you're a total beginner or a seasoned pro, everyone will enjoy their time here. We had the opportunity to visit the Academy while we were out in LAAX for the BRITS and all agreed it was the most fun we'd had off skis in quite a while. In fact, it was so entertaining that we went back the very next day.
Spanning 1,200 square metres, the Freestyle Academy holds the highest quality training facilities for serious development as well as many less daunting options for those who may not feel comfortable hurtling into a huge airbag just yet!
On your first visit, you have to take their induction course, which involves some basic balance and movement exercises as well as that all important safety information. You'll be introduced to the various features of the academy and taken through the key elements so that the staff can be sure you are using the facilities in a safe and proper way. For example, the first task is to simply drop backwards from an (admittedly not very high) ledge into the giant airbag. Even for five semi-mature adults, this was hilarious; if you're not a gymnast or an avid freestyler this won't be something you've done much of before and you do get that childish sense of adrenaline rushing in.
With the induction course, you will also get a tour of the Academy, which is deceptively large. Elements include a large trampoline area, a skate bowl and microramp, a snowflex practice slope and the HUGE Big Air slope that commands the attention of the room with four jumps of varying heights and an airbag landing.
We didn't give the Big Air a go – I will happily admit I was way too much of a wuss for that, but it looked pretty spectacular. A sharp descent leads to a kicker that allows you to practice your best tricks before landing safely on the 15 metre long, 2 metre deep airbag. The unique Snowflex surface means that you use proper snow skis to practice here, something that is very well-received by freestyle fans as being a much more realistic way to practice their skills. You can either bring your own boots and skis or use those available at the Academy. Plus, if you do want to ease yourself into the Snowflex before starting straight on the Big Air, there's also a smaller practice area with a gentle slope and a box.
As it's all indoors, the Freestyle Academy does not depend upon the conditions outside its doors. Whether LAAX is in the midst of a blizzard or experiencing the height of summer, you can still work on your skiing skills here.
Likewise, throughout winter when the streets outside may be snowy, skate fans can head in to the Freestyle Academy where the bowl provides a host of heights, angles and corners sure to keep you entertained, while the street skate area and microramp provide additional challenges. It looked so fun that even I had to get myself a board and give it a go. Disclaimer: I haven't stepped foot on a skateboard since I was about 7, so this wasn't quite the Tony Hawk-esque display I was hoping for, but I had a ball anyway.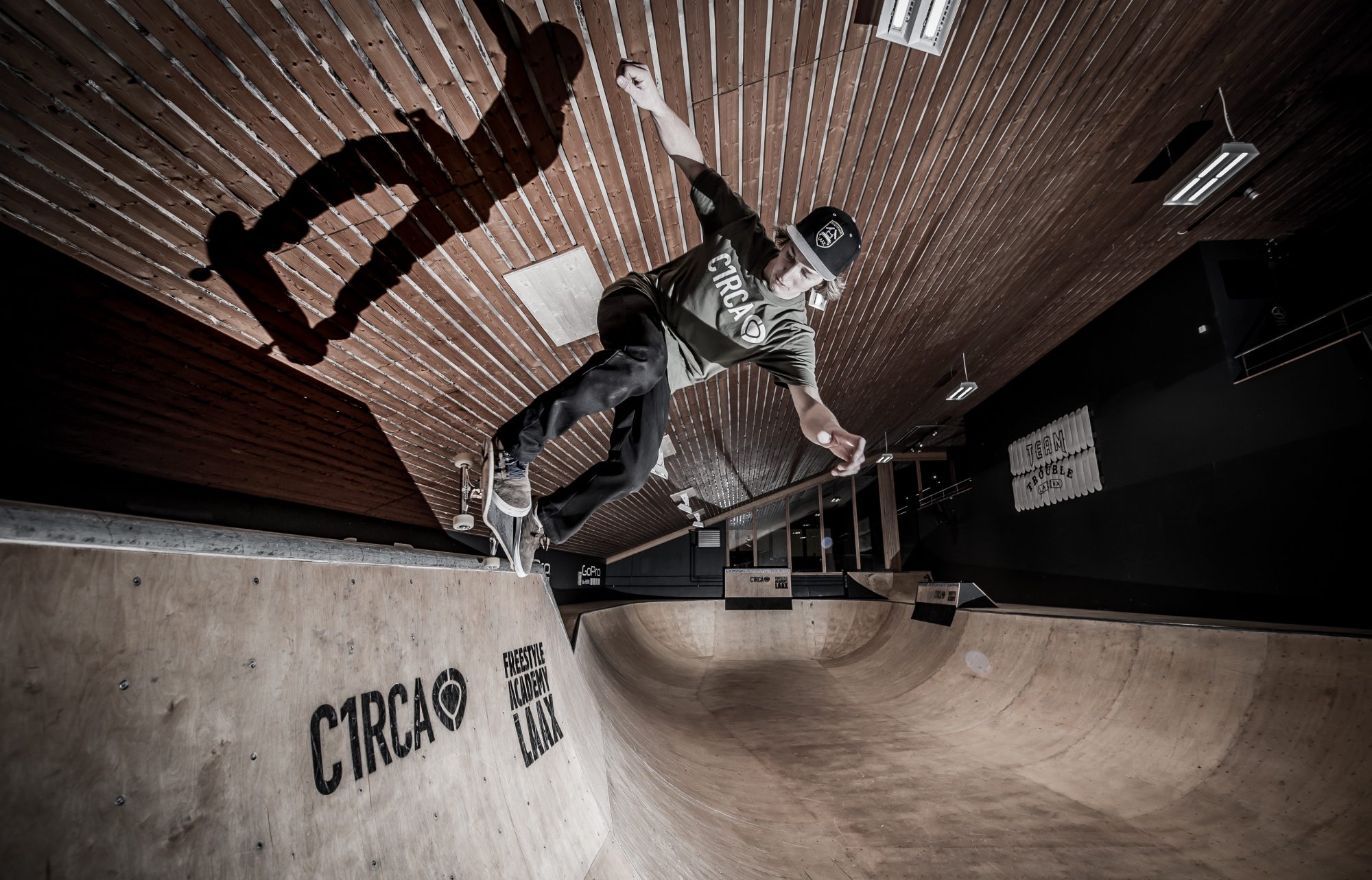 As if this wasn't enough (I know right), the Academy also has a boulder climbing wall which is situated above the big air bag, meaning that you can climb as high as you dare, before dropping off safe in the knowledge that the bag will catch you. Now depending on what type of person you are this is either a terrifying prospect or something you'd be itching to do, which in a way really sums up the whole Freestyle Academy experience.
Upstairs, the cafe is located next to the entrance and offers a fantastic view of the entire Academy. Serving snacks, coffee, juices and beer, it's a great place to hang out, enjoy the atmosphere and watch your friends or family as they try out their new tricks.
The highlight of the academy for me was the huge trampoline area with another large air bag to jump into from the trampolines. After easing ourselves into it, we were soon having the time of our lives bouncing around and were even given the opportunity to have instruction to learn how to backflip and (in the case of some of the more athletic guests) front flip.
For us, it was a novelty and a whole lot of fun. For dedicated freestylers, it's a development heaven, allowing a focus on bodily control and orientation within the air which is extremely helpful when learning new tricks. With cushioning surrounding the trampolines to ensure a soft landing no matter what and an air bag to launch yourself into in the pursuit of that pesky triple-cork, there's really no excuse not to give it your all here.
It's truly for everyone – we found ourselves slowly and extremely ungracefully learning to backflip on a trampoline while Jamie Nicholls was jumping around right next to us. Having an Olympian enjoying the experience just as much as we were is a testament to the inclusive, down-to-earth nature of the Freestyle Academy and of LAAX itself.
The motto of the Freestyle Academy is: come by, try something new, enjoy yourself and meet people. It truly lives up to this, providing a safe and supportive environment for you to really push yourself whilst having the time of your life.
After completing the induction course, you can pay for single tickets to simply enter the area and practice. However, if you're after further freestyle training, there are a host of options to choose from. Private lessons are available within the centre but we'd recommend one of the dedicated snowboard/freeski courses. With tuition at LAAX's famous parks, as well as two mornings exclusive use of the Freestyle Academy, this course is sure to have you stomping your favoured tricks in no time. For young people aged 8 – 17, freestyle camps run throughout summer, autumn and winter, though to ensure a ski or snowboard focus, the winter camps are recommended.
For even younger adrenaline junkies, there is a kids room where children aged 1 – 5 are allowed and on Sunday mornings the entire Academy is transformed into an adventure playground for these youngsters, with those aged 6 and under free to roam around the whole hall (when accompanied by an adult of course).
For more information, head to: http://www.freestyleacademy.com/laax/
All Images © LAAX / Daniel Ammann