Over the late May bank holiday this year, we at InTheSnow were lucky enough to have the opportunity to visit Mayrhofen in the Austrian Zillertal Valley. A popular destination for winter holidaymakers, Mayrhofen is one of Austria's top ski resorts, with legendary après-ski, buzzing nightlife and one of the largest snow-based music festivals in the world. However, what many people don't know is that Mayrhofen is also one of Europe's top destinations for families – and not just in the winter!
Mayrhofen offers a range of year-round range of highly entertaining activities that are sure to leave the whole family keen to come back for more. Read on to find out our favourite things to do in the Mayrhofen area in both summer and winter, and why we believe it's one of Europe's top family mountain resorts.
A Fantastic Family Friendly Ski Area
For Younger Children and Beginners
The Mayrhofen-Hippach holiday region is an ideal destination for beginners and younger skiers, with many easily accessible beginner lifts down in the valley.
The Kinderland Horberg nursery slope in particular is perfect for skiers of all ages who are still getting to grips with their skis. Located right next to the base of the Horbergbahn cable car, the gentle slope is equipped with a 69m long magic carpet lift as well as a 180m T-Bar lift for those who may be a bit more confident on their skis. It's the perfect place for families with younger children making their first forays onto the slopes, or indeed for kids and adults alike who may want to try their hand at snowboarding or skiing for the first time! You can even take part in night skiing here on Wednesdays and Fridays or, if you've caught curling fever after the 2018 Pyeongchang Winter Olympics, you can even try your hand at the new artificial curling lane.
As you explore more of the mountain, there are also three 'fun ride' areas, which combine elements of ski and snowboard cross within a specially designed area, with moguls, banked curves and dips that are easily negotiated by both skiers and snowboarders. From the 'easy' area at the Ahorn (pictured below) to the 'moderately difficult' area at Gerent, there are 'fun ride' areas for all abilities that are sure to have your little ones begging to go again!
The Ahorn area in particular is great for children as it tends to be the quieter side of the mountain, giving them more opportunity to practice their skills without worrying too much about other skiers flying by. There are a range of gentle blue and red runs in this area as well as five cosy mountain restaurants for that all important hot chocolate stop!
Over on the other side of the town, the Rastkogel area also has a lot of nice blue runs with easy lifts, great for young skiers wanting to develop and explore more of the mountain. The easily accessible red runs here are good options for intermediate skiers' first foray onto the red pistes.
Mayrhofen is a well-connected resort, with modern lifts (in particular the recently revamped Penkenbahn) and a plethora of ski buses to take you wherever you may need to go. This can be a lifesaver when those little legs are tired after a day's skiing and a walk back to the hotel is out of the question! It's also a good idea to choose a central hotel such as the Hotel Strass, which is positioned right next to one of the resort's main lifts, meaning no long ski-boot clad walks.
Kids' Discounts
One of the many things that makes Mayrhofen such a great choice for families are their epic kids lift pass discounts. Not only do children under five ski for free when accompanied by an adult, but there are impressive discounts for children under 14 and 'young people' – those born after 01/01/2000. For families with two or more children, the savings from these discounts can really add up so it's definitely worth considering when booking your next ski holiday.
Fantastic Ski Schools
While skiing as a family is incredibly enjoyable, it is undeniable that the best way to learn to ski is through qualified instructors and ski schools. An exceptionally high quality of ski tuition is something that the area of Mayrhofen-Hippach is very committed to, with a range of children's ski schools and kindergartens with dedicated English speaking instructors to ensure that learning to ski is as fun as it is rewarding. From beginner lessons to more advanced, entertaining courses, there's something to allow children of all abilities to really get the most out of the mountain.
The ski schools can take care of even the youngest children (from 2 – 4 years old) but if you have children even younger than this and fancy some time to yourselves, the kindergarten at Wuppy's Kinderland is a fantastic childcare option. Here, professionally trained staff are on hand to take care of children from three months to five years, with games and activities including crafts, painting and music, as well as outdoor walks and snowball fights.
For Intermediate / Advanced Skiers
Mayrhofen is a fantastic resort for intermediate skiers, with a huge range of entertaining red runs as well as some more challenging blacks. With a reputation for good snow as well as a nearby glacier, you are guaranteed decent skiing and some fantastic powder runs when the snow comes down.
However, if you're after even more variety, the Zillertal Superski pass gives you access to an astounding 179 lifts and 515km of pistes across the four ski areas of the valley (Hochzillertal-Hochfügen-Spieljoch, Zillertal Arena, Mayrhofner Bergbahnen and Zillertal 3000) as well as free transport between them. Ideal for adventurous skiers who like to explore as much of the area as possible.
For adrenaline seekers both young and old, the Penken Snow Park is an unmissable part of winter in Mayrhofen. This park offers unparalleled opportunity for freestyle fans, with eight dedicated areas; Pro Area, Advanced Area, Advanced Jib Area, Medium Area, Medium Jib Area, Fun Area, Beginner Area, and Fun Ride Penken. The 'fun ride' kids park enables younger children to try their hand at freestyle in a safe and secure way, while the variety of other areas means that older skiers of all ages and abilities can get involved, be it in the beginner or the pro area! A quick four-man chairlift services the park, allowing you a fantastic view of the skiers below. Even if you don't fancy the freestyle element yourself, it's a great place to go and watch others and enjoy the electric atmosphere.
As if this wasn't enough, Mayrhofen is also home to the Harakiri, Europe's steepest ski run and always one that advanced skiers always enjoy ticking off their list. With a gradient of up to 78 percent, it's one to only try if you are a confident advanced skier. If you're not sure you are up to the Harakiri, try out the 'Devil's Run' (Piste No. 12) first, which has a steep end section that will help you decide whether you are ready for the full Harakiri!
If racing is more your thing, at the new Unterberg Racing area, speedy skiers will be thrilled to find three permanent giant slalom courses. Equipped with a time-keeping system to track your speed, these courses are sure to be popular with competitive youngsters and adults alike as you emulate your favourite ski racers and compete for the fastest in the family.
Summer Skiing
The reason we were visiting Mayrhofen was to try out the summer skiing on offer at the nearby Hintertux Glacier. Around a 30-minute drive away, this is Austria's only year-round glacier, open for skiing 365 days of the year! So, if you haven't quite managed a winter trip to the mountains but would love to get a few days in on the snow or perhaps give your little ones their first skiing experience, you can do this year round in Mayrhofen. A definite draw for ski fans looking for a fun summer getaway!
---
Read more about our trip to the Hintertux Glacier here
---
A Summer Paradise Where You Will Never Get Bored
With so much going on in winter, you'd be forgiven for thinking that Mayrhofen surely couldn't live up to this level of entertainment in the summer. However, there are so many activities on offer throughout the warmer months that the entire family are sure to end their holiday full of new experiences and adventures. In the midst of incredible mountain vistas, surrounded by alpine wildlife and once-in-a-lifetime activities, this is sure to be a summer getaway your children will never forget.
Of course, there are the spectacular hiking and mountain biking trails that many will appreciate. Exploring the mountains as a family has never been easier, with many family routes and even pram-friendly trails already planed out for you. However, there are also a huge amount of more unique and exciting activities in Mayrhofen. From spectacular birds of prey shows to dairy tours, adventure obstacle courses to rock climbing, waterfalls to gold mines, there's much to keep the whole family entertained.
At the Funsportstation up at the Penken action area, you can try out 'Funballz' – huge inflatable transparent plastic balls that allow you to roll around on the water, remaining completely dry while having the time of your life! Or, hire a mountain scooter for a different way to explore the mountains with three different routes available.
Young train fans will love the Zillertalbahn Railway, with it's charming little steam train that chugs down the valley allowing you a unique perspective on the surrounding area. Adults can enjoy the views with a glass of champagne in the 'crystal' carriage or a beer in the 'beer bar on wheels', while children are sure to enjoy the fun-filled 'children's carriage' as well as the opportunity to play driver. For all ages, the convertible car allows you to experience this all in the open air!
Another way to spend a day is to make the 30-minute drive up to the Hintertux Glacier and you can try summer skiing, visit the Spannagel Caves and even take a look inside Nature's Ice Palace – one of our personal favourites in the area. The Ice Palace offers an unprecedented glimpse into the glacial world underneath the ski area, with huge icicles, frozen waterfalls and a spectacular glacial lake, on which you can take a boat ride, or even try stand-up paddleboarding or ice swimming! It really is a once-in-a-lifetime experience that we would highly recommend.
For some warmer water after all this ice, head to the Erlebnisbad Mayrhofen, a fantastic adventure pool that offers free admission to children under the age of 6. With a 'non-swimmer' area of the outdoor pool at only 0.6-1.10 metres, it's a great place to take younger children who simply want to have fun in the water. More confident swimmers are sure to enjoy the 45m long slide outdoors as well as the huge 101m long slide indoors and the 'crazy river' tire slide (65m). Out of the water, a large lawn offers games, sports, climbing equipment, trampolines, swings and much more.
Of course, you need somewhere to wind down and relax after all this action! When we visited, we stayed at the wonderful Hotel Strass, which has an idyllic outdoor area right next to the hotel pool and delightfully close to the picturesque river that runs through the town. With sun loungers, a fantastic pool and wellness centre and a tennis court for use by hotel guests, it's the perfect place for some rest and relaxation in the fresh mountain air. Right next to the Penkenbahn gondola and in the midst of the town, it's a great base for families looking for a convenient central location.
The town itself provides a charming and authentic glimpse into mountain life in the Tirol. Forget the high-rise purpose built buildings that you may expect from Avoriaz or Tignes; here in Mayrhofen, you won't find any buildings above around 5 stories tall. All architecture is consistent with the alpine style of the village and is incredibly picturesque, the perfect place for children to experience true mountain life and let their imagination run wild.
One last thing that makes it such a great family destination year-round is that logistically, Mayrhofen is incredibly easy to get to. We all know that when travelling with children, the shorter the journey the better, and Mayrhofen definitely delivers when it comes to ease of access. It is just an hour's drive from Innsbruck airport, which itself is a quick and easy flight from many airports across the UK.
For the best and most affordable accommodation here in both summer and winter, Crystal Ski have a range of fantastic options in the best settings throughout Mayrhofen. Visit www.crystalski.co.uk for more information and to book.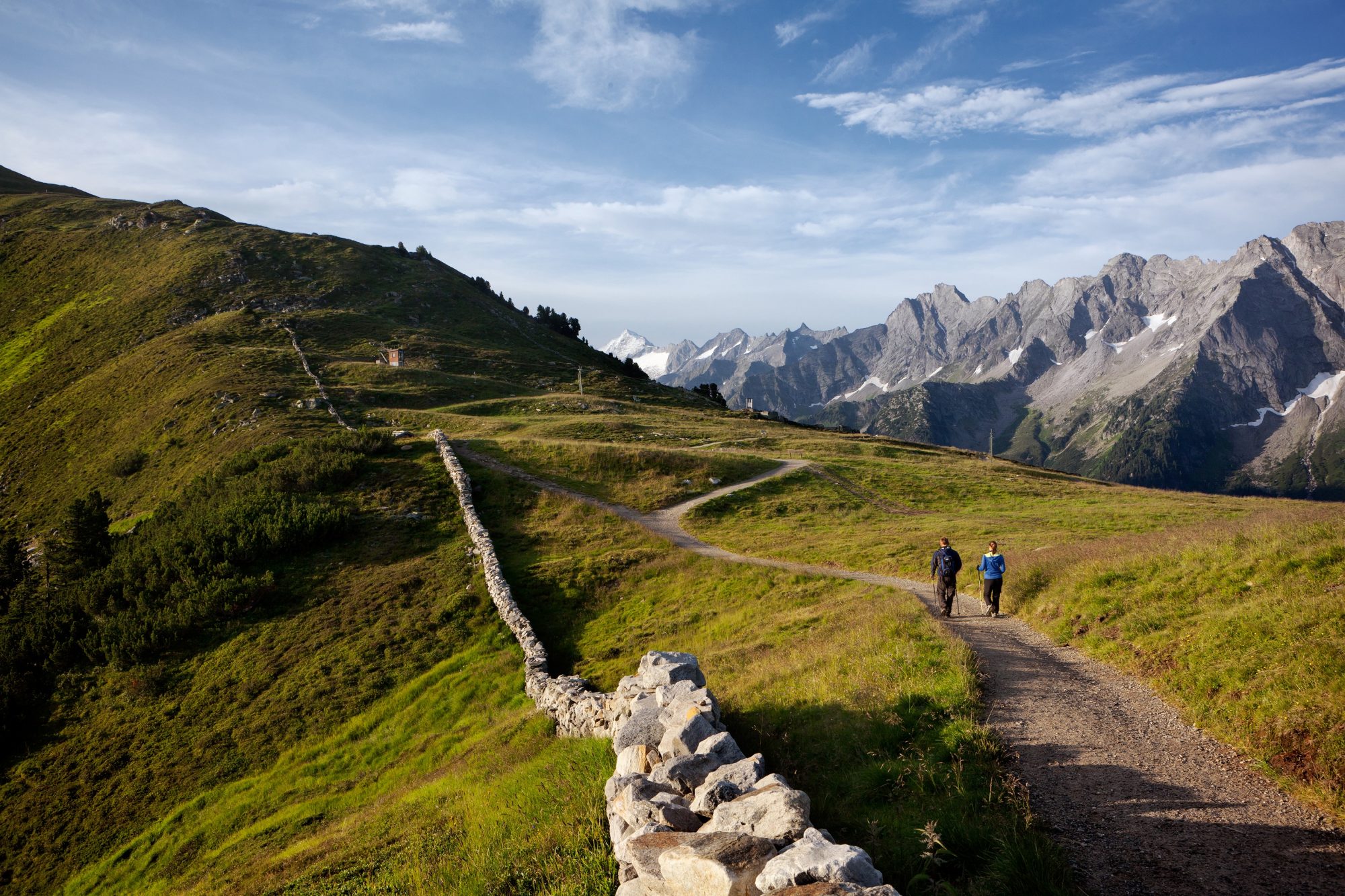 All Image Credits – Mayrhofner Bergbahnen and Tourist Board Mayrhofen-Hippach