This May, we here at InTheSnow had the opportunity to visit the Zillertal region of Austria for a spot of summer skiing. Having never been summer skiing before, I was unsure what to expect, but summer skiing at the Hintertux Glacier exceeded all my expectations.
Forget What You May Think
Many people believe that summer skiing can't be anywhere near as good as in the winter. They assume that warmer weather will mean horribly slushy snow, very few open slopes and those dreaded dodgy tan lines. I will admit, having never been skiing later than April, I was unsure what the Hintertux Glacier had in store for us when we arrived in Austria for a few days' summer shredding. Let's just say my expectations weren't high. However, I was more than pleasantly surprised and couldn't have asked for a better location for my first foray into summer skiing.
The Hintertux Glacier is Austria's only year-round ski resort and one of only two ski resorts in the world that offer skiing 365 days a year. It has a highest point of 3250 metres in altitude meaning that the snow conditions are very dependable. Personally, I couldn't believe quite how good the snow was, considering how warm it had been down in the valley before we made our ascent. It was hard to believe it was almost June and I was experiencing some of the most enjoyable skiing of my season! There was none of that dreaded ice that I (personally) hate, and it only began to get slushy around midday, meaning we had a good few hours of great skiing each morning.
One of the best things we found about summer skiing is how beautifully quiet it was. Not only did this mean lift queues seemed like ancient history, it was truly a delight to stop for coffee or lunch with absolutely no queue in the restaurant either! Out on the slopes, the lack of other skiers is noticeable – at times it truly does feel as if you have your own private ski area with wide open slopes at your disposal and no-one else in sight. If you're a skier that feels nervous around others, summer may be the perfect time for you to work on your skills without many other skiers around.
In fact, one of our team has never skied before, so used our time in Hintertux to benefit from their fantastic Tuxertal ski school. He hugely enjoyed his lessons, with the Glacier providing ideal slopes for a beginner, and he has now truly caught the bug (thank goodness!). Tuxertal ski school offer really high quality tuition and a great way to make the most of your time in the area if you're looking to improve.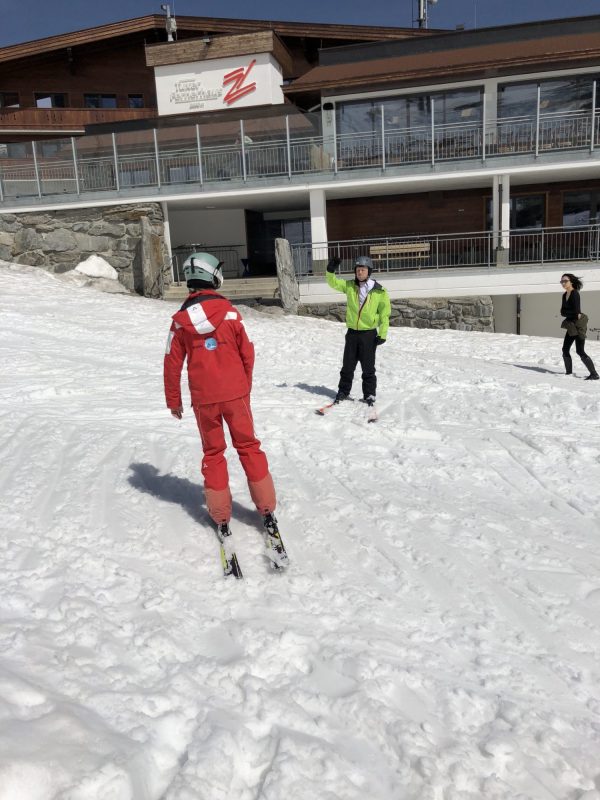 The Hintertux Glacier offers slopes for all abilities – our group contained expert skiers, snowboarders and young children, all of whom really enjoyed their time on the slopes and didn't feel out of depth at all. With 10 lifts available through summer and a longest descent of 2km, there's more than enough skiing on offer to keep you entertained throughout the morning. As snow conditions tend to deteriorate in the afternoon, it's best to get your summer skiing done early so that you can make the most of the summer activities the area has to offer as well!
Hintertux also boasts a fun slope and a large snow park, although this is not available through the whole summer. You'll see many international race teams out and about training on the mountain as well – if it's good enough for them, it's more than good enough for us!
To be able to be skiing whilst looking out over an incredible panorama of mountains, with lush green forests, rushing waterfalls and rivers is truly unique. We even caught a glimpse of the elusive marmot on our gondola rides up to the Glacier – something I was personally very excited about! It's an experience I'll definitely be repeating and one I'd highly recommend, however I do have a few tips to ensure you really get the most from your summer skiing experience.
Dress for the Occasion – Don't Underestimate the Cold!
First off, prepare to feel very odd. Getting decked out in all your ski gear whilst it's 25 degrees and sunny is a very strange feeling.
In Hintertux, the journey up to the top of the glacier itself comprises of three separate lifts and takes around 20-30 minutes, whisking you up from the lush green pastures of the valley to the snow-covered peaks. This means that the temperature at the top of the mountain (an altitude of around 3250 metres) is very different to the temperature at the bottom of the lifts (1500 metres) so don't underestimate how chilly it might be when you reach the top! Though it may be sunny as anything, remember that the temperature on the mountain is around freezing, so it's not going to be t-shirt weather. If you don't take enough layers up, you will have to make the 30 minute journey all the way back down to the car park at the base station to pick up spares.
Our advice would be to take extra layers up with you. If you don't carry a backpack you can stuff extra layers into, at Hintertux they do have a bank of lockers, so that you can leave extra layers up at the top should you feel too warm. It's a better idea to do this, as it's always more pleasant to be too warm with the option to take a layer off, than to be too cold!
Make The Most of the Mountain
Another benefit of summer skiing is that it allows you to enjoy other mountain activities that you might not be able to fit in otherwise. We all know how the days can be in winter, packing as much skiing in as possible between the hours of 9 and 5, then straight to the après bars or back to the chalet for a much-needed meal. While we all hugely enjoy this, it can mean that we miss out on some spectacular activities on the mountain.
For example, in Hintertux, we were lucky enough to visit the Nature's Ice Palace. A magical world beneath the ski slopes, this is a stunning glacial crevasse with frozen waterfalls, giant stalactites and a large glacial river. We explored the cave on foot, before taking our boat ride (yep, you heard me, a boat ride)! This is the only place in Europe where you can take a boat down a river, within a glacier and gives you some truly spectacular pinch-yourself moments. You can even try stand up paddleboarding or ice swimming within the cave – a unique way to explore this breathtaking setting.
If you've had enough snow and ice for one day, you can pay the Spannagel Cave a visit. Europe's highest altitude publicly accessible cave, it is a fantastic adventure for children and adults alike. Measuring around 12.5km in length, it is the largest rock cave system in the Central Alps, Take a guided tour to really get the most of the experience.
Embrace the Summer!
With summer just beginning, visiting the Hintertux area allows us to access a vast amount of summer mountain activities after you're done with skiing for the day. From mountain biking and white water rafting for adrenaline seekers, to more gentle cycling and hiking for those who may be less inclined to let their daredevil side out, there's a way for everyone to enjoy the mountains.
We stayed in Mayrhofen, a beautiful resort just a 30-minute drive away from the Glacier and a good base for anyone travelling to the area. Visiting over the late May bank holiday, not only did we get the maximum out of our long weekend, but not being in the height of summer, the resort wasn't too busy.
Saying this, it was still a lot busier than we had expected. We thought that we may be accompanied by just a few other guests in our hotel, which was rather large. However, there were a surprising amount of other guests around and when we went out to explore the village, it was far from the ghost town that many assume a ski resort would be in the summer! There was a lovely relaxed, yet bustling atmosphere that was really enjoyable when you just wanted to go for a walk or stop for lunch.
All in all, we hugely enjoyed our trip and would highly recommend summer skiing at the Hintertux Glacier.
---
Take a look at other ski resorts that are fantastic places to visit in the summer
---