Day in the life of a ski patroller, the unsung heroes of the slopes
Skiing writer Rob Stewart heads to the Slopes of Scotland and spends a day with the team of ski patrollers and starts to understand how important this role is to keeping us all safe in the mountains in the lead up to International Ski Patrollers day on February 10.
When we take to the slopes during the winter and enjoy everything the mountains can offer, it's rare that we pay attention to the people that help make it all happen. The lift operators, the ticketing staff, maybe even the local tourist office – perhaps we notice the ski and snowboard instructors in their red jackets. But arguably the most under the radar members of this professional network of mountain workers, is the ski patrol.
Let's face it, if we do come into contact with them, it's not always for the best reasons. But they are always out there, in all conditions, working to ensure our safety, often unnoticed – they are genuinely the unsung heroes of the mountain.
To celebrate International Ski Patrollers Day, taking place on February 10 2023, I travelled to the Scottish ski centre of Glenshee, just a couple of hours north of Edinburgh. It's the largest skiing area in the country with over 20 lifts including 3 chairlifts and a number of slopes for all ability levels. Whilst the slopes of Scotland aren't comparable to the major resorts in the Alps, on a good day they can provide spectacular skiing and incredible views across to the southern side of the Cairngorm National Park.
A day with the Glenshee Ski Patrollers
Global outdoor brand Helly Hansen supports over 55,000 professionals in mountain environments and this includes a huge network of ski patrol teams around the world in more than 200 resorts, including Glenshee. The opportunity to spend a day with the team was an offer too good to refuse and a chance to help say thanks to these professionals that make skiing and snowboarding a much safer sport.
The head of Glenshee's ski patrol team is former police officer Jim Wood, an imposing figure who runs a tight ship and I get the feeling won't suffer fools gladly. Initially I feel like I am getting in the way and it's not surprising, the Ski Patrollers office and adjoining medical room is bustling with activity as dawn starts to creep in. The team gather around – all trained pros at mountain rescue, first aid and avalanche awareness. Charlie, a trainee doctor is on-board for the season too, gaining invaluable experience in a busy environment that can, on occasion, become stressful. Glenshee has three full time paid members of the ski patrol team and then around 30 other part time staff and volunteers that can step in during the busy periods. They all know the terrain here incredibly well, including the likes of Bill Smith, a true veteran of the Scottish slopes who has been helping out here for over 40 years.
Jim gathers the team around for a briefing at around 8.30am, before the lifts open for the day. We head up on the slopes for some safety checks – snow conditions are relatively good for the time of year with snow cover on most runs. The weather a little damp and foggy, but I've seen worse on the Scottish mountains and it doesn't bother the team, this is just another day in the office.
"As a ski patrol team, we just get on with it quietly and don't like to blow our own trumpet", says Jim as we disappear into the murky cloud and ride the first chairlift up. I imagine that working in Glenshee every day of the winter come rain or shine is perhaps less glamorous than we might imagine, and Jim continues: "Glenshee is the UK's largest ski resort and can have several thousand skiers on a busy day. Being a patroller here during the season keeps you on your toes that's for sure and dealing with a number of incidents from minor to serious is part of the job – but it's very rewarding to pick people up and help people in their need".
As we skied around with the patrollers through the morning, checking for obstacles on the slopes, loose fences that might have fallen over, trail markers that aren't correctly placed and potential hazards such as holes in the snow over the top of streams that can suddenly appear due to snow melt (these are dealt with so that skiers and snowboarders can identify these obstacles and stay well clear), Jim and team slowly start to feel confident they can open the slopes safely for the arriving guests.
Rescue Games
The next challenge was to stage a rescue. This wasn't done for my benefit entirely but a task that needs to be practiced regularly so that when an accident happens, the patrollers can quickly and safely take the injured person off the mountain and into any next stage of possible treatment. This starts in the centre's medical room and if the injury is serious enough, the patient is taken to the nearest hospital. Fortunately this is only a small number of cases.
Ensuring the safety of a skier when transferring them onto a rescue sled means applying very specific tactics by all members of the team involved. Depending on the injury, four members of the ski patrol will lift the injured skier into the sled very carefully. In extreme circumstances, such a neck or serious back injury, the way the person is moved needs to be very considered and it might be possible that a helicopter rescue is called, but this is very rare in Scotland.
Let's put some things into perspective here. Accidents can happen, but (touch wood) during my own 40 years of skiing, including ten full ski seasons and countless weeks around that all over the world, I have travelled twice in a rescue sled. It's not a pleasant experience, but it works and the professionals that are there to take care of you are all highly trained.
For me this was the first time on the other side of that process and it made me realise what a tough job this really is. Skiing with a heavy sled behind me, I just about managed to negotiate the slushy snow conditions and get to the next stage where I handed it over to another member of the team. A feeling of satisfaction crept in and what I really took away from the experience is the obvious bond this group of people have with each other. Being a ski patroller is truly a team effort and clearly Jim has installed this ethos into the crew at Glenshee – getting the chance to join them for a day was an absolute honour and a chance to say thanks.
Next time I'm skiing I'll give a little nod to the ski patroller and raise a glass to them all on February 10, when we celebrate International Ski Patrollers day.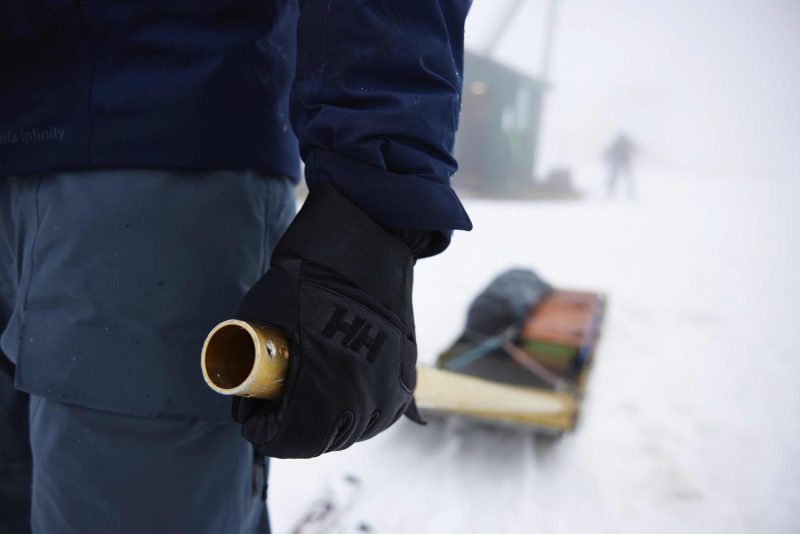 International Ski Patrollers Day, February 10, 2023
On February 10, 2023, leading global ski brand Helly Hansen will participate in the second annual International Ski Patrol Day to celebrate and recognise the extraordinary ski patrollers who keep resorts open, safe, and fun for people of all ages and skill levels. All mountain lovers are invited to come together on this day to show their appreciation for patrollers – from sharing a friendly high-five on the slopes to Thank You messages and donations, there are endless ways to acknowledge local patrollers and the tireless work they do to help people stay and feel alive on the mountain.#
In support of ski patrollers everywhere, Helly Hansen will donate 5% of revenue from its online and select retail store, sales during February 9-11, 2023, to various organisations that fund ski patrol support and safety groups internationally.
Helly Hansen encourages you to join the celebration and share how you're acknowledging ski patrollers on International Ski Patrol Day, using #skipatrolday on your social channels.
Learn more at hellyhansen.com
Image Credits Ed Smith