When it comes to skiing, the nation of Georgia seems to be hiding in plain sight, off the radar of most snow-seeking Brits despite being less than a five-hour direct flight away and bordered by dozens of mountain peaks higher than 4,000m, with many soaring above 5,000m.
The Greater Caucasus towers west to east from the Black Sea to the Caspian Sea, while roughly 100 kilometres to the south the scarcely less impressive Lesser Caucasus stares back at its big brother across the Georgian plains.
The snowy slopes of those two mountain ranges are home to a handful of fast-improving and expanding ski resorts, where daily lift passes cost as little as 50 Georgian lari (GEL), roughly £15.
Accommodation and meals are also a fraction of the price of ski resorts in the West (pictured top, writer Bruce Pope with Rob Stewart, picture by Alf Anderson).
Landing blearily from an overnight flight to Tbilisi I was soon wide awake at the sights of Georgia's fascinating capital city, the starting point of a whistle-stop tour of the country's skiing areas that proved to be no less eye-opening.
Our group's first destination saw us head to Mestia (pictured below, credit Georgia Tourist Board) in the north western Svaneti region, a base within striking distance of two ski areas – Tetnuldi and Hatsvali.
Mestia itself, home to about 3,000 inhabitants, is an UNESCO World Heritage Site and would have been worth the trip by itself, with its distinctive medieval-period defensive house-towers providing a stunning backdrop to our stay.
But we were here to ski and we weren't disappointed, although at first glance of the piste maps it's easy to dismiss both ski areas as they show just a handful of lifts and groomed runs.
Take a closer look, though, and there's some important numbers that start to stack up. Tetnuldi's base is at 2265m – higher than the top stations of many other resorts – and its lifts climb to 3160m, with Hatsvali still reaching a respectable 2347m.
Height usually equals snow – especially in Georgia where the mountains reclaim the moisture from the seas to the east and west – and we were treated to a fresh dump of the stuff during our day at Tetnuldi.
The weather conditions prevented the two highest lifts from opening but it scarcely mattered, as there was so much skiable terrain accessible from the Jumber Kakhiani chair midway up the mountain.
(Credit Rob Stewart)
We spent most of the day lapping Jumber, finding fresh off-piste lines under and to the sides of the lift with almost every run, starting with wide open bowls before darting through copses of well spaced trees and jinking through gullies.
There were occasional pit-stops back down to the cute cafe-cum-clubhouse at the base station for warming drinks and snacks, returning to find the falling snow already filling our previous tracks.
The freeride possibilities in Tetnuldi are exciting and as it costs around £200 to hire an internationally qualified mountain guide for the day, even a small group of freeriders will get tremendous value from a trip here. The ski school also offers lessons from 50 GEL an hour.
Neighbouring Hatsvali is slightly smaller but its lower elevation offers more tree skiing, while its handful of mostly red runs are brilliant, swooping pistes dotted with rollers to set the stomach fluttering at high speed.
Mestia Credit Bruce Pope
Hatsvali's main advantage is that it can be accessed by a chairlift on the very edge of Mestia while Tetnuldi is a 15km drive, the last 6km of which becomes a difficult mountain track.
There is a plan to cut out that tricky last stretch by lift-linking Tetnuldi to the nearby village of Mulakhi, with work scheduled to be completed by the 2020/21 season.
The winds that had brought us that welcome snow had also disrupted our arrival plans and the domestic flight we were due to catch to Mestia's tiny local airport had been cancelled, requiring a 430km drive from Tbilisi.
Georgia's second airport Kutaisi is an option from the UK at 240km from Mestia, while Batumi on the Black Sea boasts the country's third major airport but at the moment there are no direct flights from the UK. There is an excellent train service but the network only really covers major urban areas.
Difficult access is the Achilles heel of much of the skiing in Georgia and although the government is forging ahead with improvements to infrastructure, hiring a 4×4 vehicle and driver is the best – sometimes only – option on roads that are often little more than dirt, stone and potholes the further you get into the mountains.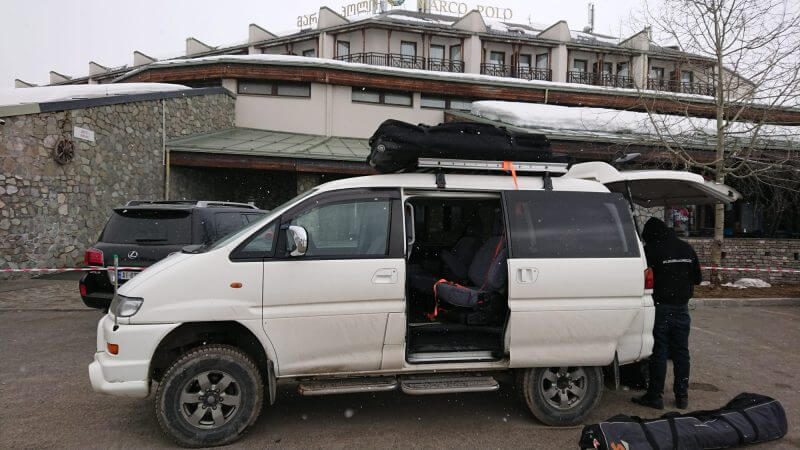 (Trusty 4×4 pic credit Bruce Pope)
But the scenery is stunning, with steep peaks divided by deep rivers, lakes and reservoirs that produce 85% of the country's power through hydro-electricity.
There are also occasional reminders of Georgia's Soviet Union past – it regained independence in 1991 – from weather-stained statues in heroic poses to rusting industrial shells. Georgia sees its future as lying to the west though, with large numbers of European Union flags evident – an irony that won't be lost on British visitors as the UK stumbles through Brexit.
Nowhere was the variable state of the roads better demonstrated than in the journey to our next destination, Goderdzi. Although it is only three hours drive from Batumi, the last 25km took a third of the journey as our rugged Mitsubishi Delica van inched its way upwards after the paved road ended.
Goderdzi resort was only created in 2012 and its rapid growth is a labour of love for resort manager Vajha Diasamidze: "It's like a baby, when I first came here there were only flowers and bears."
Now there are hotels and chalet-style cottages being thrown up in a building project that aims to take the accommodation capacity from 100 beds to 2,000, while I was told the government has promised to have a new road in place within three years.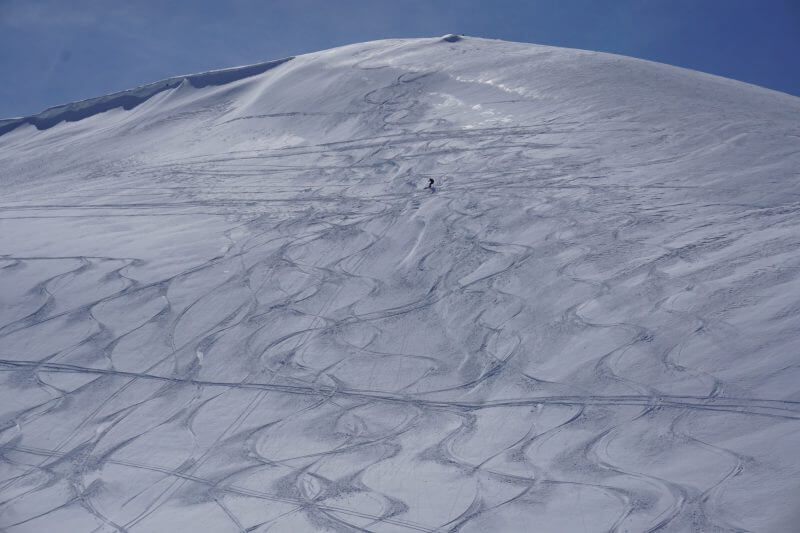 (pic credit Rob Stewart)
But at the moment it's slightly surreal to come bouncing up an ancient track to find this toddler of a resort taking its first steps 1,700m up in the Lesser Caucusus, all for the love of skiing!
There are just two lifts in Goderdzi, with the top station at 2,300m servicing just a few pistes. So until there is further expansion of the skiing area, this is more a destination for experienced and self-sufficient freeriders seeking fresh lines and a little adventure.
Cat-skiing is available for 1,000 GEL (£285) per day – that's for group use of one piste groomer with an open carrying platform at the rear, not per person.
Compared to the cosy converted machines used by North American operations it's rough, ready and just a little bit bonkers as you hang on and brace yourself against every uphill lurch.
But dismounting at the top, the reward was fresh tracks through corn snow that had been warmed to a pleasant creaminess by the mid-March sun.
The higher slopes of Goderdzi are dotted with huts and small houses that are used in the summer when the snow melts and the nearby mountain pass opens, but in the winter they become the backdrop (and occasional playthings) for visiting skiers.
There was one hiccup when our piste-basher didn't have the clearance to get under a telephone cable in our path.
The problem was swiftly solved as the offending wire was unhooked and shoved further up its pole, clearing the way ahead but perhaps leaving some muddled lines of communication behind us. Yep, definitely rough, ready and just a little bit bonkers.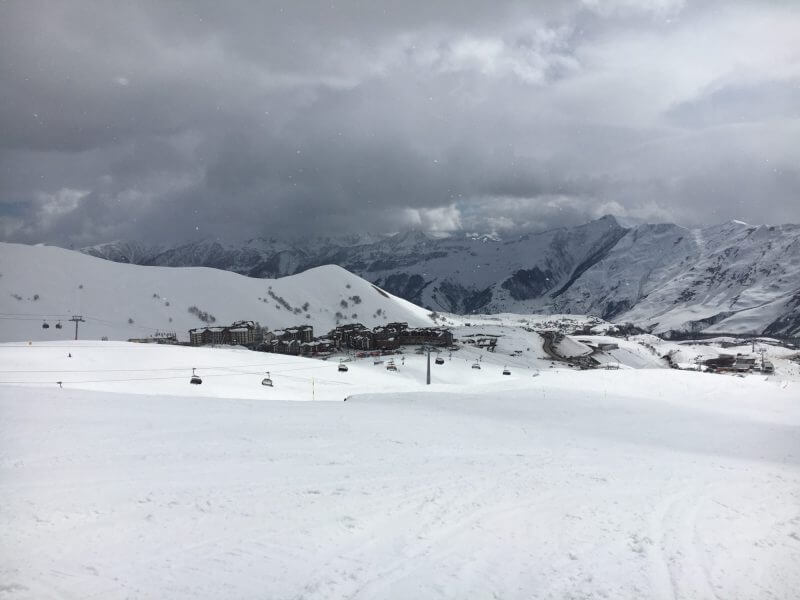 While powder hounds have the most reasons to visit Georgia, the country's largest resort of Gudauri (above, pic credit Rob Stewart) ticks the boxes for all levels of skier.
Situated less than two hours' drive from Tbilisi along one of the main goods roads into Russia, Gudauri was begun in the 1980s under the guidance of a group of Austrians who rightly thought it would be an ideal place to ski.
The majority of guests are Russian, largely welcome despite the political tension caused by the two breakaway provinces of Abkhazia and South Ossetia and the memories of the five-day conflict between the two countries in 2008.
To cater for this there is a large contingent of Russian ski instructors in Gudauri, but the local Georgian ski school is excellent and offers lessons from 50 GEL an hour.
From its purpose-built base at 2,100m up to the top station at 3,276m, Gudauri has everything you would expect from a 'proper' ski resort.
Its 55km of pistes contain dedicated learner areas, long cruisey blues, plus a couple of testing reds and blacks. This is topped off by a good choice of mountain restaurants – the Hada Hütte being a favourite – and clusters of apres ski bars.
For expert skiers there is a huge choice of off-piste to be had, while there are three heli-skiing companies in operation.
In 2018 Gudauri's international profile was raised for all the wrong reasons because of a ski lift accident, in which 11 skiers were injured after being hurled off the Sadzele chair when it went into reverse.
Austrian company Doppelmayr, which installed the lift in 2007, carried out an investigation in the aftermath and found the cause had been human error on the part of the lift operator.
Gudauri's mountain manager, Saskia Kikabidze, is open and honest about the incident but says lessons have been learned.
"It was really terrible but when you want to make the (lift) mode from electrical to emergency mode there are steps you should take that weren't followed," he said.

"He (the lift operator) doesn't work for us now but he's a very good guy and if the law changes it would be good if he could come back.

"He made a mistake and maybe it was our mistake he wasn't better trained."
With Doppelmayr's help Gudauri instigated an additional training programme, which has also been adopted by the resorts of Hatsvali, Tetnuldi, Goderdzi and Bakuriani where the company also installed lifts.
A year on from the accident and Kikabidze has helped oversee a 90m euro investment that has added new lifts to expand Gudauri, including the Kobe Mountain Project that has gondola linked the resort's north face down to the small town of Stepantsminda.
Further expansion is planned, with the government continuing to underwrite new projects in the majority of ski resorts in Georgia.
(Hut hucking in Goderdzi credit Rob Stewart)
Another carrot for potential ski tourists is a 600 GEL (£170) season pass that covers not just Gudauri but also Hatsvali, Tetnuldi, Goderdzi and Bakuriani.
Georgia is not just about great value, though, it is about skiing in a country of rich history, friendly people and fabulous food.
Providing a natural passage between the two Caucasus ranges, it is the place where the cultures, ideas and flavours of Europe and Asia have flowed for millennia.
That long history of welcoming strangers seems to be a cultural default and the Georgians are open and friendly, no more so than when introducing visitors to their food.
Most dishes are intended to be shared, which is no bad thing as you need help to make a dent in the amount of food laid out at a typical meal, which will rarely set you back much more than a fiver per head
At breakfast, lunch or dinner there will always be Khachapuri, Georgian cheese bread that is sort of like a pizza but with the filling oozing in the middle. Variations we tried included a tasty bean paste, spinach and beetroot, and spiced meat.
(Pic credit: Bruce Pope)
There are fantastic salads, soups, stews, dumplings and grilled meats, plus sauces made of sour plumbs or ground walnuts. The Georgians draw on all the influences that were traded along the ancient Spice Route to create a pretty fantastic and unique cuisine.
A big part of that is the quality of the raw ingredients, with juicy tomatoes, oranges, kiwi fruit (yes!) and even tea part of the diverse local produce.
But a special place is held in Georgian hearts for the grape and more importantly the wine that comes from it. The earliest archaeological evidence of viticulture has been found in the region, dating back to 6,000 BC, and the Georgians are rightly proud of this, styling themselves 'the land of 8,000 vintages'.
In Georgia wine is the drink of the people – good, plentiful and the accompaniment to a tradition of eloquent toasting that becomes more heartfelt with each fresh glass.
So cheers to Georgia, puzzlingly under-explored and ignored, but with all it has to offer unlikely to stay that way for much longer.
(Goderdzi pic credit Bruce Pope)
Georgia (or Sakartvelo as the locals call it) Additional Facts:
Population: 3.9m; capital city Tbilisi, pop 1.1m.
Geographical area: 69,700 km sq.
Highest peak: Shkara (5,193m; first climbed in 1888 by the British/Swiss team of Ulrich Almer, John Garforth Cockin and C. Roth).
Currency: Georgian lari (GEL).
Flight time: 4.50 hrs approx, London-Tbilisi direct.
Bordering countries: Russia, Turkey, Armenia, Azerbaijan.
The Georgian language is one of 14 unique languages in the world and has its own alphabet.
St George is the patron saint, the same as England.
Mythology: In Greek legend, Georgia is where Jason and his Argonauts went in search of the Golden Fleece, and where Prometheus was chained by the god Zeus as punishment for giving man the gift of fire and metalwork.
National Travel Office: gnta.ge
Happy Bruce in Tetnuldi, pic credit Rob Stewart.