When it comes to being sure you're going to find snow late in the season it's always a bit of a gamble choosing where to book. Of course, some years, as last winter, the best of the snow arrives late and it's still dumping down in late April when most resorts have closed for the season. In other years, warm temperatures in early spring have left even high resorts at 1,800m having to create ribbons of snow down from above 2,000m to the resort from mid-March due to an early thaw.
The advice therefore is always to book a resort that has high altitude slopes, ideally with plenty of terrain above 2,000m and hopefully above 3,000m if you want to be really "belt and braces" …or alternatively somewhere in northern Canada or Scandinavia.
Some ski resorts have made a selling point of their high-altitude, snow-sure terrain. In France, Val Thorens has gone from a small 'moon base' ski destination four decades ago to one of the world's top resorts, but Tignes has long had the reputation for the most open ski days of any French resort, formerly managing to open every month of the year and even today, as climate change takes hold, it still offers skiing in summer on its Grand Motte glacier, one of the few that still can.
Besides the glacier itself, having resort bases sitting as high as 2,100m and then ski lifts opening up runs as high as 3,488m, means Tignes can usually offer 1,300m of vertical or more right into May and is usually one of the last two ski areas open in France by that time.
For me, May was also a great time to organise a family ski trip. Now that my boys are men, one had chosen to race horses over jumps and had found that the national hunt racing season ran parallel with the ski season, so no skiing until it was done. The other was at uni but the uni year about ended for exam revision in May, so a quick blast down a few Alps at Tignes wasn't going to hurt.
Of course, one thing to be aware of as you look for ski areas still open in May is that although the lifts might still be running, a good many of the facilities – shops, restaurants, cafes and indeed hotel and apartment complexes might be closed or in closing down mode. Oh, and most British tour operators will have finished their seasons too. The downside of that is a more limited choice, the upside is you have the resort and slopes largely to yourself and can sniff out end-of-season-closing-down-sale bargains in resort!
Fortunately, I did find that the Telegraph's Best Ski Operator of the year 2023, Peak Retreats, experts in all things French skiing, were sticking with us and organising holidays right into May. As the company offers holidays to more than 7o different French ski resorts and has more than two decades of experience, they really know their stuff.
Peak Retreats found us a property that was still open and still ski-in/ski-out in the first week of May, Village Montana (pictured above and below) in Tignes le Lac. Hugging the slope on the edge of the resort, Village Montana turned out to be a warm and welcoming property, still offering high-quality accommodation in the final days of the season. We booked into a comfortable three-bed, two-bathroom apartment with bags of character, a well-equipped kitchen and comfy beds. So far so good.
Also to note, on the things not available when you travel out-of-season. We couldn't find a shuttle service between Geneva and Tignes so to avoid a convoluted and time-consuming bus ride it had to be a rental car and Village Montana had us covered there too with underground parking below the building for maximum convenience. So drive-in, ski-out. And thanks to Le Lac's compact design we didn't need to drive again until we left to head back to Geneva.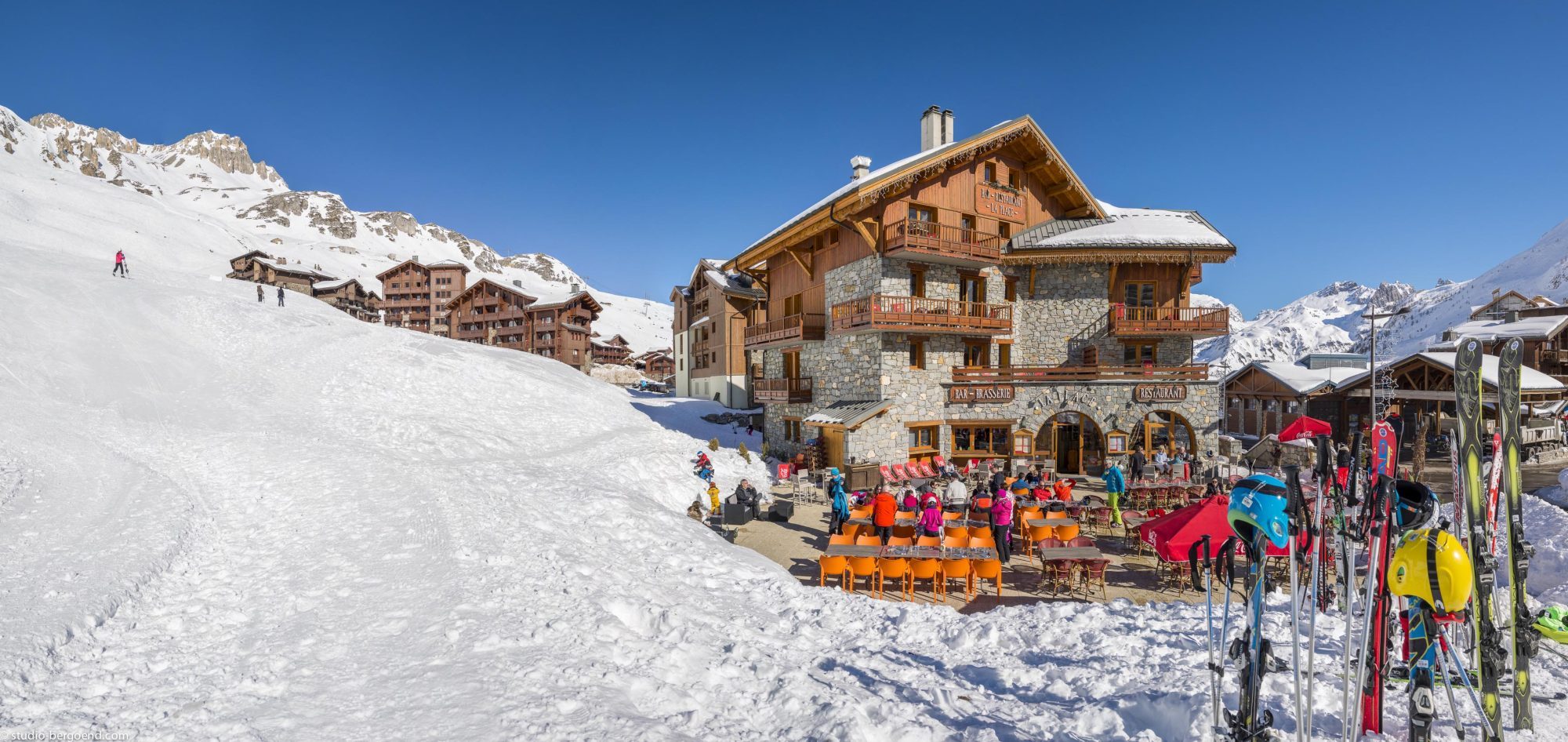 Again many of the rental shops had closed down but the Sport 2000 Monkey Riders store was still open and had top-notch equipment still available, along with the added attraction of an espresso bar while your bindings were adjusted to your boots.
So to the slopes! And Tignes still had plenty open for the final days of winter 23-24. Let's be honest here about skiing in May. Even at 3,000m things are warming up and it's more of a summer ski experience, the best of the conditions in the morning, very stodgy after lunch. We were lucky with the fresh stuff though, as it kept dumping into May. The downside of that was low visibility, so it was hit-and-miss on the slopes. That is the way of May skiing though, I've been to Zermatt for three days in May and not get on the slopes at all due to strong winds, other times I've had great morning skiing every day of the stay. But you need to be prepared for things to go either way.
Against that gamble is just how special it feels to be in the mountains and on snow still when most of the northern hemisphere has moved into summer sports mode. You also get the fun of witnessing resort staff relax after months of relentless toil meeting the needs of the world's skiers.
Anyway, when it wasn't blizzard or fog or thawing too fast to enjoy it, we did get some great runs, with over 1,000m of vertical descent still possible and much fun was had. This is probably not the time of year to visit if you're not an experienced and determined skier or rider, prepared for all eventualities, though.
In any case, luckily Tignes is well aware of all that and was still laying on off-slope activities right to the end of the season. Being avid biathlon fans on Eurosport we had good family fun trying to outdo ourselves on the laser rifle range the resort had set up at Le Lac. This was one of many off-slope options available to us, including the excellent spa facilities at the Village Montana.
Although Village Montana had us well catered for, with the fact that several of us were vegetarian not an issue (great noodles!), we did try out as many still-open cafes and restaurants as we could for lunch and misc other snacks.
We made repeat visits to the centrally located Coeur des Neiges which served up fabulous food and had great service. We also visited the more cosy Jam Bar Italian which also served up great food at very affordable prices.
All in all, hitting the slopes in late April or early May is a great way to stretch the season out as long as you can and remind yourself that whatever time of year it is, you can always ski somewhere! Then once you're home again you at least know it's less than six months until the next season gets started. Perhaps an early trip in November would be in order when the slopes are nice and quiet again and you're ahead of the crowds…?
Info
Patrick and his family stayed with Peak Retreats at Village Montana in Tignes Le Lac. 7 nights self-catered in a two-bedroom apartment from £383pp based on 5 sharing. Price includes return Eurotunnel crossing, with a free FlexiPlus upgrade (except at some school holiday weeks), with Peak Retreats.
peakretreats.co.uk | 023 9283 9310
(top pic credit Andy Parant)