How do ski resorts look this winter? Well, though most of the world's ski areas have been closed through the northern hemisphere's summer, towards 100 have opened for periods for summer skiing or for the regular winter in the southern hemisphere, so we did already know how they would operate when the season started this winter.
Pretty much all ski areas in Europe and North America said they had 'COVID-Safe opening policies' in place in the autumn and the season seemed to be building up as normal in September and October.
Then though the second wave of the virus arrived and some governments said their ski areas couldn't open (Andorra, Austria, France and Italy among them) whilst others (Bulgaria, Canada, Finland, Japan, Norway, Spain, Sweden, Switzerland and the USA) said they could.
Andorra and Austria have since opened to locally-based skiers only. Others – including the Czech and Slovak Republic and Scotland – first said they could, then changed their minds.
But whether a ski area is closed by their government and hoping to open soon, or open already and trying to keep skiers and staff safe, pretty much the same policies are in place now across the ski world.
Buying Your Lift Pass
Cash hasn't been king when buying lift passes in many ski areas for a while now but the move to go completely cash-free with contactless payments, usually online and at least a day in advance is the new normal at re-opened resorts.
Almost all ski areas have been limiting the number of people allowed on the slopes each day to maximise safety precautions and allow social distancing, this has led to some selling out of lift tickets in advance, as well as staggering arrival times for ticket holders.
Taking A Lift
Riding the lifts is a more orderly operation in ski resorts this. Resorts that have re-opened have social-distancing measures in place in the lift queue with floor spacing markings similar to those to enter supermarkets. In some countries, there are then floor markings in gondola and chairlift cabins too, which can only carry a fraction of the normal capacity due to spacing requirements. Similarly, double chairs and T bar lifts can only carry one person at a time unless they're already together, bigger chairs have single skiers at either end of the seat.
There have been complaints at some resorts of long waits to board key lifts due to these restrictions, but many aren't seeing much difference to normal. There may though be staggered starts to things like ski school and lifts opening and closing earlier and later in the day to reduce the danger of bottlenecks. Some companies have even started running their lifts a little faster where they can.
PPE Off The Slopes As Well As On
Mask-wearing off the slopes as well as on is the norm this winter. Initially there were questions about whether this would be required, but at many resorts its required even when outdoors or riding a chairlift or drag lift. The Austrian government has gone a step further than most and required skiers to wear medical grade face masks, not just the cloth version most of is wear. That's probably frustrating for the Austrian resorts that has bought hundreds of thousands of Buffs to hand out to ski ticket buyers ahead of the season.
Checking your Health
Along with the PPE requirements, frequent cleaning of lifts and public areas, social distancing and the provision of cleaning areas, some ski resorts have been requesting skiers provide health certification and a number have announced the installation of infrared cameras to check the body temperatures of people boarding lifts and in other areas.
Ski resorts in Australia already announced this innovation was back in May last year ahead of their 2020 ski season and one of the first thermal camera at a ski area in Europe appeared at the re-opened Aiguille du Midi lift at Chamonix.
On Mountain and Resort Dining
The same rules of restaurants that we have in our towns and cities will apply in ski resorts, meaning two-metre gaps between diners on different tables, or in some cases floor-to-ceiling screens separating tables that are closer together.
In fact during the second wave in countries where ski resorts stayed open, like Switzerland, many restaurants were closed and it was mostly a take away or delivery service available.
In-room dining in hotels and chalets has also become much more normal and commonplace.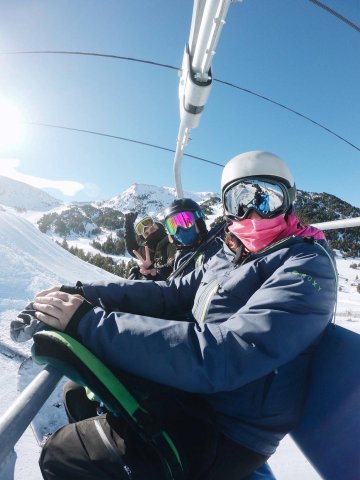 Ski School
A number of resorts have decided not to offer group lessons, only private lessons, but others are offering traditional groups – but with social distancing if the group is not already travelling together.
Ski Rentals
Ski rental shops have worked to provide as much of an online ordering / minimum human interaction service as possible this winter.
Apres Ski
There were reports of a more subdued apres ski scene this winter in the Alps even before the second wave of the virus rolled in, and in the event apres ski has been reduced to pretty much zero this winter. Where resorts are open in many cases local bars and restaurants are closed.