Ten years after their last lads' trip to the famous party resort of Pas de la Casa, Mark Barber and friends are back, but this time they're celebrating a friend's 40th. What has changed and what is still the same?
It had been too long! But at last we were all heading out to Andorra on a lads' snowboarding trip to celebrate my mate's 40th birthday. We used to get together annually, but then the little things in life like getting married, having a mortgage and starting a family put a stop to our trips. Being a snowsports journalist I have been fortunate in being able to snowboard at least a couple of times a season. Most of our group hadn't been snowboarding since the last time we all went to Andorra 10 years ago and were excited, if not a little anxious, about hitting the slopes once again.
Back in the day we used to head over to Pas de la Casa, where we partied hard and got used to snowboarding with massive hangovers. This time, we decided to go to the neighbouring town of Soldeu.
As we found out on our first night, Soldeu may not have the party reputation of Pas, but it certainly has a lively nightlife and a good atmosphere, with great live music playing every night in venues such as the Irish bar, Harp, and Bar Code. After a few beers and games of table football, we headed back to the hotel just after midnight. This was a complete contrast to the heady days of our former trips, but at least we woke up with clear heads for a good day's snowboarding.
Soldeu is part of the massive Grandvalira ski area which boasts an area of 210km with 128 slopes. Pas de la Casa is at the highest point and has vast, wide and seemingly endless rolling slopes. Being so high you are at the mercy of the weather and conditions can get harsh, with strong winds and whiteouts common. The Soldeu and El Tarter areas are lower down and have more technical, varied and tree-lined slopes.
One morning, we snowboarded over to Pas from Soldeu. As we sat in a cafe at the bottom of the main slopes, we reminisced over a cappuccino about the days of stumbling out of nightclubs at 4am to get a few hours' kip before getting the early bird chairlifts for a full day's snowboarding, all bleary eyed and heads thudding – times have certainly changed!
When picking up the hire equipment, my mates were baffled by all the different shapes and profiles of snowboards. It used to be simple: every board was camber (curved upwards across the board). Now you have the added choices of flat, rocker (reverse camber) or hybrid, which is a combination of them all! Also, they are not all perfectly rounded at the top and tail anymore; now they come in a weird and wonderful selection of shapes.
Another pleasant change is that snowboard boots are so much lighter and easier to get on and off. We used to be knackered lacing up the boots each morning and then having to have them pretty much surgically removed from our feet at the end of each day. Now, with the fast lace and Boa systems, it is done in seconds.
As we headed up the gondola for the first time, some of my friends were amazed that everyone was wearing ski helmets! When we were last all in Andorra a decade ago, not even the snowboarders wore helmets, let alone skiers. High-profile ski accidents such as with Michael Schumacher have certainly had an impact, as the vast majority of skiers and snowboarders now protect their nods.
It was a relief to see that snowboarding is still as popular as ever in Andorra, as it has been widely reported that snowboarding participation has been in sharp decline over the last few years. This may be true in other parts of Europe, but in Andorra the dark Force is still strong, with a good number of snowboarders out on the mountain and plenty of snowboarding schools to be seen.
This could be a sign that the sport of snowboarding has got all grown up and is about to hit a golden age, where more and more mature riders, who started riding in the boom of the noughties and had to hang up their boards due to family commitments, are now returning to the slopes – and this time they are introducing their kids to the dark art of one-plank sliding.
Clothing has certainly got more scientific over the years, especially with the advancement of base layers. Back in the day we just layered up with T-shirts and a hoody under very baggy jackets with trousers at least three sizes too big. All this was not only heavy, but totally impractical for keeping us warm and dry all day.
One of my friends also commented on how well skiers and snowboarders get on now. There certainly used to be an air of animosity between the groups, with insults traded between each other all part of the day's entertainment. Everyone seems happy just to ride the mountain together now – perhaps there is such a thing as world peace!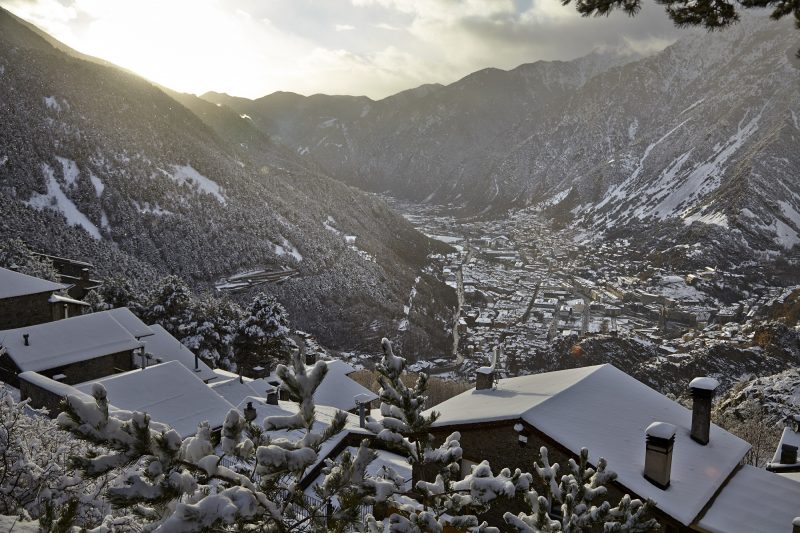 One thing that hasn't changed over the years is the infrastructure of the Grandvalira region. It was only formed in 2003, with massive investments in new and modern ski lifts. Most of these lifts are still in place and still do a grand job, as you are highly unlikely to queue at any point, and even if you do, it is never for long. Having said that, I do think a lot of the chairlifts need to be modernised, especially getting rid of the ones that come at you with leg-breaking speed, then meander up the mountain at a leisurely pace before throwing you off at the end.
As always, we booked the whole trip with Crystal Ski. As a group leader this makes life so simple as everything is all included within the package, including flights, transfers, lift passes, equipment hire and half-board accommodation. As for Andorra, it has never let us down.
We were worried when we arrived about the lack of snow, but then it came, and kept coming, and by midweek we were making lines through untracked powder fields – what more can you ask for?
There may have been many shocks to the changes in style, fashion and technology since my mates last went snowboarding, and we have all certainly got older with thinning hair lines and thickening waistlines, but one thing that will never change is the love for snowboarding and that immense feeling of freedom while surfing across fresh powder – Amen to that.
Enregistrer