As humans, we tend to be creatures of habit. Many of us like to stick to the ski resorts we are familiar with, those we know are easy to reach and popular with other British holidaymakers – "if everyone else is going there, they must be doing something right, right?" However, this trait can lead to you missing out on some of the world's lesser known, secretly spectacular ski areas, many of which are easily accessible from the UK. Åre in Sweden is one of these areas, a fantastic ski resort often overlooked by British holidaymakers and one of our favourites for families and developing skiers.
The Skiing
Sweden's largest ski resort, Åre spans 91km and is the perfect destination for those setting out on their skiing journey. Whether you've never set foot on a ski or you've already mastered your first few turns, the area here will be exactly what you need to have you learning the next steps in no time. A large beginner's area is specifically designed to encourage development, with experienced instructors and fun zones making learning an absolute dream!
The slopes here are also blissfully quiet. While the beginner slopes in some popular ski resorts sometimes feel more like an obstacle course than a learning experience, it's not uncommon to have the slope to yourself in Åre. The slopes themselves are well groomed and perfectly snow covered, with a snow-sure season from November to May meaning that you are unlikely to have to deal with slushy or icy conditions. The focus that Åre places on safety, learning and development makes it one of our top picks for families, alongside the wide range of off slope activities (in further detail below) and child-focused entertainment.
However, this does not mean the area is limited in its offerings for more advanced skiers. In fact, it's rather the opposite and many skiers may recognise Åre from the multiple World Cup events that have been hosted here. Simply take the cable car up to the Åreskutan Mountain and take your pick of the fantastic skiing available; lovely long reds and blacks, challenging off piste and huge jumps in the snow park. One thing is for sure, advanced skiers will never be bored in Åre!
With a relaxed way of life and an approach to skiing that focuses on enjoyment, Åre is the perfect place to truly sit back and enjoy your ski holiday. Wake up with a cup of coffee and a delicious breakfast, spend the morning exploring deliciously powdery off piste or perfectly groomed runs, stop for lunch in a cosy mountain hut and spend time with your family, experiencing new adventures. What could be better?!
The Resort
Off the slopes, you will find a whole host of activities here, so whether you're not a downhill skier or you simply want an afternoon to experience the other amazing parts of the area, Åre is the ideal destination. Whether it's cross-country skiing, ski touring, snowmobiling, swimming or paragliding, your choices here are endless. For animal lovers and children, dog sledding is always a popular choice and offers a unique way to view the incredible landscapes of the area with the added bonus of being able to pet some furry friends! Adrenaline hunters can try ice diving or fat biking, while ice fishing is also available for those who are up for a new challenge…
However, if it's a truly once-in-a-lifetime experience you're after, you can even book an excursion to view the spectacular Northern Lights, certainly not something many other ski resorts can offer and a really awe-inspiring experience.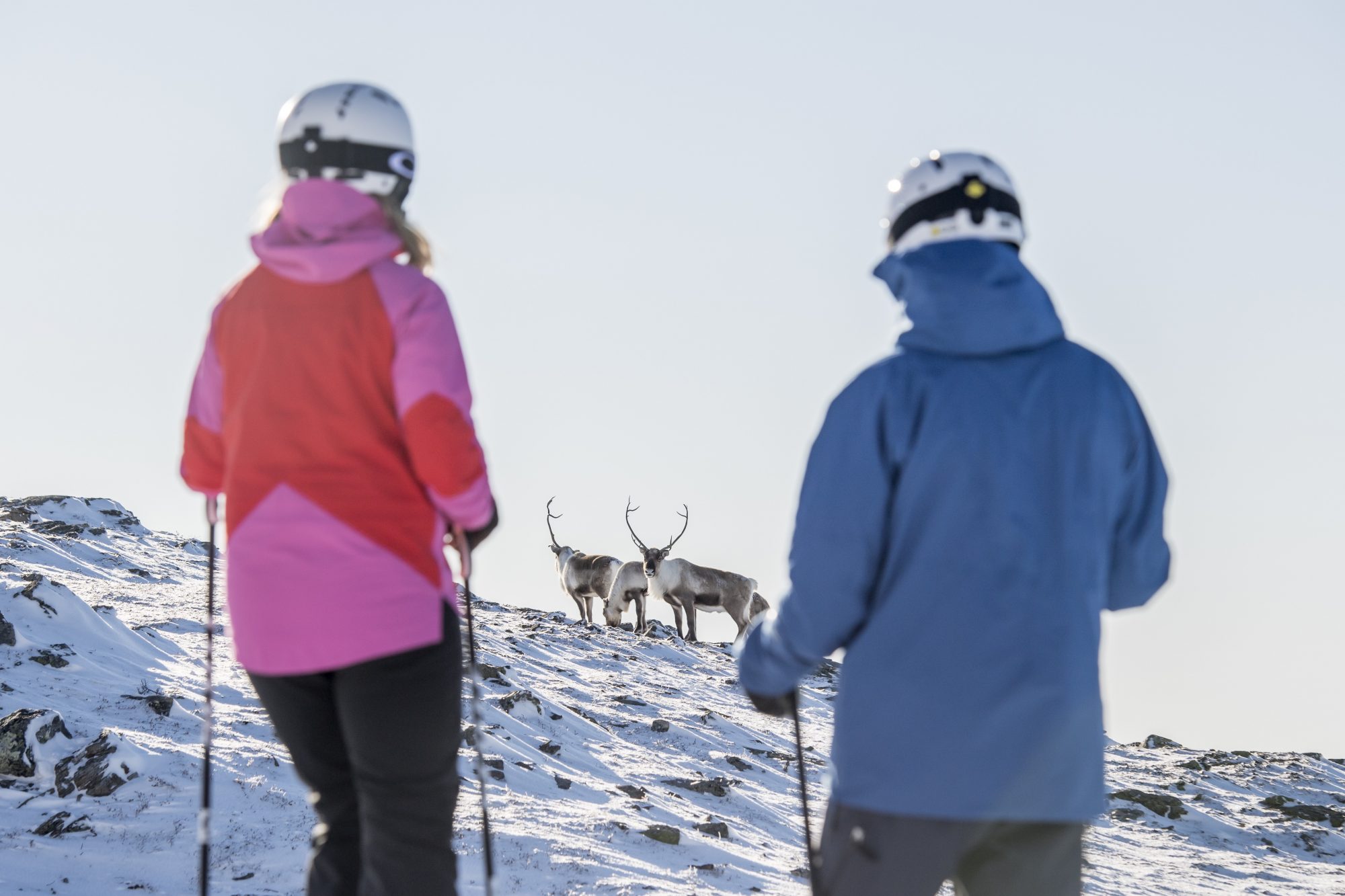 The town itself has a cosmopolitan atmosphere that many European resorts would be envious of, with a wide range of world-class local and luxury shopping, traditional restaurants and lively bars. Hotels range from ultramodern boutiques to romantic traditional hotels and cosy chalets, with open fires and charming interiors. There's true variety here to suit every taste and budget.
Speaking of taste, foodies are sure to love the culinary offerings in Åre. The locally sourced Swedish cuisine is unique in a mountain resort and brings a new level to your ski holiday. Whether it's the fresh fish and game or the delicious locally grown berries, your meals will be a far cry from the cheese, cheese and more cheese that you may be used to on a ski holiday. Combine this with the famous Swedish hospitality and you've got a winner in our books!
So, how do you get to this mountain paradise?
Getting to Åre is much simpler than you may think, though it seems but a stone's throw from the Arctic circle. The nearest international airport (Åre – Östersund Airport) is just a two hour direct flight from the UK and the transfer to Åre resort is around an hour. It's actually quicker to get to than many Alpine resorts! You can now fly directly to Åre – Ostersund from Bristol, making the area much more accessible to those in the South West of the UK.
For more information or to book your Åre ski holiday, head to: www.crystalski.co.uk/ski-resorts/sweden-ski-holidays/are/