Every Easter I take the kids to the Alps, and we have a wonderful holiday in the spring sunshine. But I've often wondered, while up to my ankles in slush, if it's possible to find some good late-season snow at an affordable price. Finally, I have my answer – yes, it is! Last April I left the spring flowers of England behind and headed north to the Swedish ski resort of Åre, still in the depths of winter.
Don't be fooled when looking at a piste map, as Åre can appear to be little more than a large hill – and in some ways, that is all it is. But being so far north, and blessed with lots of snow, it's a quality ski resort that can match many of those in the Alps. There are miles of excellent cruising pistes, perfect for beginners and intermediates, and unlike the Alps, many of these are through trees; rather than just across yet another bare open face that looks identical to the last. My kids loved the fact that they could pretty much tackle every slope, although due to the area's often high, and sometimes bitterly cold, winds, there are a lot of drag lifts. That said, there has been a large investment in six- and eight-seater chair lifts, most with heated seats and wind covers.
The instruction is excellent and, as you'd expect, the English spoken there is perfect. My daughter (7) had some wonderful and informative ski instruction, while my son (9) joined a freestyle park group and was instructed on how to use the snow-park features safely. Both came back very much improved, all smiles, saying it was great fun, my son boasting of how much air time he'd got.
While the kids were in lessons, my wife and I took an off-piste tour of the Backside, which while relatively tame, did allow us to find some good powder snow, rarely found in the Alps in April. It also gave us an introduction to a perfect off-piste area to take the kids. Towards the top of the tree line, the trees are very well spaced for skiing through; there's an area just below the Sadeln chair that is the perfect pitch and without any major hazards, allowing the kids to easily control their speed while playing in the powder. It's a wonderful introduction to the joys of off-piste tree skiing, and the kids were soon howling with delight.
The food in Åre is fantastic, with a wide range of options to suit most budgets. Not to be missed is a ride on the old funicular Bergbanan up to Hotel Fjällgården for the wonderful views and delicious local cuisine. The on-mountain restaurants serve up good hearty soups and goulash-style dishes, alongside healthy fish and salad dishes (and not so healthy puddings!). Another great option for both lunch and dinner is the slopeside Timmerstugan, at the base of the A31 lift, offering a fusion of Italian and local inspired dishes and a kicking apres-ski scene.

Those looking for cheaper dinner options should hit the lively Tex Mex in the Broken Pub, or the stylish, and much recommended, downtown Crêperie, where kids can be placated with a Nutella and banana crêpe after days of smoked fish.
So can Sweden really be affordable?
Well, there's no getting away from it: any ski holiday is expensive, especially when footing the bill for the whole family; but it really is possible to holiday in Sweden at a price comparable to a ski holiday in the French Alps.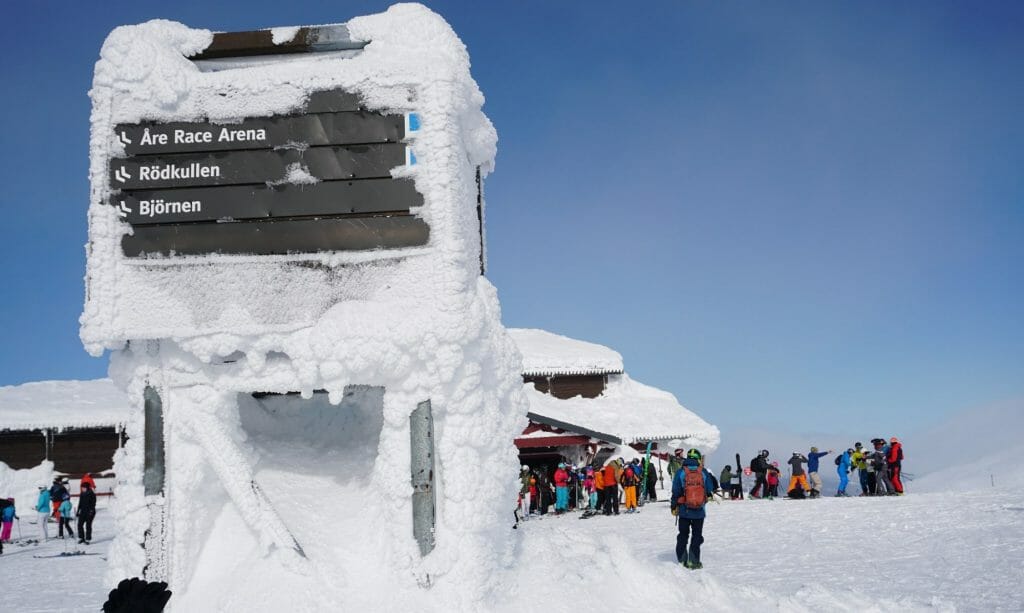 EasyJet has started a new weekly route from Gatwick to Åre Ostersund international airport, with prices starting from as little as £30 each way (outside of school holidays). When going to print, Easter flights were only £145 return. If you're taking your own ski equipment there's an extra £70 return charge, but if you own a coffin-style snowboard bag you can easily pack all your clothing and skis/snowboard for a week. If travelling as a family you should take full advantage of all four carry-on bags, even if the kids can't carry them, as there's no weight limit. It's amazing how much kit can be stuffed into four-wheeled cabin bags.
If you don't live near London, Åre has a central train station, so it's very easy to have a city-ski break by flying to Stockholm, Gothenburg or Malmö and catching a train to resort. There's even a sleeper train from Stockholm.
Once in resort there's little point having a car, as there's a good in-resort bus service between the ski areas. So, save cash and take the transfer bus for the 80km near-traffic-free, forested drive to resort, scheduled to run alongside the easyJet flight. It costs around £150 for a family of four return, and should be booked in advance at flygtaxi.se.
OK, so you're there for no more than it would have cost to fly to the Alps, so now accommodation is the next big expense. Well, look no further than the ski-in, "very short walk to main cable car out" STF Åre Torg Vandrarhem, owned and run by the fantastic Swedish Tourist Association (STA) – the equivalent of our Youth Hostel Association. The STA Åre Torg is perfectly placed within the centre of town; a piste runs past its front door, and it's a mere five-minute walk to the resort's main base station and bus stop.
The rooms are very quirky and consist of bunk beds and ample shelving. Outside each room there's a little roped-off area with table and chairs, where you can leave your skis and boots. The Swedes seem to love sitting outside their rooms dressed only in bathrobes or thermals – no inhibitions here. The communal bathrooms are very clean and modern and there's even a sauna. Breakfast is included in the price, and the lunchtime soup and salad combo is possibly the best deal in town. There's also a large kitchen for those wanting to save money by cooking, although the prices at the supermarket will raise a few eyebrows – think Waitrose on steroids.
To get the best room price you should buy a family membership of the STA, for £40, and then a family room will cost you SEK11,165 – around £1,000 for a week including breakfast. The cost for non-members is around £1,500. swedishtouristassociation.com
For those looking for a little more class from their hotel I'd recommend the Copperhill Mountain Lodge, which can be booked through Crystal Ski. It's a large but personal hotel, with great play areas for kids, even an indoor football/sports area and a spa for worn-out parents.
Lift passes are reasonable, with a week for adults being £200 and for children £160 (under-7s ski for free).
So, while not a budget holiday by any means, skiing in Sweden can be done at a cost that compares to a holiday in any good-sized ski resort of the Alps. Yet what it does offer is snow-sure slopes, especially late season, excellent English ski instruction, and no one does interior style quite like the Scandinavians! Overall, I'd definitely recommend a late-season break to Åre, to all but the most extreme of skiers.
Airline
Accommodation
https://www.svenskaturistforeningen.se/anlaggningar/stf-are-torg-vandrarhem/