Glencoe and Glenshee ski areas in Scotland have opened for the first time this season this morning to mark the first time for 2015-16 that all five Scottish Highland ski areas have been open at the same time.
The other three areas – Cairngorm, The Lecht and Nevis Range had partially opened at the weekend, the only other opening possible during the weather extremes of the past few months had been a day just after Christmas for very limited areas at Cairngorm and Nevis Range.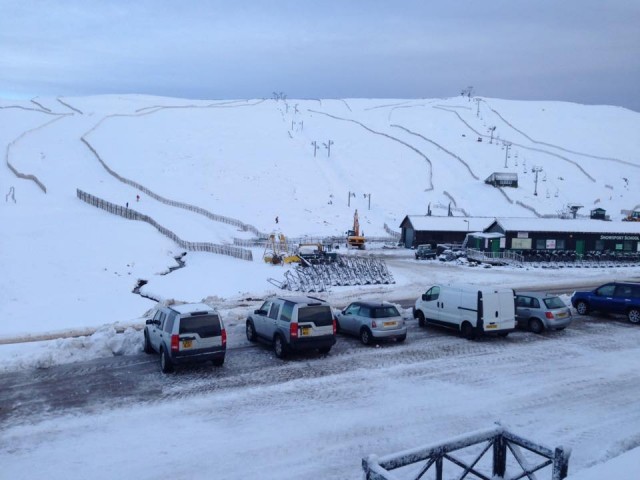 One result of the extreme weather which has caused terrible flooding in the Grampian region is that a large section of the main road from Aberdeen to Glenshee ski centre has been washed away. Glenshee (above) says four runs are operating and that, "Sunnyside, Claybokie and the beginners area are complete with fresh snow on a packed base. Other runs have plenty of snow but there is still running water in places."
Cairngorm (pictured top and below) opened late as its access road had to be cleared of around 10cm of snow, "The M1 Piste is as good as it gets with full pisted cover top to bottom and 10cm of even light powder to top it off. Looking good across the mountain. It's going to be a cracking day of snow sports. Some great mid week snow sports in prospect with cold temperatures into the weekend," said a resort spokesperson.
All five areas are reporting fresh snow today and on going snow showers. This is expected to continue for at least the coming week.