An annual Witches Race staged in memory of a witch is back in the Valais region of Switzerland this January.
Up to 1,500 witches now take part in the annual competition which is being staged for the 37th time in 2019.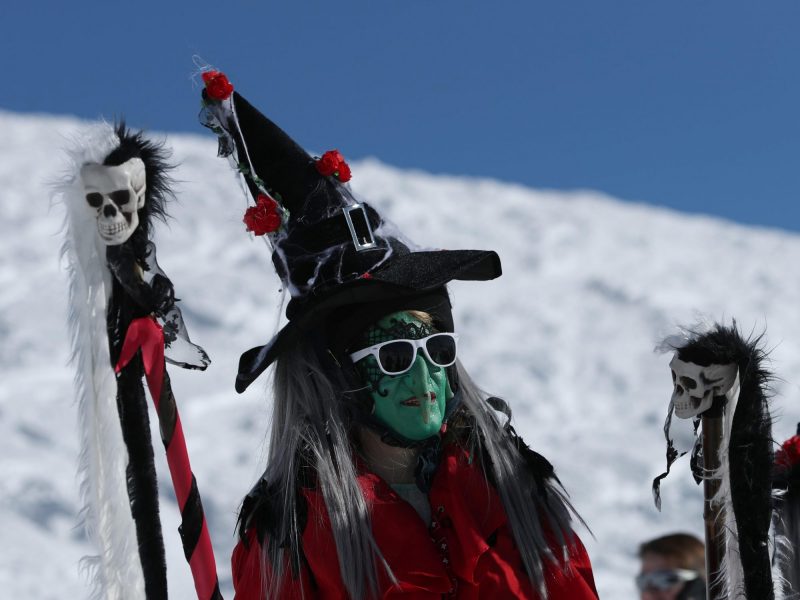 The (short version of the long) Walliser legend goes that once a witch lived in Hegorn in the Natischerberg mountain. She was married to a pious man, whom she hated, but had a lover too, whom she visited by disguising herself as a raven.
One day she was flying back from her lover in raven form and saw her pious husband up a tree picking cherries and decided to kill him off by pooing in his eye as she flew over. This blinded him, he fell from the tree and was killed.
By now however the authorities were wise to her raven disguise, caught her, tortured her and burnt her at the stake.  It is not known why she didn't simply turn in to a raven again and fly off.
Centuries later, the Belalp Ski Club thought up the downhill witch festival to honour the pious husband. Legend suggests the husband fell off the cherry tree in Blatten, near the current finish point.
The 12km race between Hohstock and Blatten, taking place this winter on Saturday, 19th January 2019, has become one of the biggest and most unusual downhill races in Switzerland featuring witches with skis and poles and slower witches with broomsticks.
The race has developed into a full week-long festival with multiple races for all ability levels. This winter there will also be a new culinary downhill run called "Hexen Kalazz".
The fastest racing witch becomes a warlock and receives a wooden witch mask and 15 witch groups will win prizes for their costumes, according to a jury decision.